Houston's Online Weekend Entertainment Guide
Our April Fridays Weekend Entertainment Picks
Friday, April 28, 2017 8:00 PM
KYNG the southern California hard rock trio, originated in January of 2008 in Los Angeles. Singer/songwriter Eddie Veliz bassist, Tony Castaneda and drummer Pepe Clarke Magana, after years of working off and on with each other on various projects, decided to propagate the idea of a band that would closer fulfill their musical desires. Within months of sessioning the three were sold on the chemistry and shortly after that went into the studio to record their debut album. The sound they realized was exactly what they had sought after, a unique and universally appealing combination of heavy and captivating concepts, channeling influences from black Sabbath, Led Zeppelin to the Foo Fighters and Queens of the Stone Age. "We wanted a band that could stand alongside anything in the scene, have the ability to crossover seamlessly and still bridge who we are." KYNG's versatile approach of a sweet devastation bleeds from an artistic drive toward a momentum described as "California Heavy". Their evolution will undoubtedly blaze a trail that redefines what is expected and defines the giants they will become.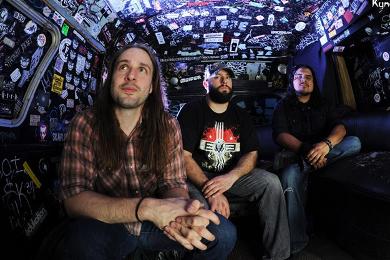 Their first album, Trampled Sun, on REALID Records is set to hit the streets of the US and the World Wide Web September 27 while their first two singles, Falling Down and Trails in Veins, both mixed by Mike Watts (Adelita's Way, Hopesfall, Quicksand, Brand New), are set to take over the airwaves and online channels mid July and will be available at iTunes July 26th. The digital deluxe of Trampled Sun will contain 15 tracks exemplifying the bands great range and how much music KYNG has to offer the planet earth.


The Los Angeles based trio, hailing from LA and parts of Mexico, is as unique in spirit as their sound. Reminiscent at times of the metal and hard rock of the late 1970's in style and musical collection, with a presentation that is totally heavy, classic and modern-day all at once, they are sure to refresh the Active Rock and Metal landscapes of today and tomorrow. As drummer Pepe Clarke Magaña puts it, "I think we're doing stuff, or a combination of stuff that has been done before, in a way it's never been done before." Their sound on Trampled Sun easily provokes the question, "Is that really just 3 dudes?" The pipes on Eddie Veliz reminiscent of Cornell is his early days, the thunder brought by Pepe Clarke Magaña on the drums and the rolling rhythms brought by bassist Tony Castañeda have KYNG meant for great things.
Completing dates with The Sword, KYNG is currently out with Black Stone Cherry and Pop Evil and plan on touring forever as the road is the life's blood of any young hard rock band looking to take over the world. In the land of pigs, the butcher is KYNG.
Cirque Du Soleil - Kurios
@Grand Chapiteau
Sam Houston Race Park
April 6th through May 21st, 2017
A mysterious and fascinating realm that disorients your senses and challenges your perceptions.

Step into the curio cabinet of an ambitious inventor who defies the laws of time, space and dimension in order to reinvent everything around him. Suddenly, the visible becomes invisible, perspectives are transformed, and the world is literally turned upside down.

A cabinet of curiosities is a tale in which time comes to a complete stop, transporting the audience inside a fantasy world where everything is possible. In this realm set in the latter half of the nineteenth century, reality is quite relative indeed as our perception of it is utterly transformed. The name of the show refers to the humble and strange characters that inhabit the Seeker's Cabinet of Curiosities.
In an alternate yet familiar past, in a place where wonders abound for those who trust their imagination, a Seeker discovers that in order to glimpse the marvels that lie just below the surface, we must first learn to close our eyes.

In his larger-than-life curio cabinet, the Seeker is convinced that there exists a hidden, invisible world – a place where the craziest ideas and the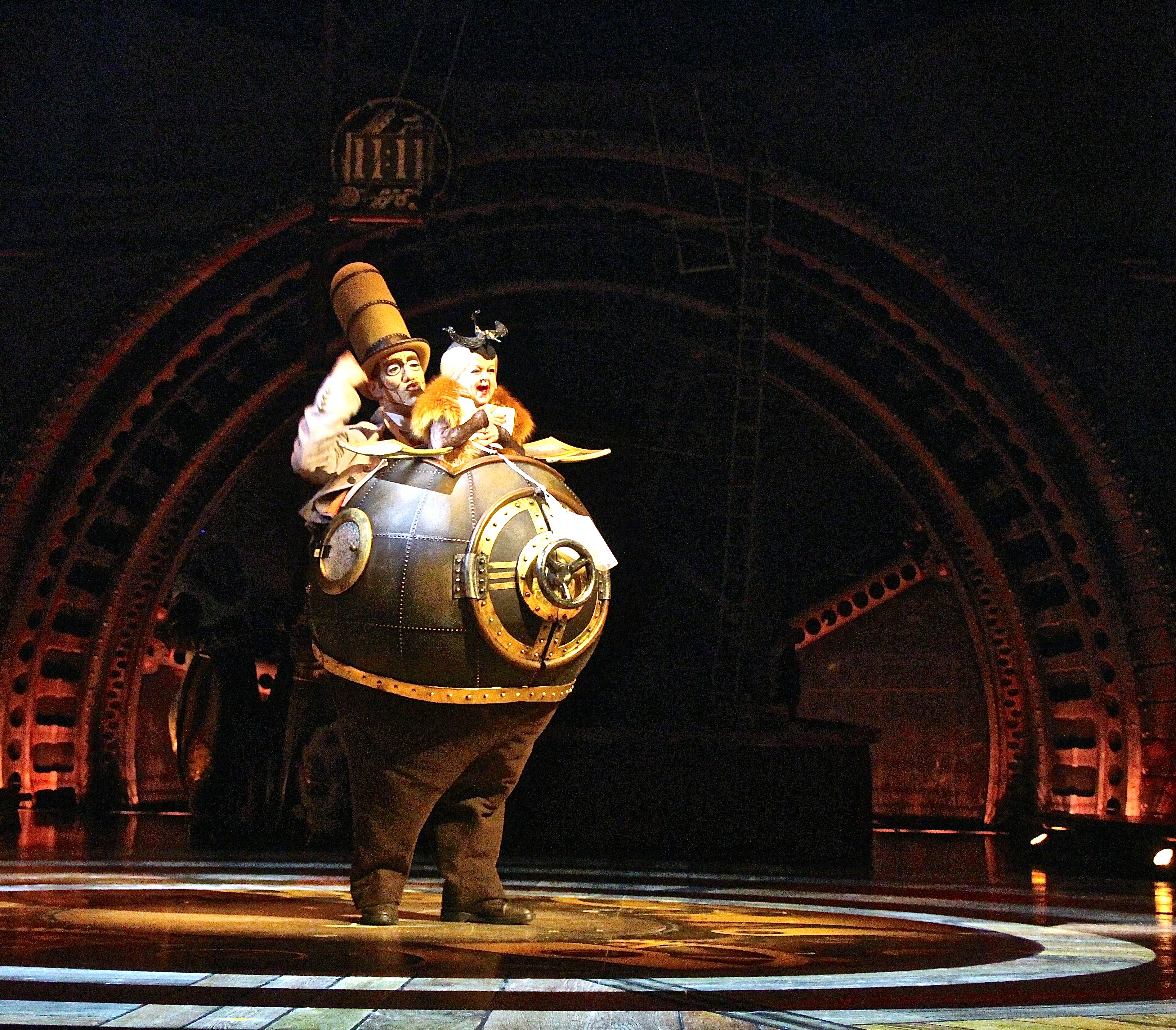 grandest dreams lie waiting. A collection of otherworldly characters suddenly steps into his makeshift mechanical world. When the outlandish, benevolent characters turn his world upside down with a touch of poetry and humor in an attempt to ignite the Seeker's imagination, his curios jump to life one by one before his very eyes.

What if by engaging our imagination and opening our minds we could unlock the door to a world of wonders?
Ten Curious Facts
About the Show

• To make the Accordion Man's attire,
the costume-maker spent an entire
week sewing inside the costume.
• Rima Hadchiti, the artist who plays
Mini Lili, is 3.3 feet tall and weighs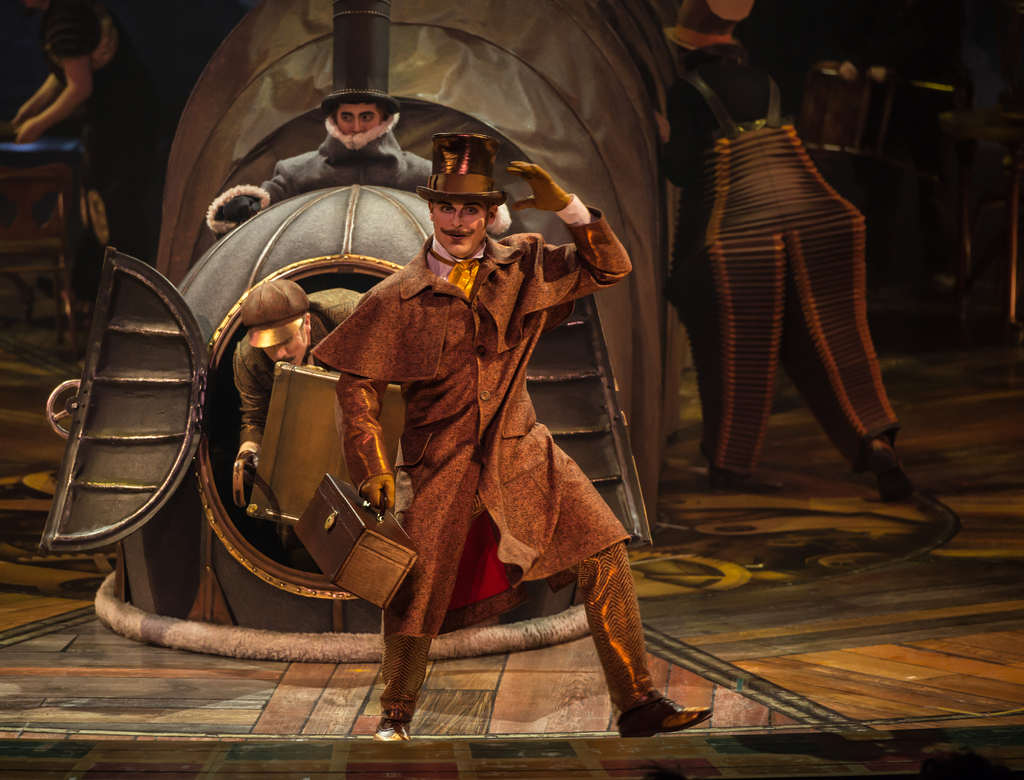 41 pounds. She is one of the 10
smallest people in the world.
•
The mechanical hand weighs 750
pounds and measures 15 feet by
6.8 feet.
• More than a hundred costumes were
created to dress the cast of KURIOS.
• There are 426 props in the show, the
most of any production in Cirque du
Soleil's history.
• Some 65 trucks transport close
to 2,000 tons of equipment for
KURIOS™ – Cabinet of Curiosities.
• The 122 tour members come from
23 different countries. Some have
been touring with Cirque du Soleil
for more than 15 years.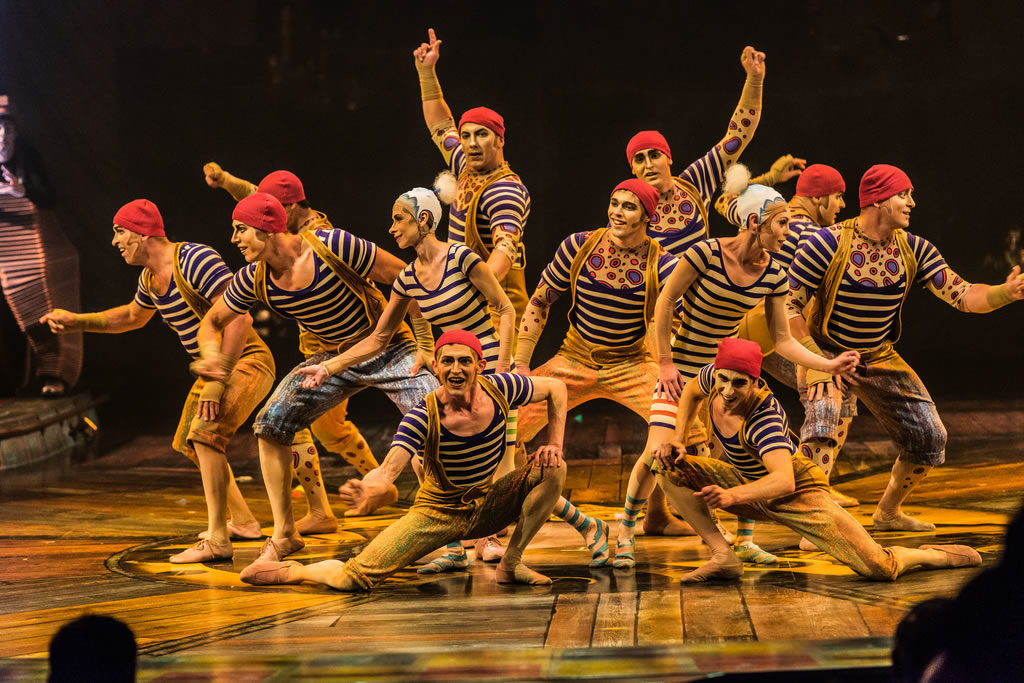 • This is the fi rst time that Cirque du
Soleil presents a welcoming act on top
of the big top before the show starts.
When weather permits, 3 artists climb
up the big top and greet the guests
from above while playing music and
acting. Guests get a taste of the
KURIOS experience as soon as they
enter the site.
• It took the team of props makers
approximately 250 hours to build
Mr. Microcosmos' round belly.
• All performers are responsible for
applying their own make-up every
show, which can take them between
40 minutes to two hours
Looking for that Friday weekend event and can't find it, try our custom "Google Search"