Sunday
December 10th, 2023

Weekend Sundays is updated continuously
Trans-Siberian Orchestra's Holiday Spectacular
Enchanting Houston with Musical Magic
[Menendez Media Services] Houston is gearing up for a holiday extravaganza like no other as the Trans-Siberian Orchestra (TSO) brings its renowned holiday tour to Toyota Center. The iconic ensemble, celebrated for its fusion of classical music, rock, and dazzling visuals, is set to enchant audiences with a spectacular performance that promises to be a festive feast for the senses.
The Trans-Siberian Orchestra's holiday tour has become synonymous with the magic of the season, and this year's stop in Houston is expected to be nothing short of a winter wonderland transformed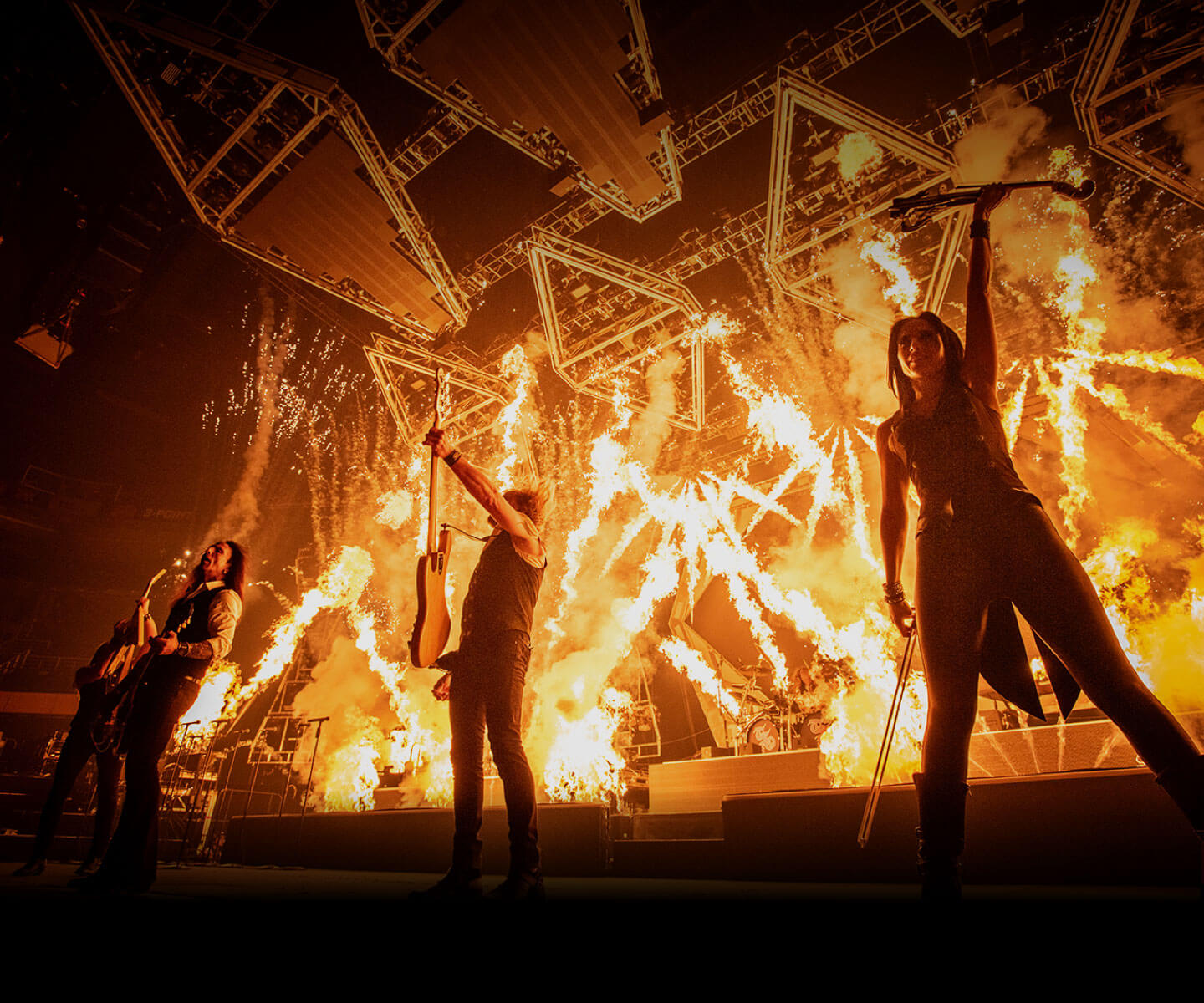 into a musical journey. Fans and families alike are eagerly anticipating the signature blend of timeless holiday melodies and rock-infused arrangements that have become a hallmark of TSO's yuletide celebrations.
As the lights dim and the first notes of TSO's holiday classics fill the air, Houston's audience will be transported into a world where tradition meets innovation. The symphonic rock ensemble, renowned for its elaborate light displays and stunning visual effects, creates a multisensory experience that goes beyond a typical concert. Attendees can expect a seamless fusion of music and visual storytelling, with each performance promising to be a mesmerizing feast for the eyes and ears.
TSO's holiday tour is not just a concert; it's a celebration of the spirit of the season. The ensemble breathes new life into beloved classics like "Christmas Eve/Sarajevo 12/24" and "Wizards in Winter," infusing them with a modern energy that captivates both longtime fans and those new to the TSO experience. The ensemble's ability to seamlessly blend genres creates a unique and unforgettable holiday soundtrack.
Paul O'Neill, the late founder of Trans-Siberian Orchestra, once described the holiday tour as "a story about Christmas that embraces the past, present, and future." This sentiment holds true as TSO continues to evolve its storytelling through music, capturing the essence of the season while offering a fresh perspective on holiday traditions.
Beyond the music, TSO's commitment to the communities it visits is evident through partnerships with local charities. The band's dedication to giving back adds an extra layer of warmth to the holiday tour, making each performance not only a celebration of music but also a chance for the audience to contribute to the spirit of giving during the season of goodwill.
TSO 2023 Winter Tour Sneak Peek

Houston, known for its vibrant cultural scene, is the perfect backdrop for Trans-Siberian Orchestra's holiday extravaganza. As the ensemble takes the stage at [Venue], the city will be transformed into a magical realm of lights, sound, and shared joy, creating memories that will linger long after the final notes fade away.
For Houstonians and visitors alike, the Trans-Siberian Orchestra's holiday tour is more than a concert; it's an experience that captures the essence of the season, offering a resplendent escape into the magic of Christmas. As TSO's symphonic sounds fill the air, Houston is set to be enchanted, embracing the holiday spirit in a way that only the Trans-Siberian Orchestra can orchestrate.
Trans-Siberian Orchestra
@Toyota Center
1510 Polk Street
Houston, TX 77003
(713) 758-7200
Directions (Map)
[Disclaimer]
Houston's Weekend Planning Guide participates in various affiliate marketing programs, which means, we receive paid commissions on purchases made through our links to retailer sites.Our editorial content is not influenced by any commissions we receive.
In Celebration of Jim Croce's Enduring Impact, Croce Plays Croce Concert Series Resonates Across Generations
[Menendez Media Services] In a celebration that transcends time and strikes a chord with music enthusiasts of all ages, the Croce Plays Croce concert series is commemorating its 50th anniversary, bringing to life the enduring legacy of singer-songwriter Jim Croce. The timeless tunes and heartfelt lyrics that defined an era are resonating once again, captivating audiences with the magic that is the Croce musical legacy.
The concert series, founded by A.J. Croce, the son of the late Jim Croce, has become a poignant tribute to the iconic singer whose influence continues to reverberate through the fabric of American folk and rock music. A.J. Croce, a respected musician in his own right, has taken the stage to breathe new life into his father's classic hits, offering fans a chance to experience the magic of Jim Croce's music in a live setting.
As the Croce Plays Croce 50th Anniversary tour unfolds, it serves as a poignant reminder that great music is immortal.
The Croce Plays Croce 50th Anniversary tour is not just a walk down memory lane; it's a celebration of an enduring musical journey. From the soulful melodies of "Time in a Bottle" to the narrative richness of "Operator" and the foot-tapping joy of "Bad, Bad Leroy Brown," each song becomes a vessel that transports the audience to a bygone era while maintaining a timeless relevance that speaks to the human experience.

Jim Croce - You Don't Mess Around With Jim | Have You Heard: Jim Croce Live
The concert series serves as a testament to the indelible mark that Jim Croce left on the music industry and the hearts of millions. A.J. Croce's interpretation of his father's work is more than a faithful rendition; it's a son's homage to a musical legacy that transcends generations.
As the Croce Plays Croce 50th Anniversary tour crisscrosses the nation, fans are not only treated to a night of extraordinary music but also offered a glimpse into the life and times of Jim Croce through personal anecdotes and behind-the-scenes stories shared by A.J. Croce. The tour provides a unique opportunity for both longtime admirers and new listeners to connect with the man behind the music, deepening their appreciation for the artistry that defined an era.
Croce Plays Croce 50th Anniversary
The significance of the 50th anniversary is not lost on A.J. Croce, who sees it as an opportunity to not only pay tribute to his father but also to continue the Croce musical legacy for another 50 years. The tour has become a bridge between the past and the present, fostering a sense of shared nostalgia and appreciation for the enduring power of authentic storytelling through music.
As the Croce Plays Croce 50th Anniversary tour unfolds, it serves as a poignant reminder that great music is immortal. Jim Croce's melodies and lyrics, brought to life by his son A.J., continue to resonate with audiences, creating an emotional connection that transcends time and invites listeners to be a part of the enduring legacy of a singer-songwriter whose music will forever play on.
Croce Plays Croce 50th Anniversary
@Bayou Music Center
in Bayou Place
520 Texas Ave
Houston, TX 77002
Directions (Map)
Phone: (713) 230-1600
Houston's Online Weekend Planning Entertainment Guide
Looking for that Sunday weekend event and can't find it try our custom "Google Search"