The Beach Boys
Smart Financial Centre
Saturday 3/30/2019 7:30 PM

The Beach Boys began as an early garage band led by Brian and managed by the Wilsons' father Murry. In 1963, the band gained national prominence with a string of top-ten singles reflecting a southern California youth culture of surfing, cars, and romance, later dubbed the "California Sound". After 1964, they abandoned beachgoing themes for more personal lyrics and ambitious orchestrations. In 1966, the Pet Sounds album and "Good Vibrations" single raised the group's prestige as rock innovators and established the band as symbols of the nascent counterculture era. Following the dissolution of the group's Smile project in 1967, Brian gradually ceded production and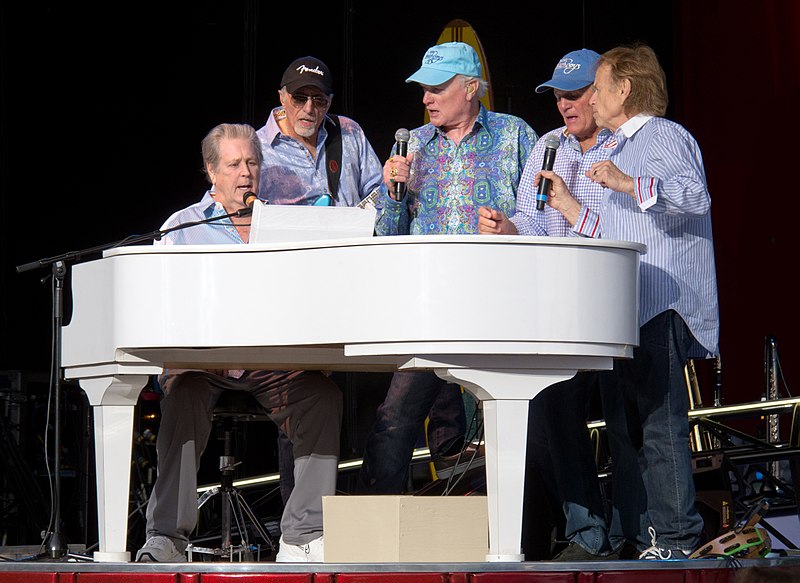 songwriting duties to the rest of the band, reducing his input because of mental health and substance abuse issues. The group's commercial momentum subsequently faltered, and despite efforts to maintain an experimental sound, they were dismissed by early rock critics as the archetypal "pop music cop-outs".
A West Coast Story, Continued…
By David Wild
"Fifty years ago, we started something very big," says Brian Wilson. "So now we're celebrating together in a very big way."
"It's pretty miraculous that we can start out as a bunch of guys who didn't know anything about fame or money, or anything like that," says Mike Love. "All we knew was we liked to sing and make harmonies together. So to have it become part of American musical culture is pretty amazing."
The amazing yet true saga of The Beach Boys is well chronicled, and by any standard it's one of the greatest and most musical stories ever told. Now this singular West Coast story continues with a global celebration that is befitting of the remarkable and enduring legacy of these Rock & Roll Hall of Famers. To mark their 50th Anniversary, the founding members of The Beach Boys are reuniting for a major international tour and a brand new studio album that represents a whole new harmonic convergence from a group that has brought so much joy and harmony to this whole world.
For millions of Beach Boys fans spanning multiple generations, this 50th Anniversary Tour and new album called That's Why God Made The Radio — due June 5th from Capitol/EMI — represents a dream come true and an almost religious experience. That's right; this legendary group is not just going to "Do It Again" on the road. Beach Boys Brian Wilson, Mike Love, Al Jardine, Bruce Johnston, and David Marks also recently completed their recording sessions at Los Angeles' famed Ocean Way Studios for That's Why God Made The Radio, the band's 29th studio album, the first in decades to feature all of the band's surviving original members.
The Beach Boys' collaborative approach to writing and recording their new music is evidenced throughout That's Why God Made The Radio, with all of the band members participating to create its glorious harmonies, lyrics, and arrangements. Through it all, the good times and the bad, The Beach Boys have always been at heart a musical family. And to mark a half-century of musical excellence, the surviving members of The Beach Boys family are reuniting as only family can to reflect and to celebrate.
"We've come full circle," says Al Jardine. "Sharing our memories and our present in the studio has been really remarkable. I can especially feel it when we're all singing around the mic together, because we all hear each other and we really lock in."
"We have reunited as a band, but we never 'un-reunited' as friends," says Bruce Johnston. "To be back in the studio with these guys is like a prayer that's been answered and I am thrilled to be sharing it with everybody."
"This is more like a family reunion than anything," says David Marks. "When we're together, we get along great. The chemistry always works the same as the last time we were together, and the five of us become a single element."

Weekend Saturdays Listings

Weekend Sunday's Listings

Houston's Weekend Planning Guide utilizes Ticket Liquidators.com. TL is not a box office. Ticket prices can be more or less than face value. Only the most qualified, trustworthy sellers are part of their network, after TL vets them for superior service. TL guarantee that your tickets will be legitimate, arrive in time for the event, be the exact tickets you ordered or comparable alternatives, and be completely refunded if the event is cancelled. If your experience falls short of these expectations, you're covered by their100% money-back guarantee.
Looking for that Saturday weekend event and can't find it
try our custom "Google Search"