Cirque de Soleil - Alegria show has been reimagined for a new generation to fall in love with. A wind of change hangs in the air, as the aristocratic ideals of the old guard are challenged by the revolutionary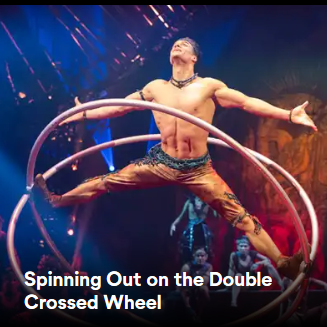 ideals of a youth in revolt. It all starts this weekend February 29, 2020) at Sam Houston Race Park under their Grand Chapiteau throughout the month of March.

Featuring a soundtrack that incorporates an eclectic mix of sonic palates and stunning feats of circus artistry, Alegría earns its reputation as an all-time classic Cirque du Soleil show. Stunning costume design and vibrant sets allow you to fully immerse yourself in this kingdom on the verge of revolutionary change.


Alegría takes its name from the Spanish word for "joy." Cirque du Soleil's literature describes the show as "an operatic introspection of the struggle for power and the invigorating energy of youth." Dominique Lemieux's costumes evince a baroque aesthetic of decadence and ornamentation, while René Dupéré's musical score features a unique blend of French, Spanish, African, and Mediterranean influences. The stage and props are characterized by gothic arches and harsh angular designs.

Alegría's costumes have a dichotomy relating to the Old Order and the New Order. The Old Order has costumes which are reminiscent of New York's Gilded Age as they are finely decorated with feathers, lace, and other adornments. The New Order, on the other hand, representing the youth of tomorrow, have the same rich hues as the old order, while the fabrics used are lighter and softer, helping to emphasize the agility of youth. Over 400 costume pieces comprise the Alegría wardrobe set, including shoes, wigs, hats, etc. As an example of how long it takes to create each custom outfit, over 200 hours are needed to create one Old Bird costume.
Alegría's highly acclaimed music was composed by René Dupéré, who had composed numerous scores for Cirque's previous productions, including Nouvelle Expérience, Saltimbanco and Mystère.
The music of Alegría was released as a studio album in 1994. Produced by Robbi Finkel, it remains Cirque du Soleil's best-selling album to date, having sold more than 500,000 copies worldwide. Robbi Finkel and René Dupéré were nominated for a Grammy Award as Best Arranger at the 38th Annual Grammy Awards. The album was also nominated for several Félix Awards in 1995, winning two of the latter: 'Producer of the Year' for Robbi Finkel and René Dupéré, and 'Sound Mixer of the Year' for Rob Heaney. Alegría was also ranked on the Billboard World Music Chart for 65 weeks.
The album's lead vocals are provided by opera-trained, French-Canadian singer Francesca Gagnon. Gagnon also features as 'The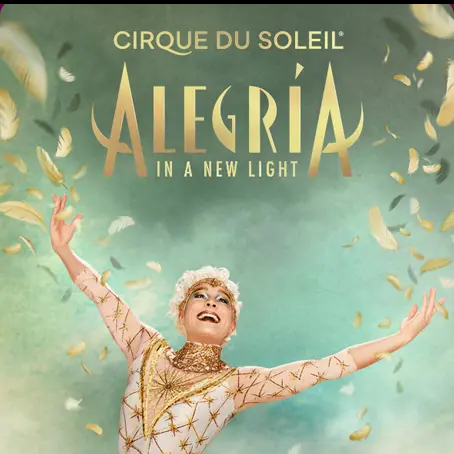 White Singer' (principal vocalist) in the Alegría DVD, with fellow French-Canadian Ève Montpetit supporting as 'The Black Singer'.

In commemoration of the show's 25th anniversary, a new show called Alegría: In a New Light was created, in its original Big Top format to pay tribute to the original show. The tour began on 18 April 2019 in Montreal. It will feature revamped numbers, characters, costumes, music and makeup.