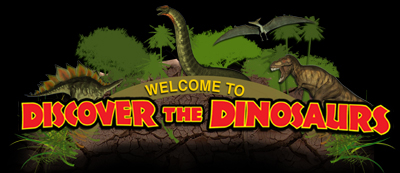 Their will be up to 40 Museum Quality Dinosaurs in the exhibit. Thats 10 times what might be found in a typical museum exhibit. The exhibit features, moving Dinosaurs, static Dinosaurs, Dinosaur Skeletons and Dinosaur fossils.
Many of the dinosaurs in the exhibit and all of the Dino Den Dinosaurs were designed and sculpted by our resident sculptor.
Discover the Dinosaurs
George Brown
Convention Center
Friday, January 1
10 AM – 7 PM
Saturday, January 2
10 AM – 7 PM
Sunday, January 3
10 AM – 7 PM Directions
The exhibit includes over a dozen dinosaurs with movement and sound that are controlled electronically. Several are designed to be interactive with push buttons to be controlled by our guests.
The lights, sound effects and speakers are controlled by a computer program custom designed for the event.
Over 9,000 square feet of camouflage netting is used the exhibit.
Hundreds of plants and trees are used in the scenes and throughout the exhibit.
The backdrops were custom designed for the event to reflect the pre-historic landscapes and habitat where dinosaurs may have lived.
It takes the Discover the Dinosaurs staff two-three days to set up the exhibit.
The Discover the Dinosaur tour will travel to over 80 cities in the US in 2013.
The Discover the Dinosaurs exhibit employs over 40 people including 25 locally hired employees in each market.
Two professional face painters are on staff and travel with the exhibit. Two to six additional professional face painters are hired locally in each city. They have painted a total of 14,977 faces to date on the tour.