Don Giovanni
@Wortham Center
Brown Theater
Friday 5/3/2019 7:30 PM
Sunday 5/5/2019 2:00 PM

Houston's Grand Opera this weekend continues its staging of Don Giovanni an opera in two acts with music by Wolfgang Amadeus Mozart and Italian libretto by Lorenzo Da Ponte. Don Giovanni is based on the legends of Don Juan, a fictional libertine and seducer. It was premiered by the Prague Italian opera at the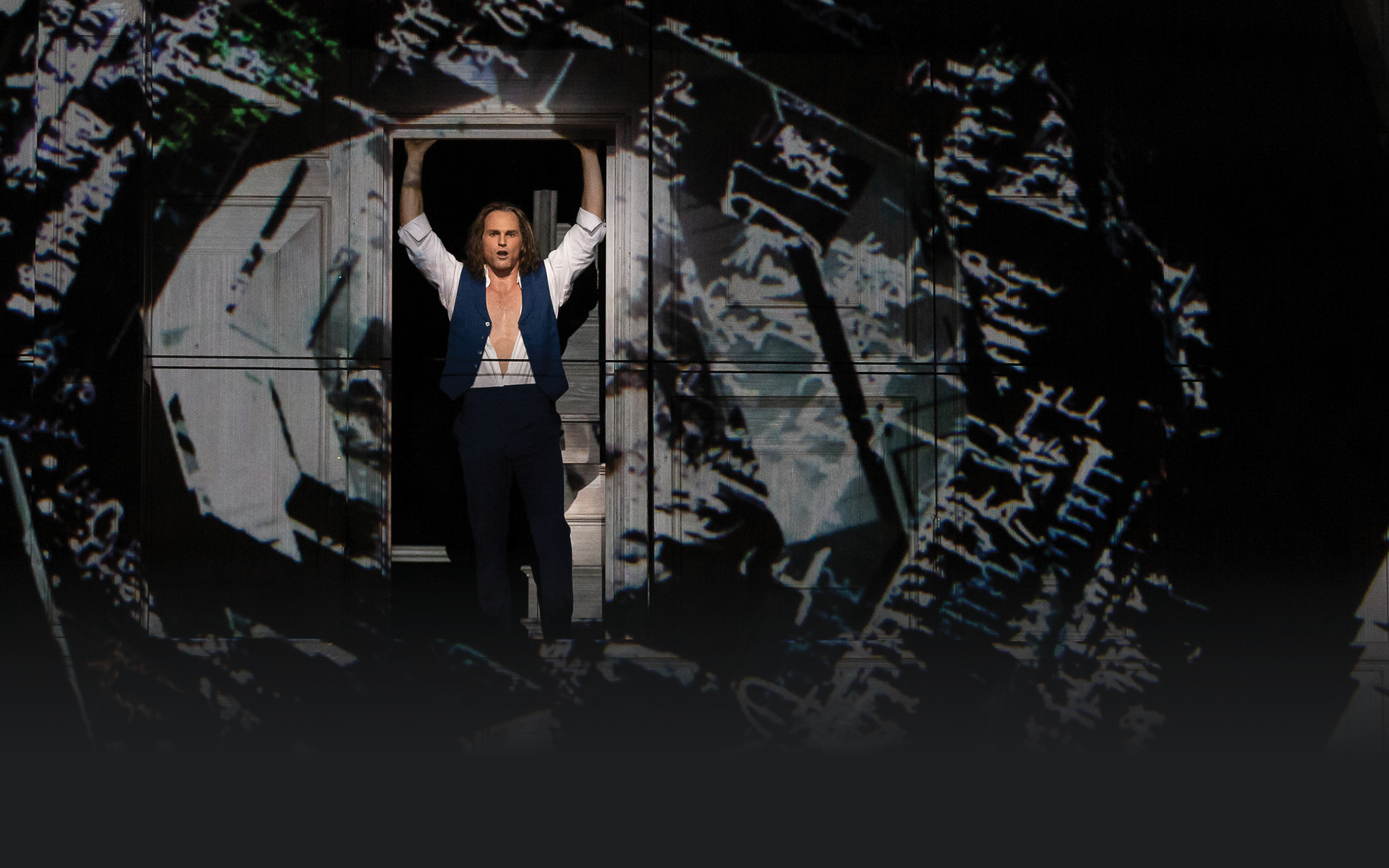 National Theater (of Bohemia), now called the Estates Theatre, back in 1787. Da Ponte's libretto was billed as a dramma giocoso, a common designation of its time that denotes a mixing of serious and comic action. Mozart entered the work into his catalogue as an opera buffa. Although sometimes classified as comic, it blends comedy, melodrama and supernatural elements. Houston's Grand Opera bills it as, "Seduction, passion, and guilt lead to a fateful end."

The legendary womanizer Don Giovanni adventures across Europe with his resourceful servant Leporello to take advantage of women and indulge his hedonistic desires. In Seville, after abandoning his latest conquest, the playboy plans to seduce even more women, including noblewoman Donna Anna and peasant Zerlina. Unfortunately, his luck runs out.
Mozart's masterpiece returns to HGO in a stunning new production by Kasper Holten. Es Devlin's innovative, rotating set and Luke Halls's cutting-edge projections transport the audience deep into the dark mind of a serial philanderer.
Cast

Don Giovanni, Ryan McKinny
Leporello, Paolo Bordogna
Donna Anna, Ailyn Pérez
Donna Elvira, Melody Moore
Don Ottavio, Ben Bliss
Zerlina, Dorothy Gal
Masetto, Daniel Noyola
Commendatore, Kristinn Sigmundsson
ACT I
Don Giovanni, a Spanish nobleman, is renowned throughout Europe as a seducer of women; Leporello, his servant, reluctantly aids him by keeping watch. Giovanni attempts to leave the house of Donna Anna, his most recent conquest; he kills Anna's father, the Commendatore, when the Commendatore tries to stop him. Anna tells her fiancé, Don Ottavio, that she was raped by an unknown man and they vow revenge on the murderer.
Leporello's attempts to persuade his master to reform are interrupted by Donna Elvira, a former mistress of Giovanni's, who is traveling to look for him. Giovanni leaves it to Leporello to explain the extent of his master's womanizing.
Masetto and his bride, Zerlina, are to be married in a peasant wedding, but Giovanni sets out to seduce Zerlina. Elvira interrupts and foils Giovanni's attempt. Ottavio and Anna appeal to Giovanni for help in their pursuit of the murderer of Anna's father. Elvira again interrupts and warns Ottavio and Anna about Giovanni's true nature; Anna tells Ottavio that Giovanni is the man who murdered her father.
Leporello discusses with Giovanni the plans for the masked ball his master is hosting that evening. Zerlina assures Masetto that Giovanni has not touched her. Elvira joins forces with Ottavio and Anna; they are going to the ball and intend to exact vengeance on Giovanni. While everyone is dancing at the ball, Giovanni attempts to ensnare Zerlina, but she rallies everyone behind her to try to entrap Giovanni. All accuse him, but he and Leporello elude them once more.

ACT II
Hoping for success with Elvira's maid, Giovanni exchanges clothes with Leporello, who is instructed to lure Elvira away. Giovanni is interrupted by Masetto, who is intent on killing him, but his disguise is successful and he beats Masetto up and escapes.
Returning with Elvira, Leporello is mistaken for Giovanni by Anna, Ottavio, Zerlina, and Masetto. Removing his disguise, Leporello convinces them that he is not the guilty one. Ottavio swears vengeance on Giovanni, whom, in spite of everything, Elvira continues to love.
Giovanni hears the voice of the Commendatore, whom he killed, warning Giovanni of impending retribution. Giovanni orders Leporello to invite the ghost to supper. The ghost of the Commendatore accepts Don Giovanni's invitation and arrives to send him to hell.
Don Giovanni
Wortham Center
Brown Theater
501 Texas Ave.
Houston, TX
Directions
Friday 5/3/2019 7:30 PM
Sunday 5/5/2019 2:00 PM
Ticket Information

Weekend Saturdays Listings

Weekend Sunday's Listings

Houston's Weekend Planning Guide utilizes Ticket Liquidators.com. TL is not a box office. Ticket prices can be more or less than face value. Only the most qualified, trustworthy sellers are part of their network, after TL vets them for superior service. TL guarantee that your tickets will be legitimate, arrive in time for the event, be the exact tickets you ordered or comparable alternatives, and be completely refunded if the event is cancelled. If your experience falls short of these expectations, you're covered by their100% money-back guarantee.
Looking for that Saturday weekend event and can't find it
try our custom "Google Search"