Houston's Online Weekend Entertainment Guide
Our Weekend Entertainment Picks for Weekend Saturdays in February 2017
Taylor Swift
@Club Nomadic
It's Superbowl weekend and why not a Taylor Swift concert.
Allmusic.com calls Swift; the rarest of pop phenomenon: a music artist that managed to completely cross over from country to the mainstream. Other singers performed similar moves -- notably, Dolly Parton and Willie Nelson both became enduring mainstream icons based on their '70s work -- but Swift shed her country roots like it was a second skin; it was necessary molting to reveal she was perhaps the sharpest, savviest, populist singer/songwriter of her generation, one who could harness the zeitgeist and turn it personal andjust as impressively, perform the reverse.
Swift continues to be a pop social media icon as her team puts it out there for us to catch on to and follow.
Taylor Swift at Club Nomadic this Superbowl weekend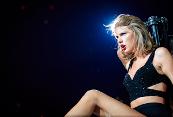 This New Orleans, La. born rapper has been rap rhyming us for years, but if you're under 30 and perhaps not African-American his artistry maybe a little dull for you.
Did you know Dwayne Michael Carter Jr. (Lil Wayne) attended one of New Orleans most prestigious magnet schools and his teachers considered him quiet talented, not just a performer. But, the hood was him; whatever that means and like Mr. Willie Nelson, Weezy enjoys the maryjane.
Catch Weezy at Ayva Center this Superbowl weekend.

Looking for that Saturday weekend event and can't find it
try our custom "Google Search"