25th Annual Houston
National Invitational
@NRG Center
Friday 1/1/2019
Saturday 1/2/2019
Sunday 1/3/2019
The Houston G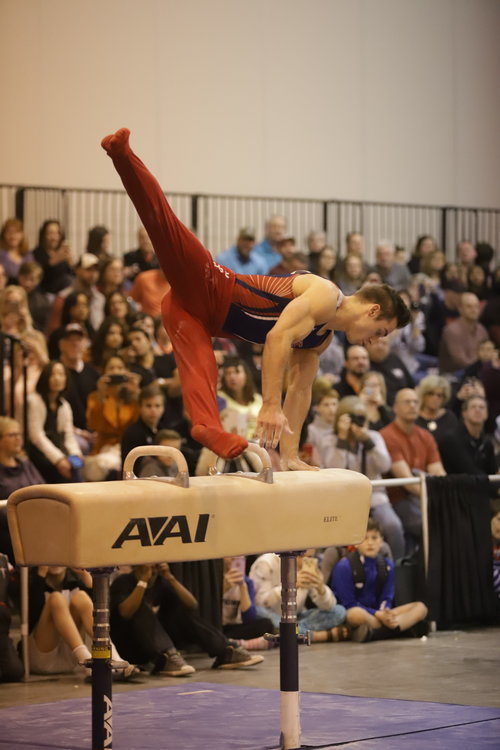 ymnastics Center (HGC) again presents the 25th Annual Houston Invitational at NRG Center. HGC is a multi-level community training center based at the Evelyn Rubenstein Jewish Community Center of Houston. Team members come from the broad economic, social, cultural and religious backgrounds typical of Houston. Pre-school, recreational, trampoline, tumbling, cheerleading and competitive programs run year round and promote athletic learning experiences for all age and skill levels.

Houston Gymnastics Center Director, Tim Erwin, has hosted the competition since its inception in 1994. During this time the Houston National/International Invitational has grown into a premier national gymnastics and fitness competition.
The competition Features top men and women athletes from around the world. It's Houston's premier international/national gymnastics, trampoline and fitness competition.
More than 3,500 athletes in three major national and international events. Some of the nation's top Olympic and junior gymnasts, along with teams from outside the USA , come to compete in an international invitational competition.
First time competitors as young as six, as well as junior and senior elite gymnasts, perform in the same venue with national and Olympic team members. The younger gymnasts will have the exciting opportunity of competing next to their Olympic heroes.

Also @ NRG Center This Weekend
The Pearl Fishers
Brown Theater
@Wortham Center
Saturday 2/2/2019 7:30 PM
Friday 2/8/2019 7:30 PM


Houston's Grand Opera this weekend will be presenting Les pêcheurs de perles (The Pearl Fishers). A rarely performed gem of the opera world, The Pearl Fishers, is noted for its extraordinary musical beauty. Composed 12 years before Bizet's masterwork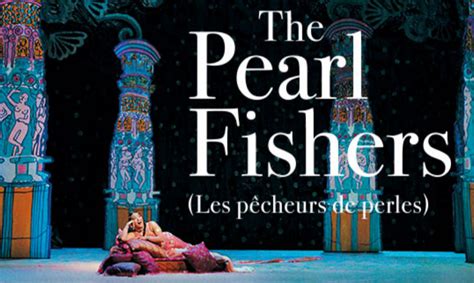 Carmen, this opera tells the story of two best friends and the bond that is interrupted by the arrival of a priestess to bless the pearl harvest. This romantic love triangle between the best friends and the priestess lead to dramatic consequences.
Alexander Birch Elliott and Lawrence Brownlee lead the cast and come together to perform The Pearl Fishers duet, widely recognized as one of the most beautiful and famous duets in opera. The colorful, eye-popping production designed by Zandra Rhodes will transport you to a fantasy-inspired version of the island of Ceylon (Sri Lanka).

ACT I
A seashore on Ceylon
There is a short prelude after which the curtain rises on a group of fishermen and their families working, singing, and dancing. When Zurga enters and reminds them it is time to select a leader, they choose him. They agree to give him absolute power and he accepts. Nadir—a young fisherman and former friend of Zurga's—appears, and they joyfully greet each other.
Left alone, Zurga and Nadir recall their former rivalry over the beautiful priestess Leïla and how, to save their friendship, they swore never to see her again. They are interrupted by news of the arrival of a veiled woman who, to ward off evil spirits, is to pray for fishermen at sea. She is accompanied by the high priest, Nourabad, and is welcomed by the people. Zurga has her swear that she will remain veiled and chaste; if she does so, she will be rewarded with the finest pearl found—if not, she will die. The woman is Leïla, and in spite of her veil, she and Nadir recognize each other. After she reaffirms her vows and is led to the temple by Nourabad, all leave except Nadir. He tells how he has dreamt of her and followed her here. He falls asleep, and Leïla appears on a rock above the shore. When he wakes, she removes her veil, and they sing of their love.
ACT II
That evening, in front of the temple
The fishermen have returned safely, and Leïla is released from her vigil for the evening. Nourabad reminds her of her vow, and she tells him she has always been faithful, even when faced with death. When she was a child, in spite of being threatened with knives, she helped a fugitive escape. He rewarded her with a necklace.
Alone in the temple, she senses Nadir's presence. When he appears, she admits her love, but she pleads with him to leave; it is dangerous for him to be with her. It is too late; Nourabad has seen him, and Nadir is captured. Although Nourabad and the crowd call for the lovers' death, Zurga reminds them that he has sole power and will be merciful. When Nourabad tears the veil from Leïla, Zurga realizes that Nadir has betrayed their vow. His mercy changing to rage, he swears revenge.
ACT III
Scene 1, Zurga's tent
Zurga regrets the rage and jealousy that has made him condemn his old friend. Leïla comes to beg for Nadir's life. Although he had planned to spare them, his jealousy when he realizes she loves Nadir leads him to order their death. Before she is led off, Leïla produces her necklace, asking that it be sent to her mother. Zurga recognizes it—he is the fugitive she saved as a girl!
Scene 2, The place of execution
Anticipating the execution, the villagers perform a frenzied dance. As Leïla and Nadir are led to the funeral pyre, a red light appears in the sky. Nourabad thinks it is the dawn, but Zurga announces that the village is on fire. As the people rush off to save their homes and children, Zurga tells the lovers that he set the fire; the necklace was his. He is repaying his debt to Leïla by setting them free.

The Pearl Fishers
Brown Theater
Wortham Center
501 Texas Ave.
Houston, TX
Directions
Saturday 2/2/2019 7:30 PM
view tickets
Disney
DCappella
@Smart‌ Financial Center
Saturday 2/2/2019 7:30 PM
Contemporary a cappella includes many vocal groups and bands who add vocal percussion or beatboxing to create a pop/rock/gospel sound, in some cases very similar to bands with instruments. Examples of such professional groups include Straight No Chaser, Pentatonix, The House Jacks, Rockapella, Mosaic,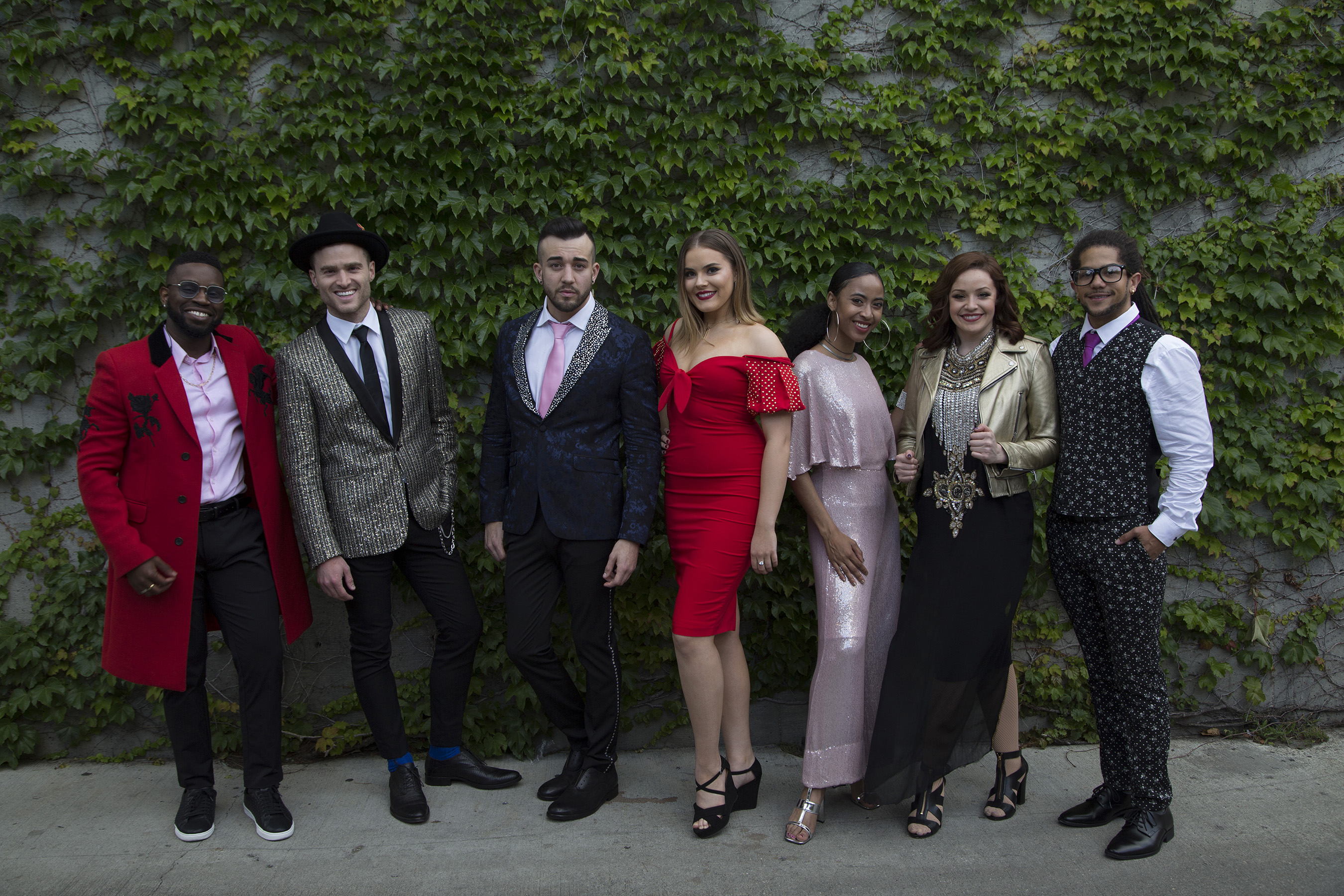 Home Free and M-pact. There also remains a strong a cappella presence within Christian music, as some denominations purposefully do not use instruments during worship. Examples of such groups are Take 6, Glad and Acappella. Arrangements of popular music for small a cappella ensembles typically include one voice singing the lead melody, one singing a rhythmic bass line, and the remaining voices contributing chordal or polyphonic accompaniment.
. . .more @February Saturdays click here
Houston's Online Weekend Entertainment Guide
Weekend
Saturdays
Listings
Looking for that Saturday weekend event and can't find it
try our custom "Google Search"