Weekend Fridays is updated continuously
Scout Bar presents
Reverend Horton Heat
Holy Hell
@Scout Bar
Friday 7/8/2022 8:00 PM
Doors Open 7:00 PM
Reverend Horton Heat
Let Me Teach You How To Eat
On their 1992 debut Smoke 'Em If You Got 'Em, the group established the template of their no-frills, high-intensity approach to rockabilly, and though celebrity producers helped beef up the sound of their next two albums -- Gibby Haynes of the Butthole Surfers on 1993's The Full Custom Gospel Sounds and Ministry's Al Jourgensen on 1994's Liquor in the Front -- the Reverend's essential style changed little with time. They would explore a more introspective side on 2004's Revival, embrace their country influences on 2009's Laughin' & Cryin' with the Reverend Horton Heat, and add a pianist to the mix on 2018's Whole New Life, but on-stage and in the studio, Jim Heath and his bandmates could always be depended upon to deliver some of the twangy fire that their fans loved. (Read more @AllMusic.com Click Here)
Scout Bar
in Marinagate
18307 Egret Bay Blvd.
Houston, TX
Directions
(281) 335-0002
100% Money-Back Ticket Guarantee
Tickets for Weekend Houston's Planning guide is provided by Ticket Liquidator a resale marketplace, not a box office or venue. Prices may be above or below face value. Your seats are together unless otherwise noted. If problems with our affiliate call us (832) 304-0701
INTXS plus WeBop
"The Cyndi Project"
@HOB Houston
Friday 7/8/2022 :8:00 PM
Doors Open 7:00 PM

(From All Music.com - Stephen Thomas Erlewine) INXS hailed from the pubs of Australia, which is part of the reason the band never comfortably fit in with new wave. Even when they branched out into synth pop on their early recordings, they were underpinned by a hard, Stonesy beat and the Jagger-esque strut of lead singer Michael Hutchence.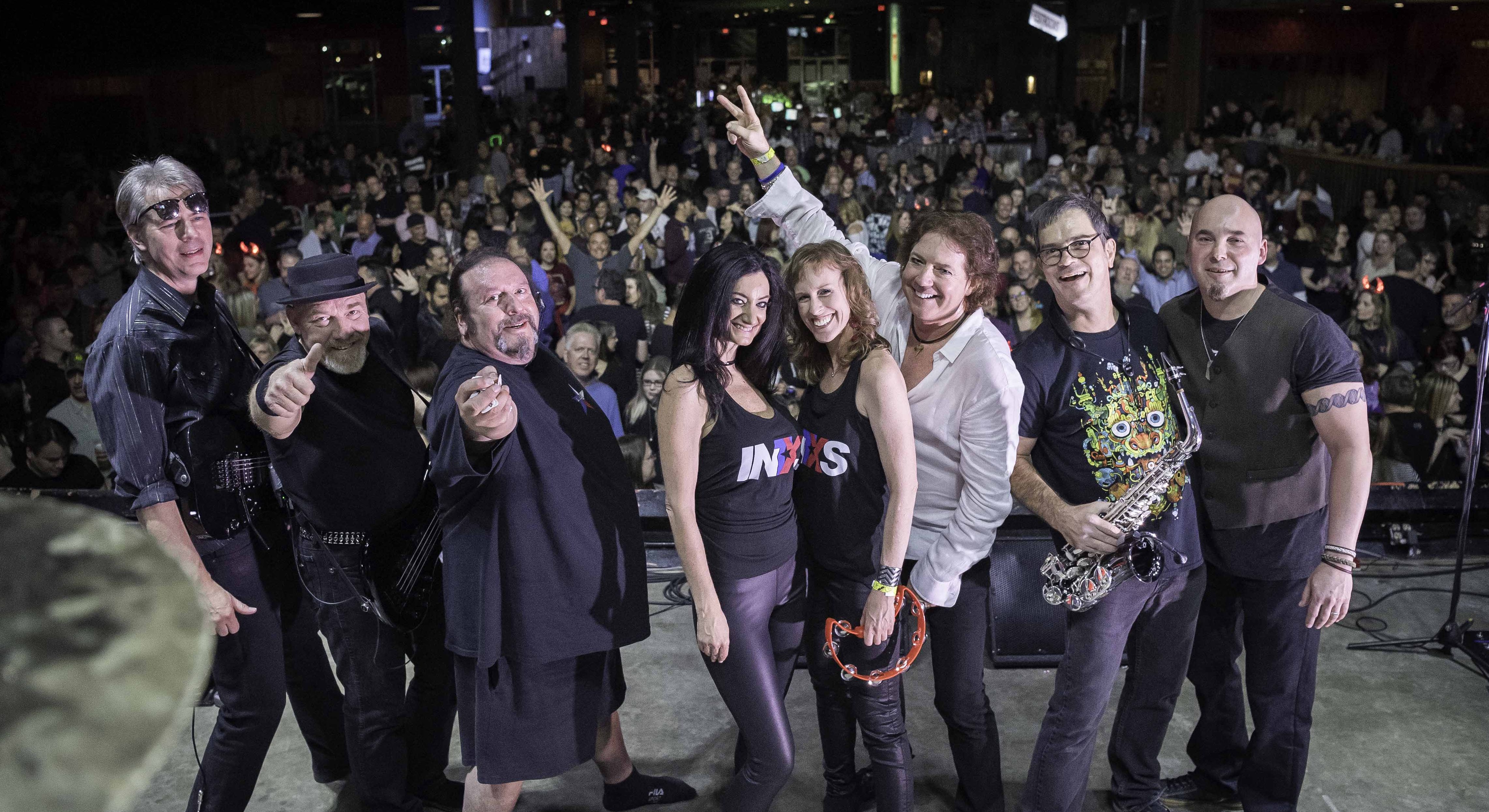 Ultimately, these were the very things that made INXS into international superstars in the late '80s. By that time, the group had harnessed its hard rock, dance, and new wave influences into a sleek, stylish groove that made their 1987 album Kick a multi-million-selling hit. While that sound was their key to stardom, it also proved to be their undoing; INXS became boxed in by their style of Stonesy pop-funk in the early '90s, when audiences became entranced by harder-edged alternative rock. The band continued to tour and record for a dedicated fan base until Hutchence's untimely death in 1997 brought the band's heyday to a close.
Appropriately for a band that featured three brothers, INXS had their roots in a family act, the Farriss Brothers. The group came together while keyboardist Andrew Farriss, the middle brother, was attending high school with vocalist Michael Hutchence. The two formed a band with bassist Gary Beers. Simultaneously, guitarist Tim Farriss was playing in various groups with his friend, guitarist/saxophonist Kirk Pengilly. Eventually, the two groups merged in 1977, with Jon Farriss joining the unified lineup as drummer. Two years later, when Jon graduated from high school, the band renamed itself INXS, moved from Perth to Sydney, and began to play the pub circuit. Within a year, the group landed an Australian record contract and released an eponymous debut on Deluxe in 1980. (Read more @All Music.com)
HOB Houston
in GreenStreet
1204 Caroline St.
Houston, TX
(888) 402-5837
Directions (Map)
Ishi
@White Oak Music Hall
Upstairs
Friday 7/8/2022
Doors Open 8:00 PM

(From ishimusic.com) Ishi was born as an experiment between friends in Dallas, TX. In 2006, JT Mudd & Brad Dale set out to create a sound that would redefine their own voice in modern day music. This weekend they're at White Oak Music Hall to present just that.

Their vision was to blend the classic, soulful story-telling and organic instrumentation of traditional folk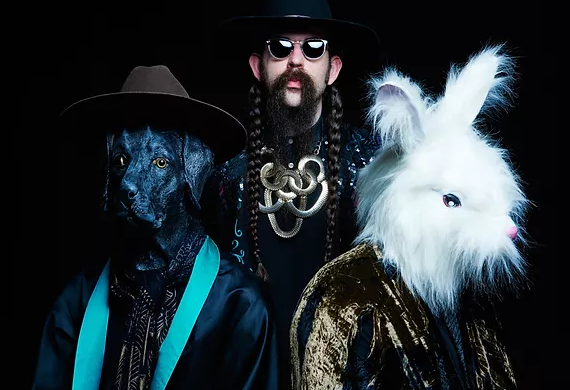 music, with the infinite sonic possibilities offered through electronic production. Experimentation quickly evolved into a journey of sound that would ultimately lead to Ishi's debut, Through the Trees, released May of 2010 and Digital Wounds April of 2013.
Juno released on September, 16th for the band's fifth independent release and the third EP of their catalog. The new collection of songs range from funk, nu disco, and indie rock bathed in the gospel of Prince/LCD Sound System. Ishi teamed up again with UK artist James Marsh most known for his creative album concepts with experimental UK band Talk Talk.
As musicians who consistently use their music and live shows to uplift and inspire their fans, Ishi has decided to be leaders in the music industry by using their voice to improve the quality of life for those suffering from various cognitive diseases. The release of their new ep, Juno will benefit non-profit Music Is Our Weapon who provides personal music programs for those battling Alzheimer's and dementia, PTSD, Autism, Parkinson's and various other cognitive disorders. 50% of all digital sales raised by the EP will go directly to Music Is Our Weapon's ongoing effort to provide a sustainable source of digital music in healthcare environments to increase life quality. By providing caregivers with the tools and support necessary to serve those in need with access to the music they love, they will be able to simultaneously collect data to further understand the power of music as medicine.
Ishi's ability to successfully walk the line between an ambitious studio act and a multi-sensory live experience allows them to engage their audiences in an uplifting celebration of life. Their subtle undertones of inner-exploration combine to create a concert experience that is unequivocally one-of-a-kind. Each night, Ishi intends to create an entirely unique environment of mysticism, awareness, love and acceptance. Adored by fans and critics alike, there is no denying that Ishi is an immersive experience that everyone should discover.
White Oak Music Hall
2915 N Main Street
Houston, TX 77009
Directions (Map)
Phone: (713) 237-0370
Maverick City Music X
Kirk Franklin
with Jonathan McReynolds and Housefires
@Cynthia Woods
Mitchell Pavilion
Saturday 7/9/2022 6:45 PM
Gates Open 6:00 PM

GRAMMY nominated, Billboard Music Award winning, platinum-selling, multi-racial, multi-cultural, and genre-bending collective Maverick City Music and 16-time GRAMMY Award winning artist, songwriter, producer and cultural icon Kirk Franklin have announced the Kingdom Tour featuring special guests Jonathan McReynolds and Housefires.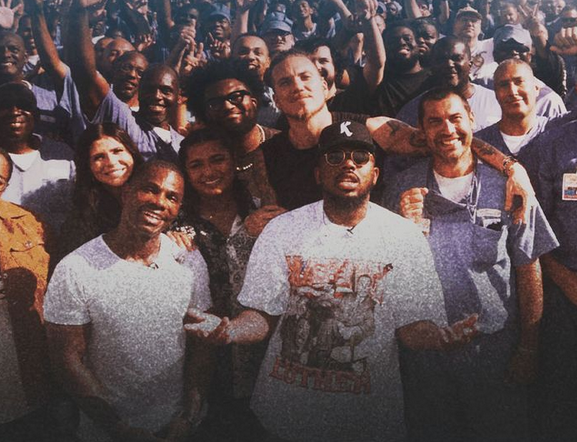 This weekend they're at Cynthia Woods Mitchell Pavilion in The Woodlands.
Five-time Grammy nominated super group Maverick City Music has been making noise since forming in 2018. Featuring a rotating group of members that include Chandler Moore, Naomi Raine, Dante Bowe, Lizzie Morgan, MJ George, Aaron Moses, Joe L Barnes and Brandon Lake, Maverick City Music brings together a diverse array of voices, drawing inspiration from soul, gospel, R&B, and indie rock. Their 2021 album Old Church Basement, in collaboration with Elevation Worship, earned the group three Grammy nominations across three categories including nominations for their largest single to date, "Jireh (feat. Chandler Moore & Naomi Raine)," and "Wait On You (feat. Dante Bowe & Chandler Moore.)"
Kingdom (feat. Naomi Raine & Chandler Moore) | Maverick City Music x Kirk Franklin
Kirk Franklin is a 16-time GRAMMY Award winning songwriter, arranger, and producer. After over 30 years of continuous hits and tremendous success bridging Hip-Hop, Pop, and Gospel together, Franklin's Love Theory bowed at #1 on Billboard's Hot Gospel Songs chart and kept the position on lock for thirty-nine weeks. The vibrant track marked the singer's record-extending seventh #1 and his second start atop the chart. Love Theory also opened at #1 on Gospel Streaming Songs as well as Gospel Digital Song Sales charts. The album LONG LIVE LOVE and single "Love Theory" won two GRAMMYs in January 2020. Kirk continuously creates a sonic compass to everyday culture and curates a Gospel moment whenever and however he can to keep the message of the Gospel pushing forward. Known for his timeless songs and epic collaborations with artists including, Chance the Rapper, Kanye West, Justin Timberlake, Justin Bieber, Demi Lovato, Michael Jackson, Wyclef John, and more, Franklin's impact doesn't just stop at the charts. He promotes the growth and development of young artists by hosting a summer camp, Camp Lotus, for aspiring artists and musicians. Franklin also supports various non-profit organizations including, Compassion International and St. Jude Children's Research Hospital.
Cynthia Woods Mitchell Pavilion
2005 Lake Robbins Drive
The Woodlands, TX 77380
Directions (Map)
(281) 364-3010
Summer Symphony Nights
@Miller Outdoor Theatre
Enjoy music under the stars with this free Houston Symphony performance at Miller Outdoor Theatre. Conductor Christian Reif leads Errollyn Wallen's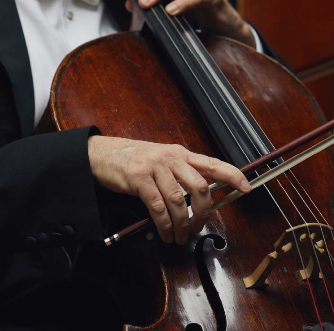 stirring Mighty River and Copland's high-spirited Rodeo, which ends with the famous "Hoe Down." And, experience Dvořák's brooding and dramatic Symphony No. 7, a remarkable masterpiece often deemed his greatest symphony.
Miller Outdoor Theatre
Hermann Park
6000 Hermann Park Dr
Houston, TX 77030
Directions click here
(832) 487-7102
Swimwear Department
with Calliope Musicals
and Blossom Aloe
@The Heights Theatre
Friday 7/8/2022 8:00 PM
Doors Open 7:00 PM
Lobby Opens 6:00 PM
Swimwear Department makes songs about two topics: swimming pools and shopping malls.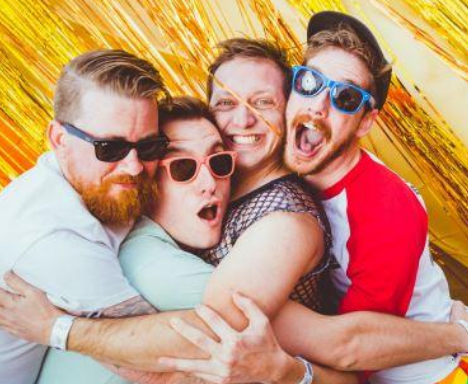 The Houston, Texas dance-punk band brings party power reminiscent of Electric Six, DEVO, and The B-52s. Fans frequently join enthusiastic shout-alongs and improvised line dances.
Swimwear Department - Mallster
NPR Tiny Desk Contest 2021
Ned Gayle (bass), Jack Gordon (drums), Matt Graham (vocals), and Jeremy Grisbee (keys) have been making music as Swimwear Department since 2017. One journalist called their music "...refreshingly frivolous proof that you can take subject matter that on the surface level may seem a bit silly and provide emotionally satisfying and even profound experiences."
Bruce Bruce
@Improv Houston
Friday 7/8/2022 7:30 PM & 9:45 PM
Saturday 7/9/2022 7:00 PM & 9:30 PM
Sunday 7/10/2022 7:30 PM
Bruce Bruce's career skyrocketed after receiving the highest ratings ever as the host of "BET's 10th Anniversary Comic View" for two seasons, Bruce returned to the BET family as the two-time host "Coming to the Stage." Bruce went on to star in his own "Comedy Central Presents" special which he followed with a release of his one-hour comedy special DVD "Bruce Bruce Live"(2003) and more recently on "Losin' It" (Showtime 2011).
On the big screen, Bruce has created crazy characters like the "Lime Pimp" in Hair Show starring Mo 'Nique, and "Dewayne" the lovable security guard in The Wash starring Snoop Dog and Dr Dre. He also appeared as Larry's buddy, "Big Shug," in the Larry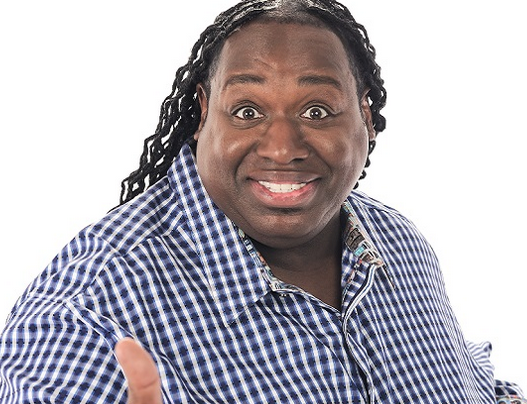 he Cable Guy: Health Inspector, XXX: State of the Union, hilarious "Maitre D" in the Mike Epps's The Trap and as the memorable "Golf Ball Eddie" in Who's Your Caddy. On the small screen, Bruce recently turned a small role as "Brother Davis" into a hilarious foil for Loretta Devine's character in "Family Reunion." Bruce's bigger than life personality has transcended his personality onto the music video scene as well. He has made guest appearances in videos with Ludacris and the Ying Yang Twins (after being named in their hit song "Salt Shaker").
Bruce Bruce
White People Always Pay On time
He appeared in the monstrous 1996 summer hit "Come On Ride the Train (Ride It)" by Quad City DJs and can also be seen in Outkast's music video "So Fresh, So Clean." Most recently, Bruce appears with Anthony Anderson in the KEM music video, "You're On My Mind."
Bruce's memorable festival appearances include the prestigious, Just For Laughs Comedy Festival in both Chicago (2009) and Montreal (2000 /2003/2008), Laffapalooza in Atlanta, GA (1999-2002) and the US Comedy Arts Festival in Aspen (2002). You can currently find Bruce guest-starrring on the Netflix Original comedy series "Family Reunion," with Loretta Devine (2020), Syfy's "Superstition," "Showtime at the Apollo (2018)," in his DVD release, "Losin' It: Live from Boston," "Shaquille O'Neal's Comedy All Stars" (Showtime 2018) and in constant reruns of "Comic View" on BET.
When not performing in comedy clubs across the country, Bruce spends his time at home with his extended family in Atlanta. He is also extremely dedicated to his incredible car collection, which includes two Harley Davidson trucks and four Buick muscle cars, among others.
The Improv
7620 Katy Freeway Space
455 Houston, TX 77024
Directions
Buy tickets over the phone:
713-333-8800
Disney's Frozen
@Hobby Center
Sarofim Hall
Tuesday 7/5/2022 7:30 PM
Wednesday 7/6/2022 7:30 PM
Thursday 7/7/2022 7:30 PM
Friday 7/8/2022 8:00 PM
Saturday 7/9/2022 2:00 PM
Saturday 7/9/2022 8:00 PM
Sunday 7/10/2022 1:00 PM
Sunday 7/10/2022 6:30 PM
Tuesday 7/12/2022 7:30 PM
Wednesday 7/13/2022 7:30 PM
Thursday 7/14/2022 7:30 PM
Friday 7/15/2022 8:00 PM
Saturday 7/16/2022 2:00 PM
Saturday 7/16/2022 8:00 PM
Sunday 7/17/2022 1:00 PM
Sunday 7/17/2022 6:30 PM
From the producer of The Lion King and Aladdin, Frozen, the Tony®-nominated Best Musical, is now on tour across North America and the critics rave, "It's simply magical!" (LA Daily News).


Heralded by The New Yorker as "thrilling" and "genuinely moving," Frozen features the songs you know and love from the original Oscar®-winning film, plus an expanded score with a dozen new numbers by the film's songwriters, Oscar winner Kristen Anderson-Lopez and EGOT winner Robert Lopez. Oscar winner Jennifer Lee (book), Tony and Olivier Award winner Michael Grandage (director), and Tony winner Rob Ashford (choreographer) round out the creative team that has won a cumulative 16 Tony Awards.
An unforgettable theatrical experience filled with sensational special effects, stunning sets and costumes, and powerhouse performances, Frozen is everything you want in a musical: It's moving. It's spectacular. And above all, it's pure Broadway joy.
[Disclaimer]
Houston's Weekend Planning Guide participates in various affiliate marketing programs, which means, we receive paid commissions on purchases made through our links to retailer sites.Our editorial content is not influenced by any commissions we receive.
Houston's Online Weekend Entertainment Guide
Looking for that Friday weekend event and can't find it, try our custom "Google Search"