Friday November 30th, 2018
Rock of Ages
@Smart Financial Center
November 30th thru December 2nd, 2018

This Broadway musical is traveling the country in its 10th Anniversary Tour making its way to Sugarland, TX this weekend.
Rock of Ages considered a jukebox musical centered around classic rock songs from the 1980s, especially from the famous glam metal bands of that decade. The musical features songs from Styx,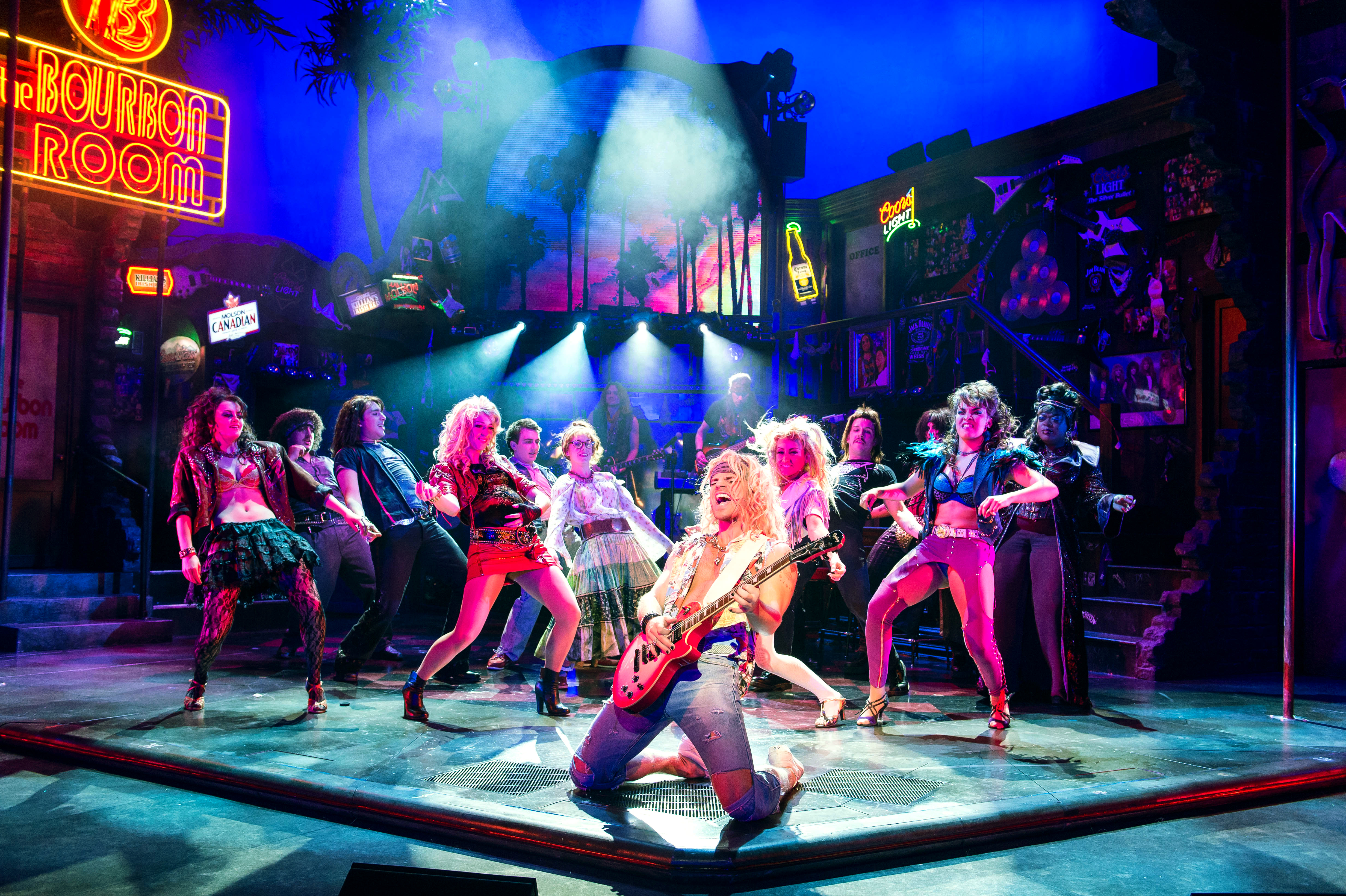 Journey, Bon Jovi, Pat Benatar, Twisted Sister, Steve Perry, Poison and Europe, among other well-known rock bands. It was written by Chris D'Arienzo, directed by Kristin Hanggi and choreographed by Kelly Devine with music supervision, arrangements and orchestrations by Ethan Popp.
The play or choreography is unusual since the performers at times address the audience in a seamless way suggesting this is a concert than a theatrical production.
The Broadway version of this pop culture production closed in 2015 as the longest running Broadway show in its history.

Here's how they story of Rock of Ages goes:
Act I
Lonny Barnett, who serves as the show's narrator, sets up the story: In 1987, an aspiring rocker named Drew Boley works as a busboy in the Hollywood bar/club called the Bourbon Room, owned by Dennis Dupree and assisted by Lonny (Just Like Paradise/Nothin' But a Good Time"). He falls instantly for a girl, Sherrie Christian, who just arrived from Paola, Kansas, hoping to make it big in acting ("Sister Christian"). Drew convinces Dennis to hire Sherrie as a waitress.
A pair of German developers, Hertz Klinemann and his son Franz, persuade the city's mayor to abandon the "sex, drugs and rock-n-roll" lifestyle of the Sunset Strip and introduce "clean living" into the area, much to the anger of the City Planner, Regina ("We Built This City"). When Dennis learns that part of the plan involves demolishing The Bourbon Room, he believes the club can generate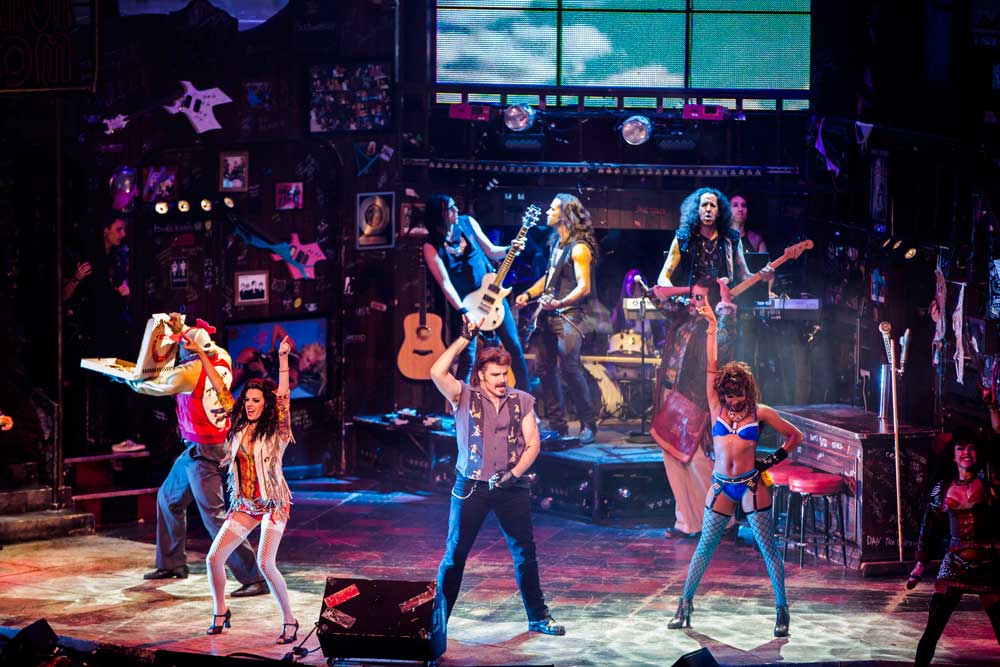 more money by having rock star Stacee Jaxx and his band Arsenal, who recently announced their break-up, perform their last show at the Bourbon ("Too Much Time on My Hands"). He calls Stacee and convinces him to play the band's last show in the club where he had begun. As Drew struggles to write new lyrics, Sherrie urges him to go after his dreams ("I Wanna Rock"). Regina begins protesting Hertz and Franz's redevelopment plans ("We're Not Gonna Take It").
Later, after arguing with her parents during a phone call, Sherrie begins to discover feelings for Drew, who supports her dream. Also, Drew, auditioning to open for Arsenal, finds the lyrics he has been searching for and realizes that they have come from his feelings for Sherrie ("More Than Words/Heaven/To Be with You"). After obtaining the opening slot for Arsenal, Drew invites Sherrie to have a picnic in the hills overlooking Los Angeles ("Waiting For a Girl Like You"). There, he mistakenly suggests that the two are merely friends to calm their nerves, disappointing both and ruining the date.
In the epilogue, The Bourbon Room is spared from demolition and Stacee Jaxx, now a washed-up has-been who has been charged with statutory rape, flees to Uruguay ("Renegade").

Stacee Jaxx arrives at the Bourbon and gives an interview about his life ("Wanted Dead or Alive"). Sherrie is immediately smitten with him, and believing she means nothing to Drew, has sex with Stacee in the men's room ("I Want to Know What Love Is"). While Stacee and Sherrie are copulating, Drew opens for Stacee and Arsenal, not knowing a record producer is in the audience. After their tryst, Stacee tells Dennis to dismiss Sherrie before the concert begins. His guitarist realizes what Stacee did and knocks him out. The record producer in the club was impressed with Drew's performance and suggests he take over for Stacee. He then offers Drew a contract, which he accepts. Sherrie seeks comfort from Drew after she is fired but having seen her go into the men's room with Stacee, he dismisses her ("Cum on Feel the Noize"). During these events, Regina continues her protest ("We're Not Gonna Take It [Reprise]").
An upset and unemployed Sherrie meets Justice Charlier, the owner of the nearby Venus Club, which Justice prefers to call a "gentleman's club." She relates to Sherrie's story, saying that many of the small-town girls hoping to hit it big in LA end up making a living as strippers. Grudgingly, Sherrie accepts Justice's offer to work in her club ("Harden My Heart/Shadows of the Night"). As the act closes, everyone is alone – Drew, as an upcoming rock star; Sherrie, fending for herself as an exotic dancer; Regina protesting the redevelopment; and Dennis, trying to save his club ("Here I Go Again").

Act II
Hertz and Franz begin demolition on the Sunset Strip, alienating them from each other as Franz falls for Regina and sees "the error of their ways." Dennis and Lonny join the fight with little success ("The Final Countdown"). Drew's rocker image is upsetting the record producer, and Sherrie is learning how things work at the Venus Club ("Any Way You Want It/I Wanna Rock [Reprise]"). When they meet on the street, Sherrie is embarrassed about her job and Drew is upset that his record company is attempting to reshape him into part of a hip-hop boy band, The Zee Guys as Joshua Zee. They argue, and Sherrie admits that she was crazy about Drew, but failed to make a move because he said they were friends. They part ways more troubled by these new revelations ("High Enough").
A drunken Stacee arrives at the Venus Club and is pleased to see Sherrie. After b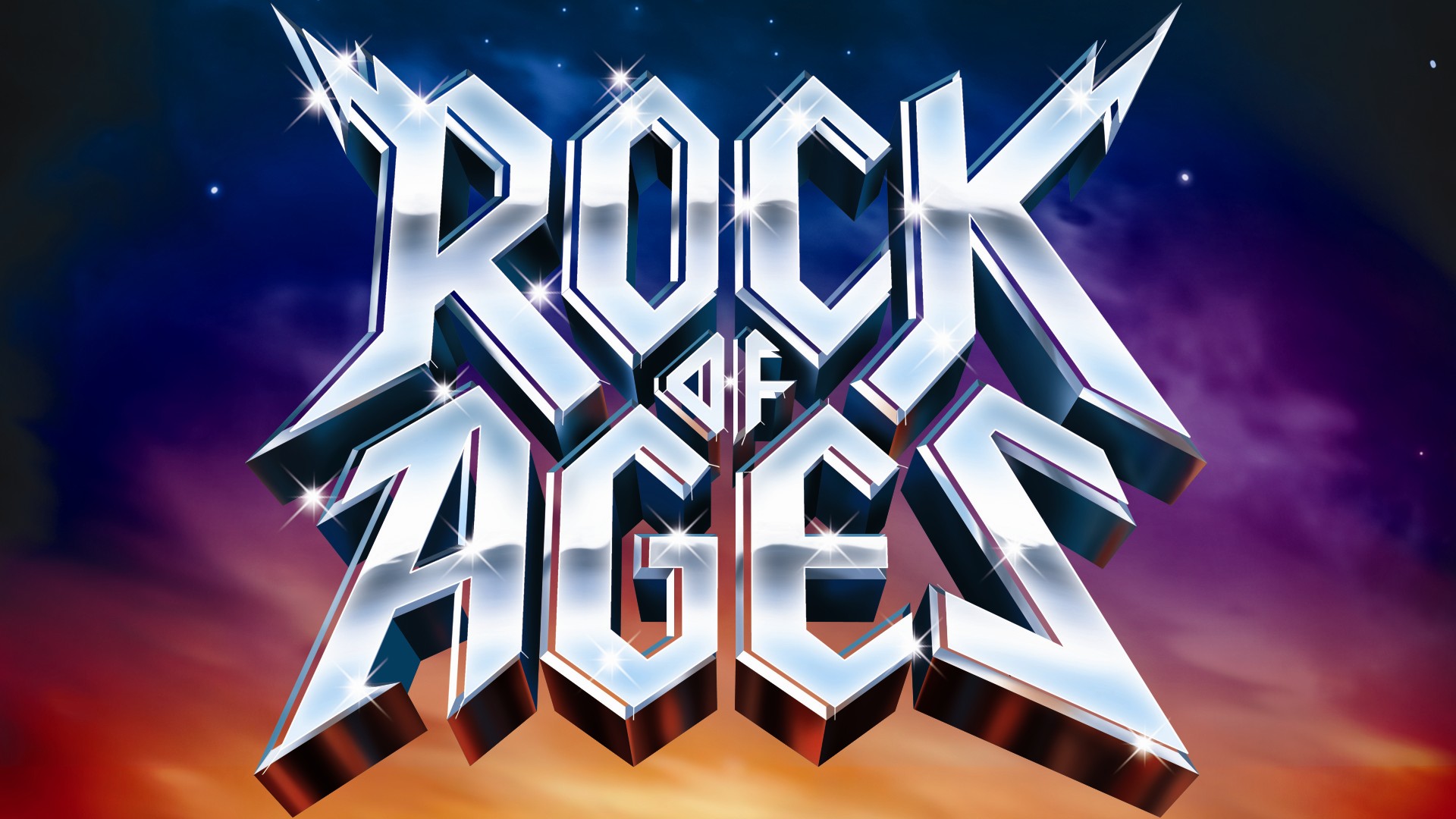 eing forced to give him a lap dance, she beats him up while dancing ("I Hate Myself for Loving You/Heat of the Moment"). Drew arrives to admit his feelings to her but becomes angry when he sees the two in a suggestive position and storms off. Justice later tells Drew that as soon as he left, Sherrie had punched Stacee in the jaw.
Regina continues her protest the destruction of the Strip but yields no success. She convinces Franz to stand up to his father if he does not believe in his father's vision. Franz admits that he has his own dream, namely to open a confectioner's store in Germany. He rebels against his father and admits his love for Regina ("Hit Me with Your Best Shot"). Meanwhile, Dennis and Lonny, upset at the loss of The Bourbon Room, admit that they have feelings for each other ("Can't Fight This Feeling").
Sherrie decides to leave the Venus Club after the scene with Drew, and Justice tells her that she had a similar experience with her first love. Everyone is in turmoil as they attempt to move on with their lives ("Every Rose Has Its Thorn"). Franz leaves for Germany and Hertz begins to regret the hurtful way he treated his son ("Keep on Loving You"). Regina arrives and explains to Hertz that Franz does not hate him; he simply wants his father to support his dream. Hertz decides to return the deed to the Bourbon Room to Dennis and invest in Franz's confectionery store.
Drew, now a pizza delivery boy, realizes none of his dreams have come true—he still is not a rock star, and Sherrie is leaving on a midnight train. Lonny arrives and breaks the fourth wall by explaining to Drew that his life is so miserable because they are all characters in a musical and that it was their book writer who made it so. He also reveals to Drew that he serves as the show's "dramatic conjurer" and that if Drew wants a happy ending, it is up to him to get the girl. After hearing this, Drew realizes that he does not need fame to make him happy, only Sherrie ("Oh Sherrie"). He reaches her at the train station in time, and they realize that their love has survived all their trials and reconcile ("The Search Is Over").
In the epilogue, The Bourbon Room is spared from demolition and Stacee Jaxx, now a washed-up has-been who has been charged with statutory rape, flees to Uruguay ("Renegade"). Franz opens his confectionery store in Germany and has a long-distance relationship with Regina, who becomes the new mayor of West Hollywood. Dennis passes away, leaving the Bourbon Room to Lonny, and Sherrie and Drew move to Glendale and start a family. Lonny notes that on The Strip, sometimes the dreams with which you enter are not always the dreams with which you leave, but they still rock ("Don't Stop Believing'").
Rock of Ages
Smart Financial Center
18111 Lexington Blvd. Sugar Land, TX
Directions
November 30th thru December 2nd, 2018
view tickets
Since you are here...
Houston's Weekend Planning Guide is updated on a continuous bias for all in the Greater Houston Area. We haven't put up a paywall or asked anyone to log-in to see our content. We want to keep it that way. We accept advertising, but the revenue from that area is not enough to support us. If everyone who reads our weekend entertainment blog, who likes it and helps to support it, our future would be much more secure. For as little as $1 or more, you can support Houston's Weekend Planning Guide – and it only takes a minute. Thank you.
Houston's Online Weekend Entertainment Guide
Houston's Online Weekend Entertainment Guide
Looking for that Friday weekend event and can't find it, try our custom "Google Search"