Houston Symphony
Celebrating India's 75th Independence Day
@Hobby Center
Sarofim Hall
Saturday 8/6/2022 7:30 PM
The Houston Symphony this weekend is in a special performance celebrating 75 years of Indian independence. The performance features violinist icon Dr. L. Subramaniam and vocalist Kavita Krishnamurti. Subramaniam leads the world premiere of his Mahatma Symphony, written to commemorate this historic anniversary, and an ensemble comprised of traditional Indian instruments joining the orchestra.
Ankush Kumar Bahl, conductor
Currently in his first season as music director of the Omaha Symphony, Ankush Kumar Bahl has delivered resonant performances of masterworks, new and old, championing American composers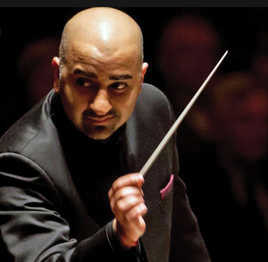 and artists while pursuing innovative, community-based concert design. Recognized by orchestras and audiences alike for his impressive conducting technique, thoughtful interpretations, and engaging podium presence, Ankush has been praised by The New York Times for his "clear authority and enthusiasm" and ability to "inspire."
In addition to this concert, highlights of recent and upcoming engagements include the New York Philharmonic, Royal Concertgebouw Orchestra, Detroit Symphony, San Diego Symphony, Buffalo Philharmonic, Orchestre National de France, Orquesta Sinfónica Nacional de México, and National Symphony Orchestra. He has appeared at summer festivals with the Copenhagen Philharmonic at Tivoli; Sun Valley Summer Symphony; Wolf Trap with the NSO; Chautauqua Institute; and Brevard Music Center, where he makes his debut this summer.
Additionally, he has worked with prominent soloists, among them Daniil Trifonov, Lang Lang, Benjamin Grosvenor, Conrad Tao, Anthony McGill, Orion Weiss, and Kelley O'Connor.
Ankush has received four Solti Foundation U.S. Career Assistance Awards as well as the 2009 Felix Mendelssohn-Bartholdy Scholarship. A protégé of former New York Philharmonic Music Director Kurt Masur, Ankush served as his assistant conductor at the Orchestre National de France, Royal Concertgebouw Orchestra, and Leipzig Gewandhaus Orchestra. He then went on to become an assistant conductor of the National Symphony Orchestra under Christoph Eschenbach, where he led more than100 performances over four seasons. Additional mentors include Jaap van Zweden, Zdenek Macal, David Zinman, and Gianandrea Noseda.
American born and of Indian descent, Ankush Kumar Bahl is a native of the San Francisco Bay Area and received a double degree in music and rhetoric from the University of California at Berkeley. He studied at the Aspen Music Festival and completed his master's degree in orchestral conducting at the Manhattan School of Music with Zdenek Macal and George Manahan. In recent years, he has collaborated with jazz legend Wayne Shorter, conducting his quartet in concerts of his orchestral music at the Kennedy Center and Detroit Free Jazz Festival.

Dr. L. Subramaniam, violin
India's violin icon Dr. L. Subramaniam, "The Paganini of Indian Classical music," combines the serenity of an Indian musician with the magnetism of a western star. As a child prodigy, he captured audiences around the world, and was soon honored with the title Violin Chakravarti.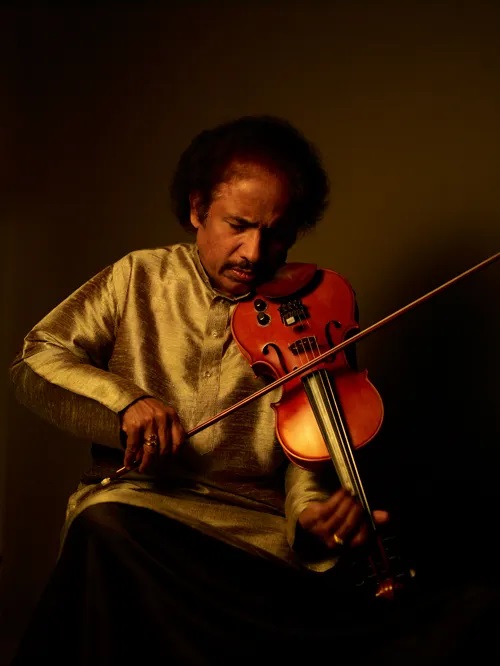 Subramaniam has established himself as a force that is strongly Indian, yet universal in nature. His talents find their truest experience in the service of Carnatic music, the tradition he inherited from his father and guru, Professor V. Lakshminarayana, who along with his mother, Prof. V. Seethalakshmi, were the reason he chose a life in music.
Passionate about music, but also dedicated to science, Subramaniam attended Madras Medical College and registered as a general practitioner. Subsequently, he earned a master's degree in western classical music in California and a Ph.D. for his thesis on Raga Harmony from Jain University, Bangalore.
An exceptional composer, he wrote a cross-over orchestral work Double Concerto for Violin and Flute combining western scales and micro-intervals. Among others, he has created works for the New York Philharmonic (Fantasy on Vedic Chants), Swiss Romande Orchestra (Turbulence), Kirov Ballet (Shanti Priya), and Berlin Opera (Global Symphony). Compositions for films include Salaam Bombay, Mississippi Masala, Gaur Hari Dastaan, Ee Sneha Theerathu, Tananam, and Jayate. He was the featured soloist for Bernardo Bertolucci's Little Buddha and for Cotton Mary.
His honors include the coveted Padma Bhushan in 2001, the Sangeet Natak Akademi Award for The Most Creative Artist from the President of India, and a number of honorary doctorates. He is the founder/director of the annual Lakshminarayana Global Music Festival, the largest in India, and the Lakshminarayana Global Centre of Excellence, which offers undergraduate degrees in music.
To increase understanding of South Indian classical music, he created a four-CD set, An Anthology of South Indian Music, and wrote an authoritative book, Classical Music of India, co-authored with his late wife Viji Subramaniam. The album, Conversations, and his orchestral composition, Fantasy on Vedic Chants, are guides for composers exploring fusion.
His album, Global Fusion, a critically acclaimed milestone, features artists from five continents, including Kavita Krishnamurti (whom he married in 1999) and his daughter, Bindu Subramaniam.
Kavita Krishnamurti, vocalist
Undoubtedly one of the favorites of the critics and the masses, Kavita Krishnamurti Subramaniam's singing career reads like a fairy tale. Her exquisite and mellifluous voice, wide range, and versatility in singing different styles and types of songs has put her in a unique place among singers. She has been called a "melody queen" by leading critics.
Although primarily a playback singer, Kavita has not allowed herself to be limited. She has performed with orchestras as a soloist and has collaborated with Western artists from the jazz, popular and classical fields.
Her undaunted efforts to excel as a singer have brought her several accolades and a large global fan following. Her awards and honors include the coveted Padma Shri from the President of India, A. P. J. Abdul Kalam, in 2005 and three consecutive Film Fare awards – a feat rarely achieved. She won the Best Singer of the Millenium award at the Stardust Millennium 2000 Awards.
Kavita has expanded her artistic range to areas that have never before been explored by playback singers. She was a featured soloist on the Global Fusion album released by Warner Bros., presenting musicians from five continents. In addition to the Houston Symphony, she has appeared as a soloist with the Beijing Symphony Orchestra, Leipzig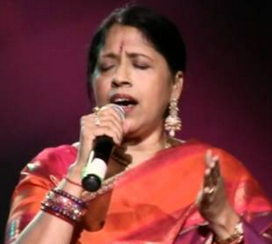 Philharmonic, London Symphony Orchestra, and Liepajas Symphony Orchestra.
An artist who has proven herself in every musical field she has chosen to enter, Kavita has enthralled and dazzled audiences around the world with her stage performances, recordings, and playback singing for the past 50 years, singing more than 20,000 songs in almost all the Indian languages.
Members of the Houston Symphony Chorus
Emily Hobson, choral preparation
The Houston Symphony Chorus is one of Houston's oldest and most distinguished musical organizations. Founded in 1946 as the Houston Chorale, it became the Houston Symphony Chorale in 1968, and the Houston Symphony Chorus in 1986.
The Chorus consists entirely of volunteer singers who have considerable musical skill, vocal talent, and choral experience. They audition for placement each year. The Chorus performance schedule is possibly the busiest in the country, consisting of up to fourteen different sets of repertoire for a total of 45 concerts.
PROGRAM
L. SUBRAMANIAM Spring Rhapsody for Chamber Orchestra
L. SUBRAMANIAM Mahatma Symphony (World Premiere)
L. SUBRAMANIAM Shanti Priya for Violin and Symphony Orchestra

Presented in partnership with the Indo-American Association of Houston.
Houston's Online Weekend Entertainment Guide
Looking for that Saturday weekend event and can't find it
try our custom "Google Search"