The Guardian.com last May did a story on Jeff Dunham saying, "Dunham is no children's entertainer. His puppets are dysfunctional, foul-mouthed and unashamedly stereotypical, from Seamus the drunken Irish baby to José the Mexican immigrant and Achmed the jihadi suicide bomber. Spurning all accusations of racism, sexism and homophobia, Dunham has become a comic phenomenon. He doesn't just hold the Guinness World Record for most tickets sold for a standup comedy tour – 2m across 386 venues – he is also ranked by Forbes as one the highest pa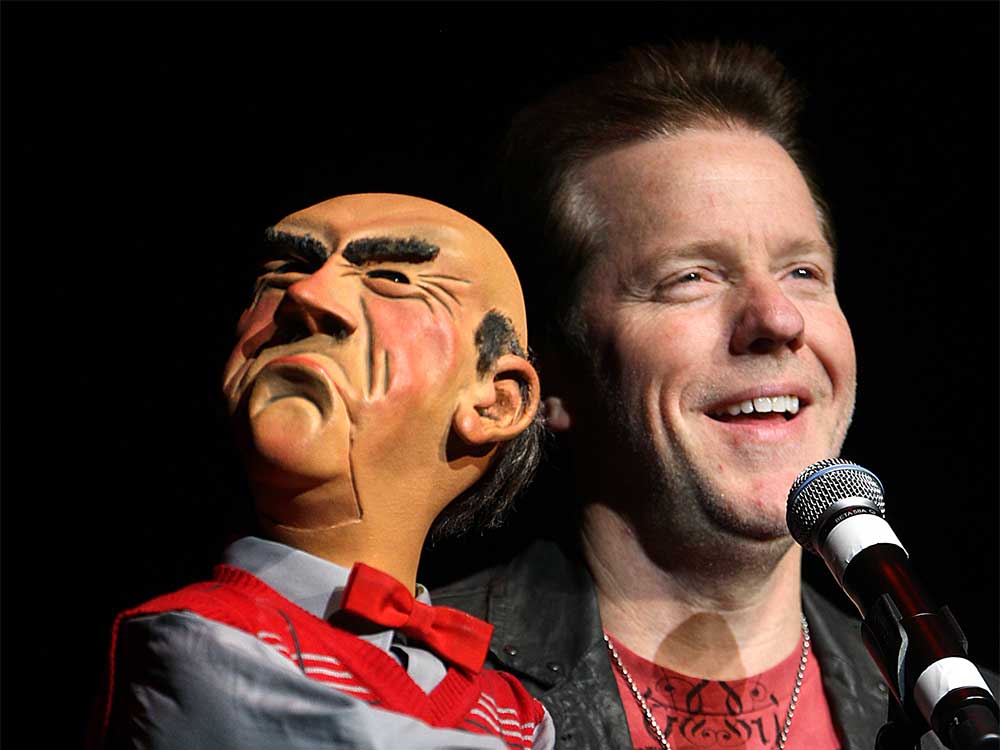 id comedians on the planet, up there with Jerry Seinfeld, Chris Rock and Amy Schumer."
Dunham in his web bio describes himself as a ventriloquist with a global reach as a comedy superstar and one of the world's most inventive entertainers. Dunham, a Guinness World Record holder for "Most Tickets Sold for a Stand-up Comedy Tour," has built an entertainment empire over years of non-stop touring and innovation. With over a million YouTube subscribers amassing over a billion views, he has carved out his own unique space in the comedy world leading to record-breaking viewership with his comedy specials on Comedy Central, NBC and his latest, Jeff Dunham: Relative Disaster, a special he filmed in Dublin, Ireland is currently streaming on Netflix.
A Texas native, after graduating from Baylor University, he moved to Los Angeles and soon became a sensation on the national comedy club circuit. He later conquered the comedy world by becoming a multi-platinum selling DVD artist and achieving record-breaking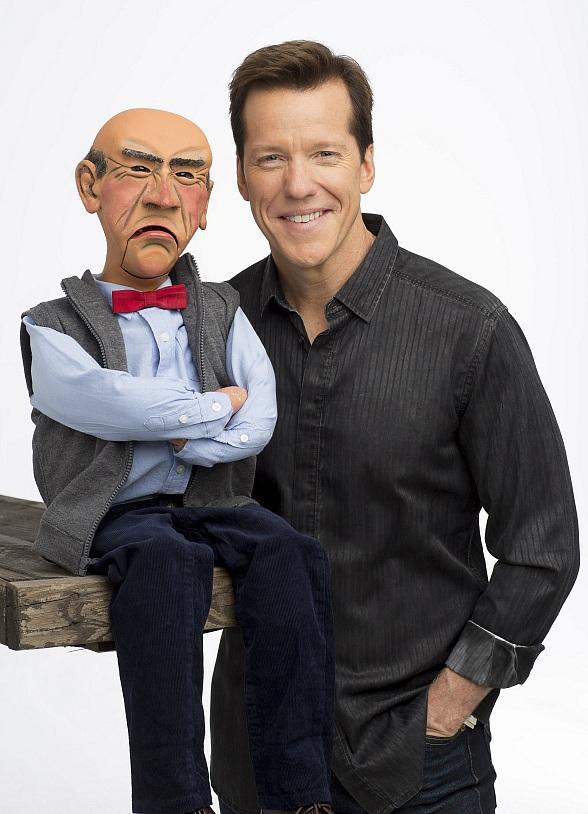 ratings on both cable and network TV. Dunham's 2015 stand-up special Unhinged in Hollywood debuted on NBC Primetime and ranked as the time period's top non-sports program on the Big 4 in every key measure. The special was re-broadcast on Comedy Central and was the top rated special of the year for the entire network. Dunham's previous stand-up specials, Arguing with Myself, Spark of Insanity, A Very Special Christmas, Controlled Chaos, Minding the Monsters, and All Over the Map have garnered record-breaking numbers by either claiming 'most watched' or 'highest rated' on Comedy Central.
Dunham has made many cameo appearances across television and film, from the Emmy Award-winning comedy series 30 Rock, Angie Tribeca, and Dinner for Schmucks, starring Steve Carrell and Paul Rudd.
His autobiography, All By My Selves: Walter, Peanut, Achmed and Me, landed Dunham on the New York Times' Best Seller list three weeks in a row. Dunham has also been awarded Billboard's Top Comedy Tour for three years based on box office sales. Dunham is currently on the road through the end of the year with his cast of characters.
Adding to an amazing list of recent accomplishments, Dunham's contribution to the world of show business and comedy was recently recognized when he received a star on the Hollywood Walk of Fame, commemorating over two decades of superstardom.
Dunham will be taping his Nexflix comedy special in Dallas in June and has a promotion for his fans to win tickets. "Hey everybody! Want to win an exclusive all-expenses paid trip to the taping of my new Netflix special on June 21st in Dallas, Texas!? Head over to http://bit.ly/FBmessengerJD to sign up for Facebook Messenger where Peanut will give you the link to be entered."

Weekend Saturdays Listings

Weekend Sunday's Listings

Houston's Weekend Planning Guide utilizes Ticket Liquidators.com. TL is not a box office. Ticket prices can be more or less than face value. Only the most qualified, trustworthy sellers are part of their network, after TL vets them for superior service. TL guarantee that your tickets will be legitimate, arrive in time for the event, be the exact tickets you ordered or comparable alternatives, and be completely refunded if the event is cancelled. If your experience falls short of these expectations, you're covered by their100% money-back guarantee.
Looking for that Saturday weekend event and can't find it
try our custom "Google Search"