Houston's Online Weekend Entertainment Guide
Our Weekend Entertainment Pick for Weekend Fridays March 2017
Jim Jefferies
@Cullen Performance Hall
Friday, March 31, 2017 8:00 PM
Australian comedian Jim Jefferies has made a cottage industry out of bad behavior. Never one to shy away from a drink, a smoke or a fight, Jefferies' confessional comedy style has won him fans and acclaim the world over. After taking the United Kingdom by storm, Jefferies made his way to America and immediately established himself as one of the foremost voices in edgy comedy, knowing just how to push the buttons of his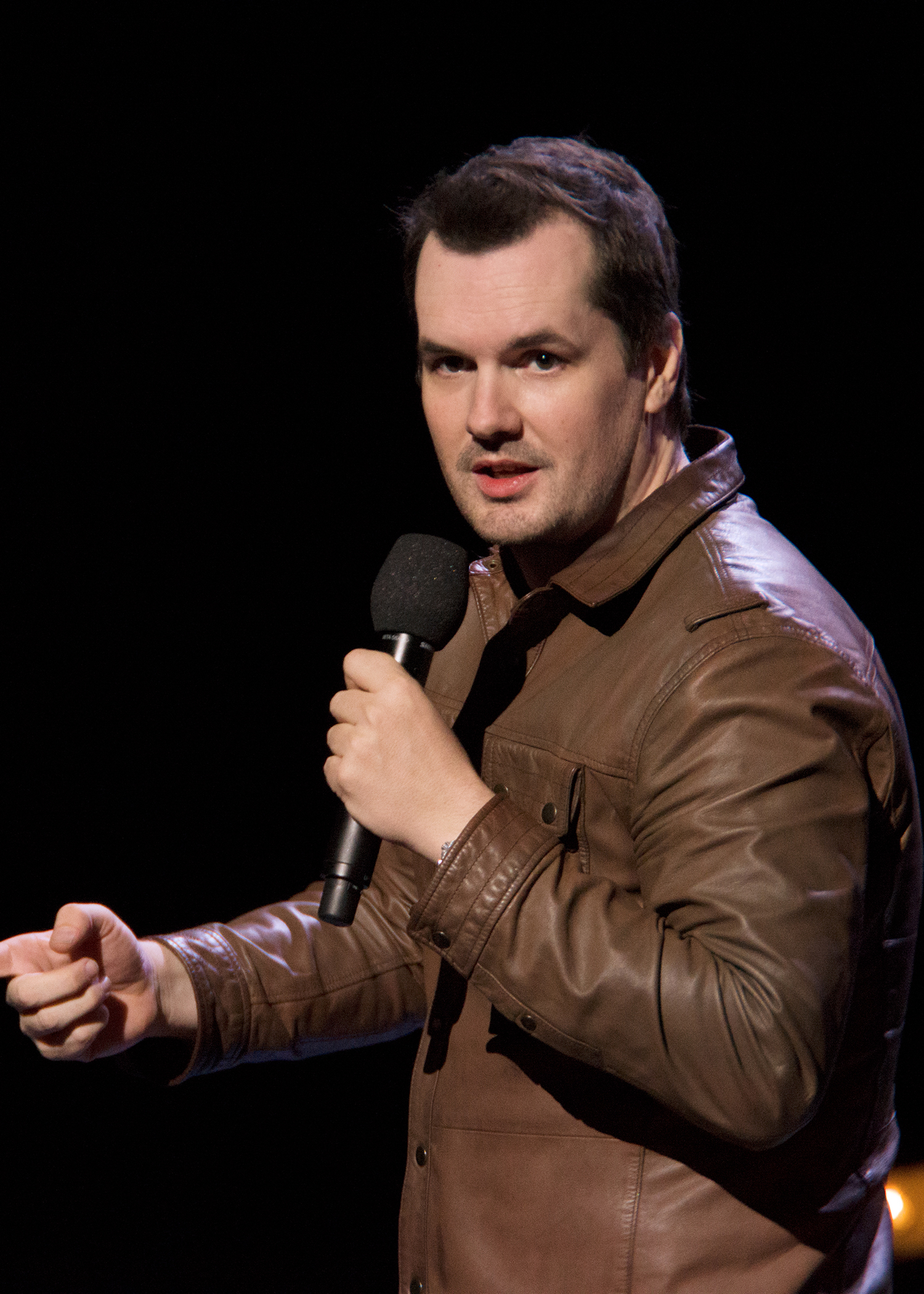 audience (one time even getting assaulted on stage by an angry fan) and bring the house down with his brutal, unflinching honesty.

Jefferies first achieved international attention after he was attacked onstage while performing at the Manchester Comedy Store. At one time, Jefferies incorporated the incident, including its video recording, into his act: it can be seen on his 2008 DVD Contraband. He became well known in the US after his debut standup special on HBO
Jefferies has performed at numerous festivals, including the Edinburgh Fringe, Just for Laughs Festival, South African Comedy Festival Cape Town, Reading and Leeds Festivals and the Glastonbury Festival. He has appeared on British comedy panel shows such as Never Mind the Buzzcocks, Have I Got News for You, The Heaven and Earth Show and 8 Out of 10 Cats and the US comedy panel show The Green Room with Paul Provenza. Jefferies has also performed spots on The World Stands Up, Comedy Blue and Edinburgh and Beyond for Comedy Central.

He has also been featured on various radio programmes, including BBC Radio 5 Live's Saturday morning sports show, Opie and Anthony, and Fighting Talk.

Jefferies ran a podcast, Jim and Eddie Talkin' Shit, twice a week with his fellow comedian and friend Eddie Ifft. It was recorded from Ifft's home in Los Angeles. In December 2012, Jefferies left the podcast due to his work schedule filming his television series, Legit.
Jim Jefferies
Cullen Performance Hall
4800 Calhoun Road
Houston, TX
Directions
Friday 3/31/2017 8:00 PM
view tickets
Cirque Du Soleil - Kurios
@Grand Chapiteau
Sam Houston Race Park
April 6th through April 27, 2017
A mysterious and fascinating realm that disorients your senses and challenges your perceptions.

Step into the curio cabinet of an ambitious inventor who defies the laws of time, space and dimension in order to reinvent everything around him. Suddenly, the visible becomes invisible, perspectives are transformed, and the world is literally turned upside down.

A cabinet of curiosities is a tale in which time comes to a complete stop, transporting the audience inside a fantasy world where everything is possible. In this realm set in the latter half of the nineteenth century, reality is quite relative indeed as our perception of it is utterly transformed. The name of the show refers to the humble and strange characters that inhabit the Seeker's Cabinet of Curiosities.
In an alternate yet familiar past, in a place where wonders abound for those who trust their imagination, a Seeker discovers that in order to glimpse the marvels that lie just below the surface, we must first learn to close our eyes.

In his larger-than-life curio cabinet, the Seeker is convinced that there exists a hidden, invisible world – a place where the craziest ideas and the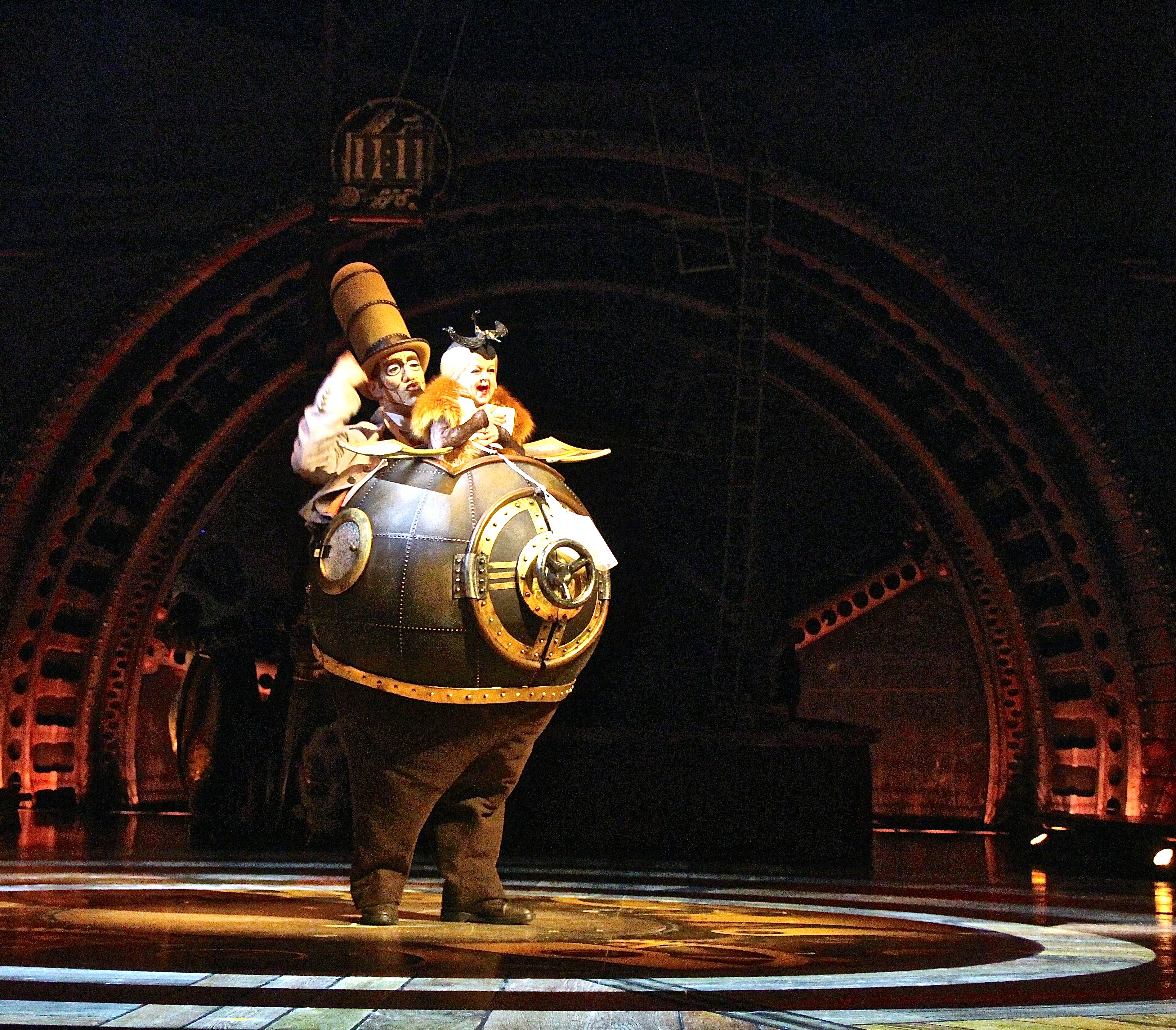 grandest dreams lie waiting. A collection of otherworldly characters suddenly steps into his makeshift mechanical world. When the outlandish, benevolent characters turn his world upside down with a touch of poetry and humor in an attempt to ignite the Seeker's imagination, his curios jump to life one by one before his very eyes.

What if by engaging our imagination and opening our minds we could unlock the door to a world of wonders?
Ten Curious Facts
About the Show

• To make the Accordion Man's attire,
the costume-maker spent an entire
week sewing inside the costume.
• Rima Hadchiti, the artist who plays
Mini Lili, is 3.3 feet tall and weighs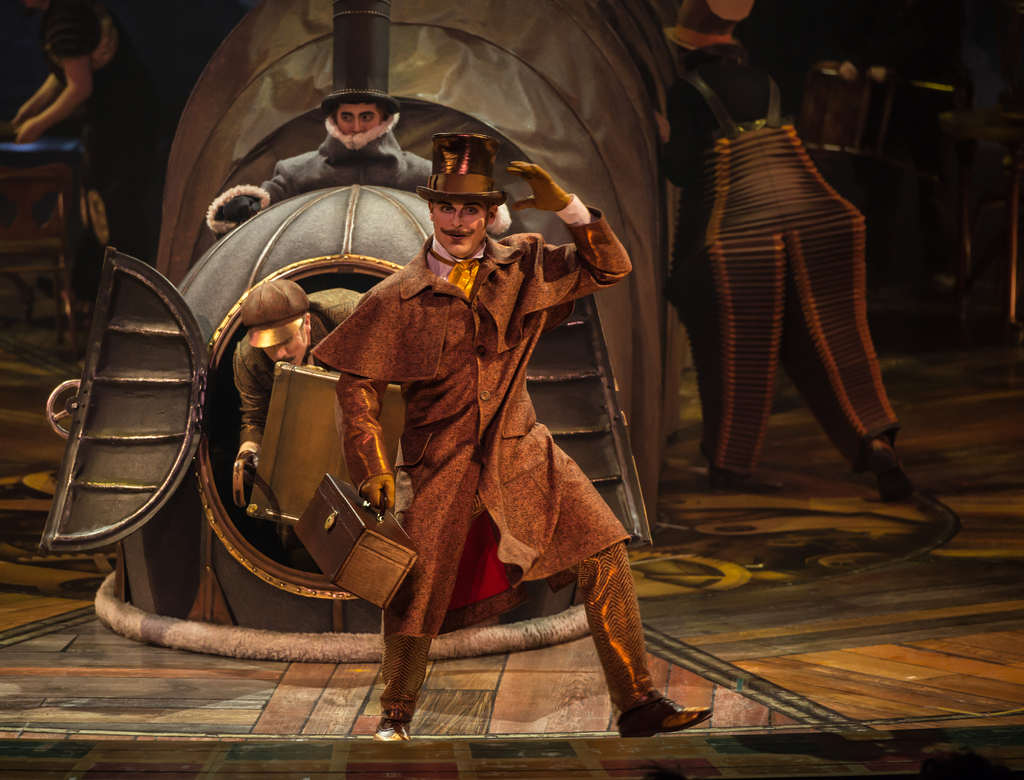 41 pounds. She is one of the 10
smallest people in the world.
•
The mechanical hand weighs 750
pounds and measures 15 feet by
6.8 feet.
• More than a hundred costumes were
created to dress the cast of KURIOS.
• There are 426 props in the show, the
most of any production in Cirque du
Soleil's history.
• Some 65 trucks transport close
to 2,000 tons of equipment for
KURIOS™ – Cabinet of Curiosities.
• The 122 tour members come from
23 different countries. Some have
been touring with Cirque du Soleil
for more than 15 years.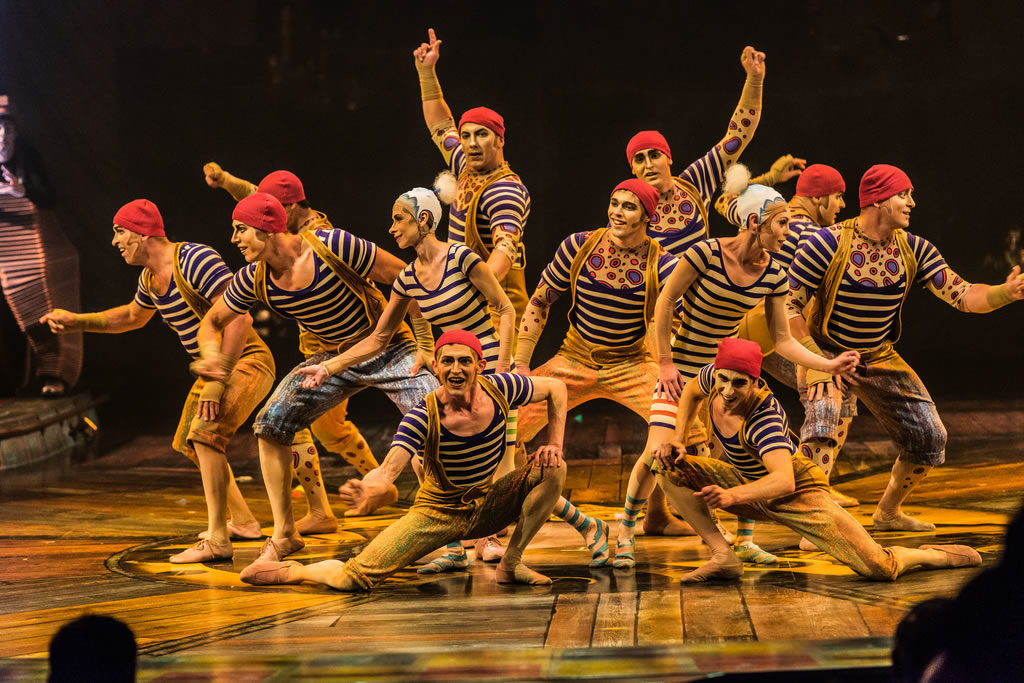 • This is the fi rst time that Cirque du
Soleil presents a welcoming act on top
of the big top before the show starts.
When weather permits, 3 artists climb
up the big top and greet the guests
from above while playing music and
acting. Guests get a taste of the
KURIOS experience as soon as they
enter the site.
• It took the team of props makers
approximately 250 hours to build
Mr. Microcosmos' round belly.
• All performers are responsible for
applying their own make-up every
show, which can take them between
40 minutes to two hours
Looking for that Friday weekend event and can't find it, try our custom "Google Search"