Houston's Online Weekend Entertainment Guide
Our April Fridays Weekend Entertainment Picks
Vijay Iyer
@Cullen Theater
Wortham Theater Center
Friday, May 5, 2017 8:00 PM
Grammy-nominated composer-pianist Vijay Iyer (pronounced "VID-jay EYE-yer"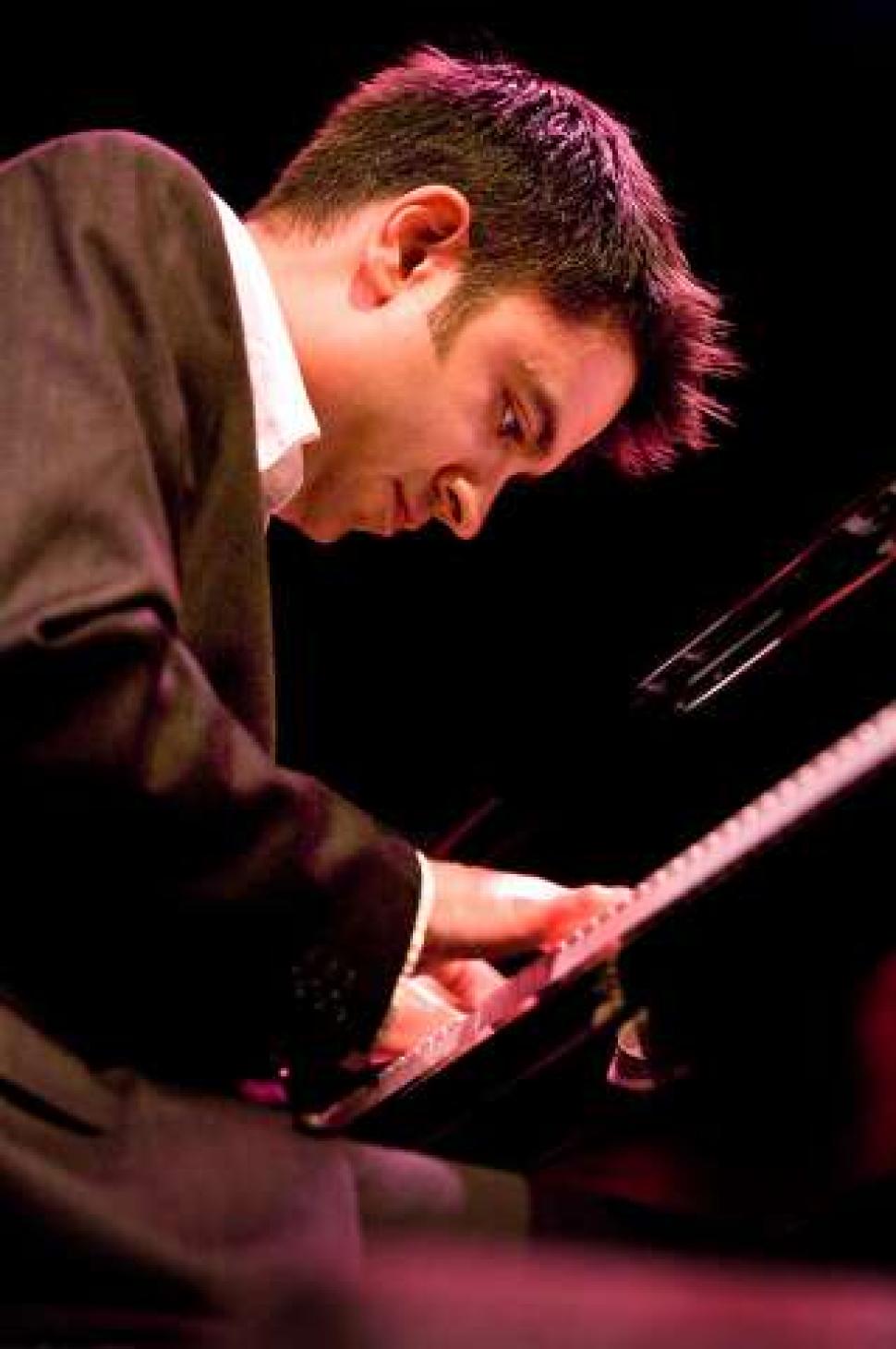 ) was described by Pitchfork as "one of the most interesting & vital young pianists in jazz today," by the Los Angeles Weekly as "a boundless and deeply important young star," and by Minnesota Public Radio as "an American treasure." He has been voted DownBeat Magazine's Artist of the Year three times – in 2016, 2015 and 2012. Iyer was named Downbeat's 2014 Pianist of the Year, a 2013 MacArthur Fellow, and a 2012 Doris Duke Performing Artist. In 2014 he began a permanent appointment as the Franklin D. and Florence Rosenblatt Professor of the Arts in the Department of Music at Harvard University.



The New York Times observes, "There's probably no frame wide enough to encompass the creative output of the pianist Vijay Iyer." Iyer has released twenty albums covering remarkably diverse terrain, most recently for the ECM label. The latest include A Cosmic Rhythm With Each Stroke (2016), a collaboration with Iyer's "hero, friend and teacher," Wadada Leo Smith, which the Los Angeles Times calls "haunting, meditative and transportive"; Break Stuff (2015), with a coveted five-star rating in DownBeat Magazine, featuring the Vijay Iyer Trio, hailed by PopMatters as "the best band in jazz"; Mutations (2014), featuring Iyer's music for piano, string quartet and electronics, which "extends and deepens his range… showing a delicate, shimmering, translucent side of his playing" (Chicago Tribune); and Radhe Radhe: Rites of Holi (2014), "his most challenging and impressive work, the scintillating score to a compelling film by Prashant Bhargava" (DownBeat), performed by International Contemporary Ensemble and released on DVD and BluRay.
His orchestral work Interventions was commissioned and premiered by the American Composers Orchestra in 2007 under the baton
of Dennis Russell Davies.
It was praised by The New York Times as "all spiky and sonorous," . . .
Iyer's trio (Iyer, piano; Marcus Gilmore, drums; Stephan Crump, bass) made its name with two tremendously acclaimed and influential albums, Accelerando (2012) and Historicity (2009). Accelerando was voted #1 Jazz Album of the Year for 2012 in three separate critics polls surveying hundreds of critics worldwide, hosted by DownBeat, Jazz Times, and Rhapsody, respectively, and also was chosen as jazz album of the year by NPR, the Los Angeles Times, PopMatters, and Amazon.com. The Vijay Iyer Trio was named 2015 Jazz Group of the year in the DownBeat International Critics Poll, with Iyer having earlier received an unprecedented "quintuple crown" in the 2012 Downbeat Poll (winning Jazz Artist of the Year, Pianist of the Year, Jazz Album of the Year, Jazz Group of the Year, and Rising Star Composer categories), as well as a "quadruple crown" in the JazzTimes extended critics poll (winning Artist of the Year, Acoustic/Mainstream Group of the Year, Pianist of the Year, and Album of the Year). Iyer received the 2012 and 2013 Pianist of the Year Awards and the 2010 Musician of the Year Award from the Jazz Journalists Association, and the 2013 ECHO Award (the "German Grammy") for best international pianist. Historicity was a 2010 Grammy Nominee for Best Instrumental Jazz Album, and was named #1 Jazz Album of 2009 in The New York Times, The Los Angeles Times, the Chicago Tribune, the Detroit Metro Times, National Public Radio, PopMatters.com, the Village Voice Jazz Critics Poll, and the Downbeat International Critics Poll, and the trio won the 2010 ECHO Award for best international ensemble.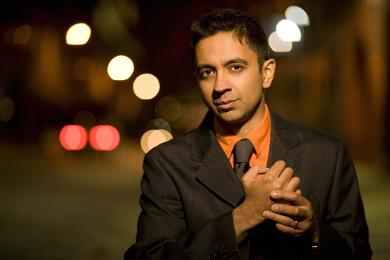 Iyer's 2013 collaboration with poet Mike Ladd, Holding It Down: The Veterans' Dreams Project, based on the dreams of veterans of color from America's wars in Iraq and Afghanistan, was hailed as #1 Jazz Album of the Year by the Los Angeles Times and described in JazzTimes as "impassioned, haunting, [and] affecting." Along with their previous projects In What Language? (2004) and Still Life with Commentator (2007), Holding It Down rounded out a trilogy of politically searing albums about post-9/11 American life. These projects were hailed as "unfailingly imaginative and significant" (JazzTimes) and praised for their "powerful narrative invention and ravishing trance-jazz… an eloquent tribute to the stubborn, regenerative powers of the human spirit" (Rolling Stone).
Iyer's accomplishments extend well beyond his recordings. His recent composer commissions include "Playlist for an Extreme Occasion" (2012) written for Silk Road Ensemble (and released on their 2013 album A Playlist without Borders); "Dig The Say," written for Brooklyn Rider and released on their 2014 album Almanac; "Mozart Effects" (2011) and "Time, Place, Action" (2014) for Brentano String Quartet; "Bruits" (2014) for Imani Winds and pianist Cory Smythe; "Rimpa Transcriptions" (2012) written for Bang on a Can All-Stars; "UnEasy" (2011) commissioned by NYC's Summerstage in collaboration with choreographer Karole Armitage; "Three Fragments" (2011) for Darcy James Argue's Secret Society.

His orchestral work Interventions was commissioned and premiered by the American Composers Orchestra in 2007 under the baton of Dennis Russell Davies. It was praised by The
New York Times as "all spiky and sonorous," and by the Philadelphia City Paper for its "heft and dramatic vision and a daring sense of soundscape." Other works include Mutations I-X (2005) commissioned and premiered by the string quartet ETHEL; "Three Episodes for Wind Quintet" (1999) written for Imani Winds; a "ravishing" (Variety) score for the original theater/dance work Betrothed (2007); the award-winning film score for Teza (2008) by legendary filmmaker Haile Gerima; a suite of acoustic jazz cues for the sports channel ESPN (2009); and the prize-winning audiovisual installation Release (2010) in collaboration with filmmaker Bill Morrison. Forthcoming commissions include pieces for Jennifer Koh, Orpheus Chamber Orchestra, and So Percussion. His concert works are published by Schott Music. An active electronic musician and producer, Iyer displays his digital audio artistry on his own recordings Still Life with Commentator, Holding it Down, Mutations, and Radhe Radhe, and in his remixes for British Asian electronica pioneer Talvin Singh, Islamic punk band The Kominas, and composer-performer Meredith Monk.

Iyer was voted the 2010 Musician of the Year by the Jazz Journalists Association, and named one of 2011's "50 Most Influential Global Indians" by GQ India. Other honors include the Greenfield Prize, the Alpert Award in the Arts, the New York Foundation for the Arts Fellowship, the India Abroad Publisher's Special Award for Excellence, and numerous critics' prizes.

Iyer's many collaborators include creative music pioneers Steve Coleman, Wadada Leo Smith, Roscoe Mitchell, Butch Morris, George Lewis, Amina Claudine Myers, William Parker, Graham Haynes, Miya Masaoka, Pamela Z, John Zorn; next-generation artists Rudresh Mahanthappa, Rez Abbasi, Craig Taborn, Ambrose Akinmusire, Liberty Ellman, Steve Lehman, Matana Roberts, Tyshawn Sorey; Dead Prez, DJ Spooky, Himanshu Suri of Das Racist, High Priest of Antipop Consortium, DJ Val Jeanty, Karsh Kale, Suphala, Imani Uzuri, and Talvin Singh; filmmakers Haile Gerima, Prashant Bhargava, and Bill Morrison; choreographer Karole Armitage; and poets Mike Ladd, Amiri Baraka, Charles Simic, and Robert Pinsky.

A polymath whose career has spanned the sciences, the humanities, and the arts, Iyer received an interdisciplinary Ph.D. in the cognitive science of music from the University of California, Berkeley. He has published in Journal of Consciousness Studies, Wire, Music Perception, JazzTimes, Journal of the Society for American Music, Critical Studies in Improvisation, in the anthologies Arcana IV, Sound Unbound, Uptown Conversation, The Best Writing on Mathematics: 2010, and in the forthcoming Oxford Handbook of Critical Improvisation Studies. Iyer has taught at Manhattan School of Music, New York University, and the New School, and he is the Director of The Banff Centre's International Workshop in Jazz and Creative Music, an annual 3-week program in Alberta, Canada. Iyer recently finished a multi-year residency with San Francisco Performances, cultivating new audiences and working with schools and community organizations. He is a Steinway artist and uses Ableton Live software.
Vijay Iyer
Cullen Theater
Wortham Theater Center
501 Texas Ave.
Houston, TX
Directions
Friday 5/5/2017 8:00 PM
view tickets
Justin Townes Earle
The Heights
Friday, April 5, 2017 8:00 PM
Once compared to a man who wears many suits, in thirty-two short years Justin Townes Earle has experienced more than most, both personally and professionally. Between releasing four full-length-critically-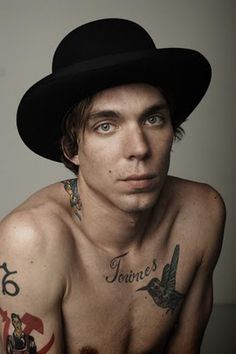 acclaimed albums, constant touring, multiple stints in rehab, a new found sobriety, being born Steve Earle's son, amicable and not-so-amicable break-ups with record labels, and facing the trials and tribulations of everyday life, it's safe to say JTE has quite the story to tell. His fifth album (and first ever on Vagrant Records) serves as the perfect platform for such narrations.

Entitled Single Mothers, the album is comprised of ten tracks that showcase exactly why Justin Townes Earle is considered a forefather of Contemporary Americana. As a recently married, sober man JTE writes from a point of maturity and content we've not seen before on past records. "One day I just realized it's not cool to die young, and it's even less cool to die after 30," Justin states as he reflects on a life past and his newly found clarity. What he's created is an album that's raw, honest and personal in a way he hasn't touched upon since his debut EP, Yuma.

Co-produced along side longtime engineer Adam Bednarik, Single Mothers shines in a world of pop-culture driven Ameri- cana records. "I don't really know what Americana means anymore," Justin laughs. "That's not a slant on Americana, it's just become a very unclassifiable genre. It's gone seemingly pop. There are good parts to that, but it's getting to a point where it won't be able to redeem itself if it doesn't slow down. Just like everything that gets popular." With his heart and soul still rooted in Nashville, Single Mothers shows Justin's continued combination of catchy songs and authenticity.

The album was recorded live with his four-piece touring band with only days of rehearsal leading up to recording to keep the ideas fresh. No overdubs, no other singers, no additional players – just a real, heartfelt performance capturing the moment. In fact, his songs "Picture in a Drawer' and 'It's Cold in This House' are only Justin, his guitar and his pedal steel player Paul Niehaus.
Earle's new perspective is clear on Single Mothers as it opens with the track 'Worried Bout The Weather,' where we see the intimate, sensitive side of JTE. Here Justin rehashes feelings of trouble on the horizon singing "it don't take a twister to wreck a home, don't take a night to feel like you're in the dark and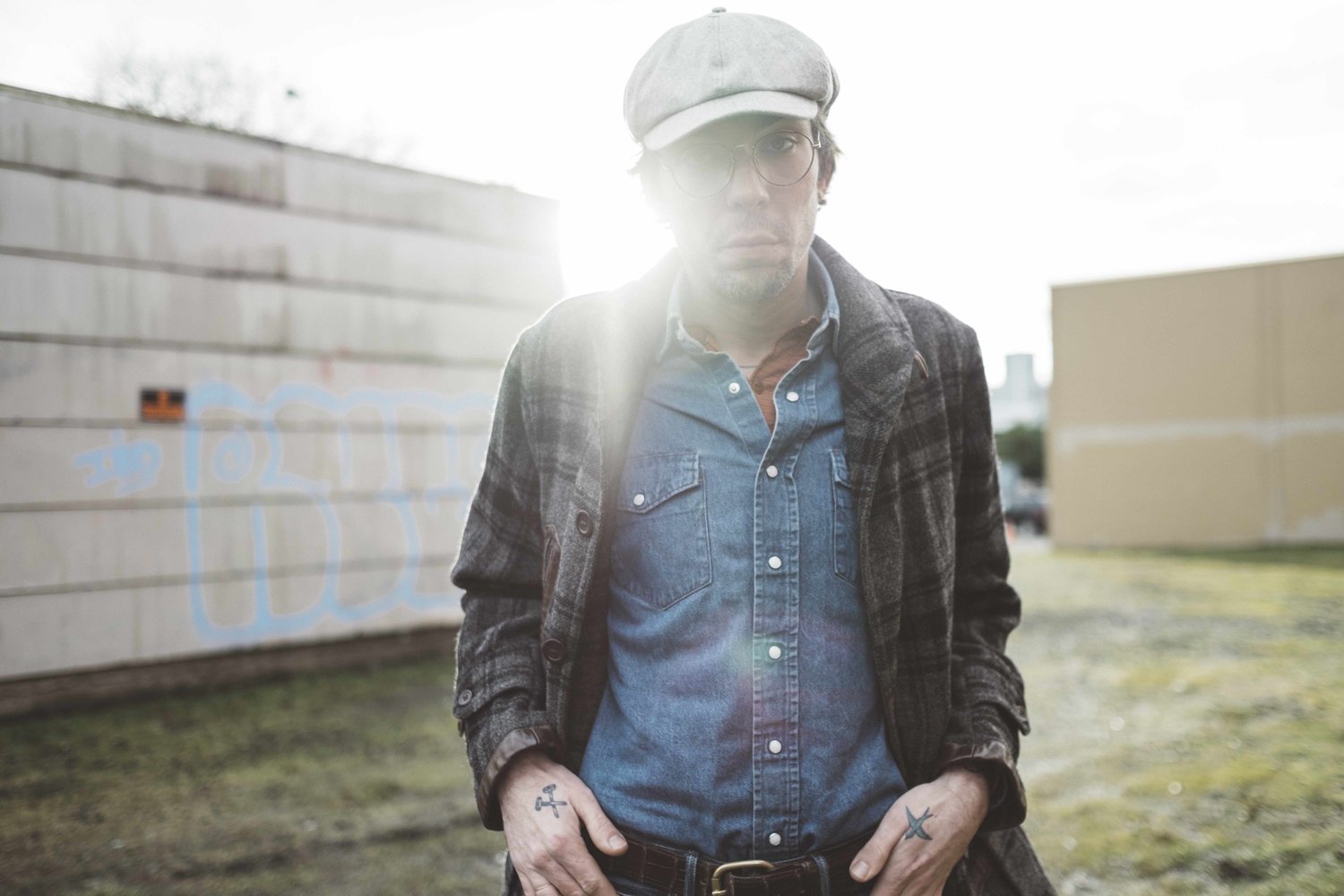 all alone" – a theme that has surfaced before in his lyrics, but this time with a personal honesty and openness. Justin's mood switches gears on the upbeat track 'My Baby Drives.' "My baby drives me to church on Sundays, take me to see my Momma on every
other Monday. Some might say I'm the luckiest man alive," Justin croons light heartedly. On the title track 'Single Mothers' we hear feelings of resentment as JTE growls, "absent father, never offer even a dollar, he doesn't seem to be bothered by the fact that he's forfeited his rights to his own. Absent father is long gone."
"As I've gotten older my anger comes from a very different place. It's more rational and mature. I guess that comes along with clarity," JTE reflects. Single Mothers finds Justin dealing with past struggles and anger with more ease than ever before. Creating a nostalgic feeling with the return to his signature sound, JTE takes listeners on a journey through some of his most personal stories yet on what can only be described as an authentic country record.
Damien Escobar
@HOB Houston
Friday, May 12th, 2017 8:30 PM
Damien, once a self-proclaimed retired artist is now back to being one of the world's top violinist. The people have taken note, but so have the media - the gatekeepers of information, with major features in People Magazine, Huffington post, CNN, The NY Daily News and Chicago ribune to name a select few. The star even found his way back on national television, performing on WETV's "David Tutera's: Unveiled". Since then invitations to appear on television haven't ceased; landing Escobar in the interviewee chair at every major network on both a local and national scale including Fox News, The Hallmark Channel, The Katie Couric Show, Empire Live , NBC, CBS and ABC.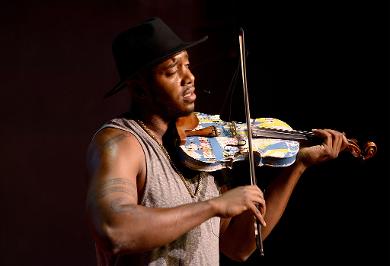 A constant creator Damien has had his hand in a plethora of entrepreneurial endeavors including penning his first children's book entitled "The Sound of Strings", a signature line of violins, a partnership to develop his own line of wines, a nonprofit organization as well as a children's focused music program. As a veteran knowing the ups and downs of the industry, he has committed to centering his career around the loyal fans whom he refers to as"good people" and who constantly remind him of why he returned to music. With this in mind it has been important to the "violin crooner" to build a brand that is inclusive of his global fan base.

Today Damien's solo career is moving at lightning speed. Damien is currently promoting his newest single, Get Up And Dance, which is the lead single from his second solo album, "Boundless". The "Boundless" album in particular is important to Damien as it marks Damien's first solo album of all originally produced material. The nationally executed Boundless Tour has brought Damien to a number of US cities for an unprecedented number of sold out shows in various major markets including Chicago, Philadelphia, Los Angeles and New York City. His single Freedom premiered at #15 on the iTunes dance charts and subsequently broke the iTunes Hot 100 Top 10.

Four years ago Damien was a shell of himself. Humbled by homelessness and depression, Damien had to fight through his fear of failure and reemerge as a confident, positive, thriving artist. Today he has arrived. An unprecedented story of triumph, Damien Escobar can look back at his days playing the violin for change on the subway platforms of New York to playing for Presidents in the White House. Unpretentious yet confident, Damien makes no secret of the determination necessary to gain the recognition he has obtained while becoming one of the few commercially successful mainstream violinist. Damien Escobar is a musical pioneer dominating an industry that's ready for change. The future of the music industry rests in his hands - and he's ready.
Cirque Du Soleil - Kurios
@Grand Chapiteau
Sam Houston Race Park
April 6th through May 21st, 2017
A mysterious and fascinating realm that disorients your senses and challenges your perceptions.

Step into the curio cabinet of an ambitious inventor who defies the laws of time, space and dimension in order to reinvent everything around him. Suddenly, the visible becomes invisible, perspectives are transformed, and the world is literally turned upside down.

A cabinet of curiosities is a tale in which time comes to a complete stop, transporting the audience inside a fantasy world where everything is possible. In this realm set in the latter half of the nineteenth century, reality is quite relative indeed as our perception of it is utterly transformed. The name of the show refers to the humble and strange characters that inhabit the Seeker's Cabinet of Curiosities.
In an alternate yet familiar past, in a place where wonders abound for those who trust their imagination, a Seeker discovers that in order to glimpse the marvels that lie just below the surface, we must first learn to close our eyes.

In his larger-than-life curio cabinet, the Seeker is convinced that there exists a hidden, invisible world – a place where the craziest ideas and the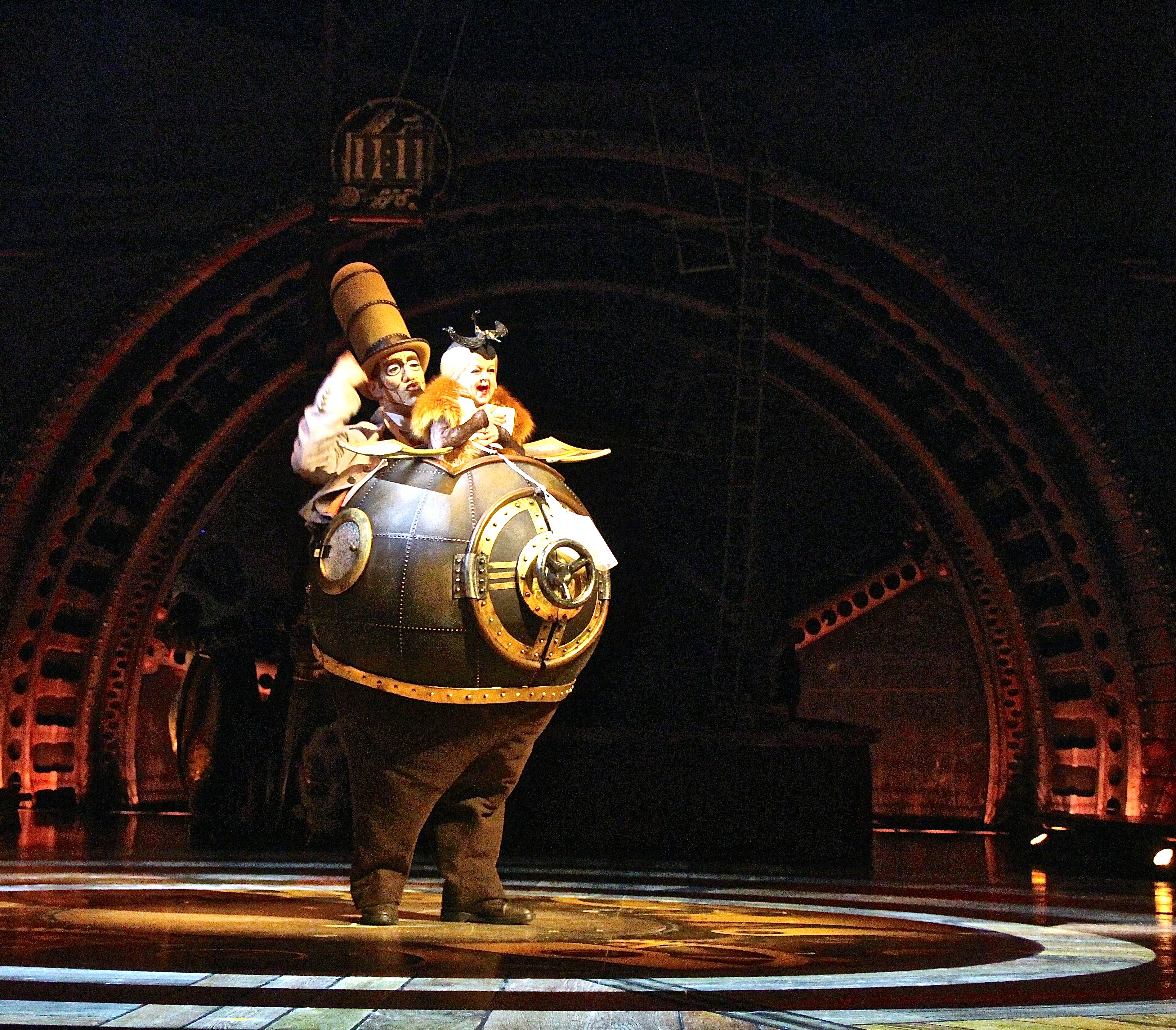 grandest dreams lie waiting. A collection of otherworldly characters suddenly steps into his makeshift mechanical world. When the outlandish, benevolent characters turn his world upside down with a touch of poetry and humor in an attempt to ignite the Seeker's imagination, his curios jump to life one by one before his very eyes.

What if by engaging our imagination and opening our minds we could unlock the door to a world of wonders?
Ten Curious Facts
About the Show

• To make the Accordion Man's attire,
the costume-maker spent an entire
week sewing inside the costume.
• Rima Hadchiti, the artist who plays
Mini Lili, is 3.3 feet tall and weighs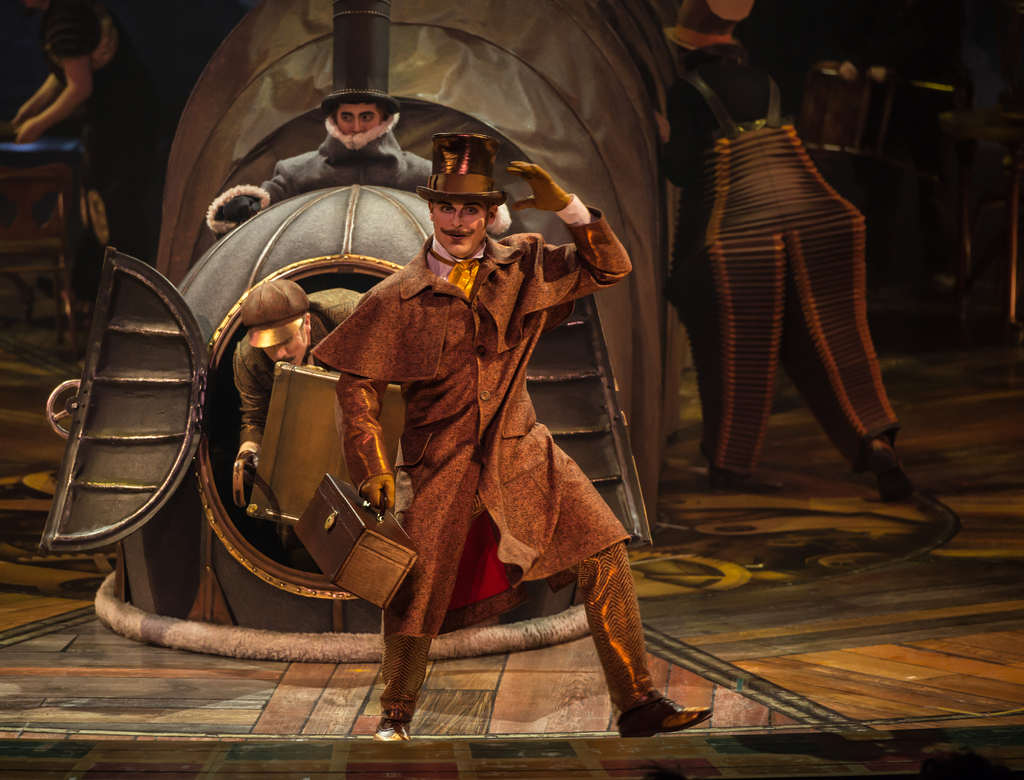 41 pounds. She is one of the 10
smallest people in the world.
•
The mechanical hand weighs 750
pounds and measures 15 feet by
6.8 feet.
• More than a hundred costumes were
created to dress the cast of KURIOS.
• There are 426 props in the show, the
most of any production in Cirque du
Soleil's history.
• Some 65 trucks transport close
to 2,000 tons of equipment for
KURIOS™ – Cabinet of Curiosities.
• The 122 tour members come from
23 different countries. Some have
been touring with Cirque du Soleil
for more than 15 years.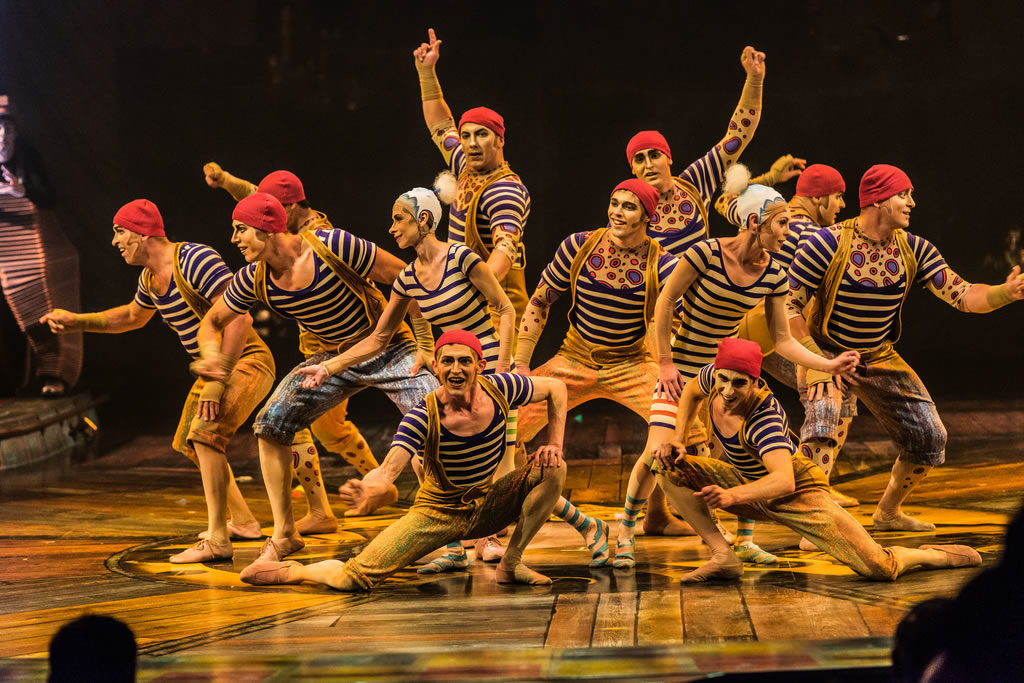 • This is the fi rst time that Cirque du
Soleil presents a welcoming act on top
of the big top before the show starts.
When weather permits, 3 artists climb
up the big top and greet the guests
from above while playing music and
acting. Guests get a taste of the
KURIOS experience as soon as they
enter the site.
• It took the team of props makers
approximately 250 hours to build
Mr. Microcosmos' round belly.
• All performers are responsible for
applying their own make-up every
show, which can take them between
40 minutes to two hours
Icon For Hire
@Fitzgerald's-Houston
Friday, May 19th, 2017 8:00 PM
The band came together and started in Decatur, Illinois by vocalist Ariel Bloomer and guitarist Shawn Jump. When the two met in 2007, Bloomer, discovering Jump played guitar, initiated a musical collaboration between the two of them. When the need for a drummer arose, Jump recruited Adam Kronshagen, an old friend he jam sessioned with as a member of the local party scene (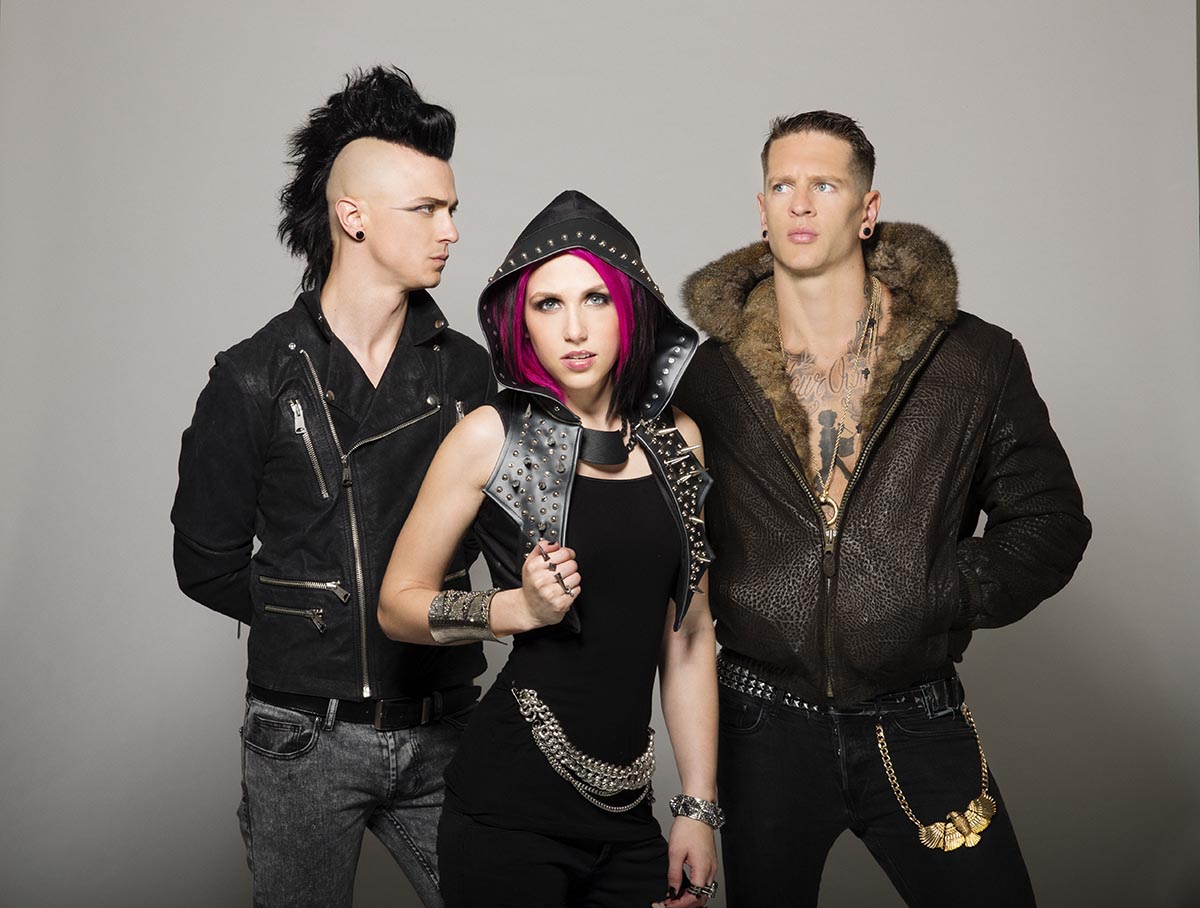 Jump was six months clean at the time). Bassist Joshua Davis joined and the band when it was officially formed in November of that year, choosing their name as a satirical comment on the state of the music industry.

The band played their first show in a local club before an audience of family and friends. Bloomer has been quoted as saying of the performance, "Our passion for music was there; whatever we lacked in sound we made up for with enthusiasm."

Over the next two years, the band toured throughout the Midwest and released two EPs, the self-titled Icon for Hire EP in 2008 and The Grey EP in 2009. During that same year, Davis left the band.
The band's sound combines pop punk and alternative metal elements with strings and electronics. Jamie Maxwell of Cross Rhythms describes them as a punk band, but notes that "the electronic influence evident in some of their tracks is a definite nod to the likes of Linkin Park and others in the nu metal mould."

In describing the band's sound, lead singer Bloomer has said that the band is "first and foremost just a rock band. That's where our roots are and where our hearts are. But a few years ago we started really getting into synths and programming. We love the combination of brutal, in-your-face riffs, with the fun candy of pop production sprinkled all over it."

Influences cited by the band have included hard rock bands like Linkin Park, Breaking Benjamin, Pantera, Mötley Crüe, and Rage Against the Machine, as well as pop- and hip hop-oriented artists such as Skrillex, The Black Eyed Peas, Dessa, and Lady Gaga.

The band's sound has often been compared to that of other female-fronted rock bands, particularly Paramore.Nathaniel Schexnayder of Jesus Freak Hideout went so far as to label the band's debut album Scripted as generic, saying that the band "borrows their elements from other female fronted acts like Flyleaf, Fireflight, and Paramore at an alarming degree." Bloomer has taken issue with these comparisons, citing the band's "unique combination of programming/pop elements, mixed with a commercial rock sound" as a distinguishing element, in addition to the band's live performances: "We've never had someone come see us live and compare us to other bands." She has also noted such comparisons as unfairly discriminatory: "It frustrates me how in so many other industries you are acknowledged for your skill and education, but in music somehow if you're a chick you better be bringing something extraordinarily mind-blowing to the table in order to have a shot. It's a bit sexist I think." Their song, "Now You Know", addresses the subject at length.
Icon For Hire
Fitzgerald's-Houston
2706 White Oak Dr.
Houston, TX
Directions
Friday 5/19/2017 8:00 PM
view tickets
Looking for that Friday weekend event and can't find it, try our custom "Google Search"