Houston's Online Weekend Entertainment Guide
Our May Friday Weekend Entertainment Picks
Houston Ballet
Presents
Madame Butterfly
@Miller Outdoor Theatre
May 12th-14th, 2017 8:00 PM
Set to Puccini's memorable score, artistic director Stanton Welch's Madame Butterfly chronicles this timeless love story in an arrangement by John Lanchbery. The production unfolds dramatically on Peter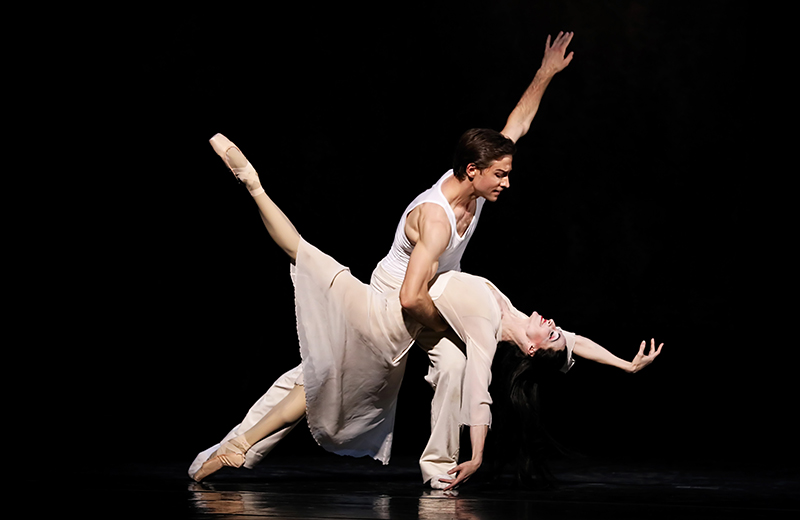 Farmer's picturesque sets, which beautifully evoke the mystery and languor of 19th century Japan.

Premiered by The Australian Ballet in 1995, Madame Butterfly was Mr. Welch's first full- length ballet. The two-act work tells the story of the beautiful geisha Cio-Cio San who renounces her faith and her family to wed Lieutenant Pinkerton, the handsome American naval officer who is betrothed to another. The centerpiece of the work is a ravishing wedding night pas de deux for Pinkerton and Cio-Cio San, which closes the first act.
Since its premiere, Madame Butterfly has become Mr. Welch's international signature piece, having entered the repertoires of Houston Ballet, The National Ballet of Canada, Royal New Zealand Ballet, Singapore Dance Theatre, Boston Ballet, Atlanta Ballet, Ballet West, and Pittsburgh Ballet Theatre.
"Madame Butterfly was the first full-length ballet I created for Australia Ballet in 1995," says Mr. Welch. "The tale of Cio-Cio San takes the audience through her emotional journey. She portrays the dizzying glory of being in love, settles in to wait, displaying her loyalty and devotion to Pinkerton for years, only to be cruelly betrayed at the end. It's a stunning tale that is highlighted by the gorgeous score arranged by John Lanchberry and designs by Peter Farmer."

Adam Castaneda of the Houston Press wrote, "Madame Butterfly is a sumptuous story ballet, yes, but what makes this work such an essential piece of dance art is its striking images . . . Madame Butterfly is a testament to the grace and resilience of the female spirit (September 10, 2012)."
This is a ticketed event for the covered seating area. Free tickets are available (4 per person over age 16 while they last) at the Miller Outdoor Theatre box office the day of the performance between the hours of 10:30 AM-1:00 PM. If tickets remain at 1:00 PM, the box office will re-open one hour before show time to distribute the remaining tickets. As always, open seating on the hill. The shows goes on rain or shine.
Damien Escobar
@HOB Houston
Friday, May 21st, 2017 8:00 PM
Damien, once a self-proclaimed retired artist is now back to being one of the world's top violinist. The people have taken note, but so have the media - the gatekeepers of information, with major features in People Magazine, Huffington post, CNN, The NY Daily News and Chicago ribune to name a select few. The star even found his way back on national television, performing on WETV's "David Tutera's: Unveiled". Since then invitations to appear on television haven't ceased; landing Escobar in the interviewee chair at every major network on both a local and national scale including Fox News, The Hallmark Channel, The Katie Couric Show, Empire Live , NBC, CBS and ABC.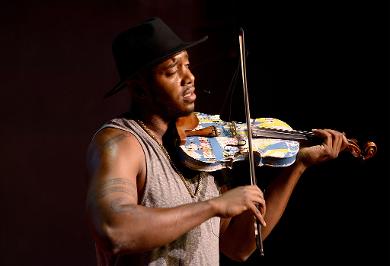 A constant creator Damien has had his hand in a plethora of entrepreneurial endeavors including penning his first children's book entitled "The Sound of Strings", a signature line of violins, a partnership to develop his own line of wines, a nonprofit organization as well as a children's focused music program. As a veteran knowing the ups and downs of the industry, he has committed to centering his career around the loyal fans whom he refers to as"good people" and who constantly remind him of why he returned to music. With this in mind it has been important to the "violin crooner" to build a brand that is inclusive of his global fan base.

Today Damien's solo career is moving at lightning speed. Damien is currently promoting his newest single, Get Up And Dance, which is the lead single from his second solo album, "Boundless". The "Boundless" album in particular is important to Damien as it marks Damien's first solo album of all originally produced material. The nationally executed Boundless Tour has brought Damien to a number of US cities for an unprecedented number of sold out shows in various major markets including Chicago, Philadelphia, Los Angeles and New York City. His single Freedom premiered at #15 on the iTunes dance charts and subsequently broke the iTunes Hot 100 Top 10.

Four years ago Damien was a shell of himself. Humbled by homelessness and depression, Damien had to fight through his fear of failure and reemerge as a confident, positive, thriving artist. Today he has arrived. An unprecedented story of triumph, Damien Escobar can look back at his days playing the violin for change on the subway platforms of New York to playing for Presidents in the White House. Unpretentious yet confident, Damien makes no secret of the determination necessary to gain the recognition he has obtained while becoming one of the few commercially successful mainstream violinist. Damien Escobar is a musical pioneer dominating an industry that's ready for change. The future of the music industry rests in his hands - and he's ready.
Icon For Hire
@Fitzgerald's-Houston
Friday, May 19th, 2017 8:00 PM
The band came together and started in Decatur, Illinois by vocalist Ariel Bloomer and guitarist Shawn Jump. When the two met in 2007, Bloomer, discovering Jump played guitar, initiated a musical collaboration between the two of them. When the need for a drummer arose, Jump recruited Adam Kronshagen, an old friend he jam sessioned with as a member of the local party scene (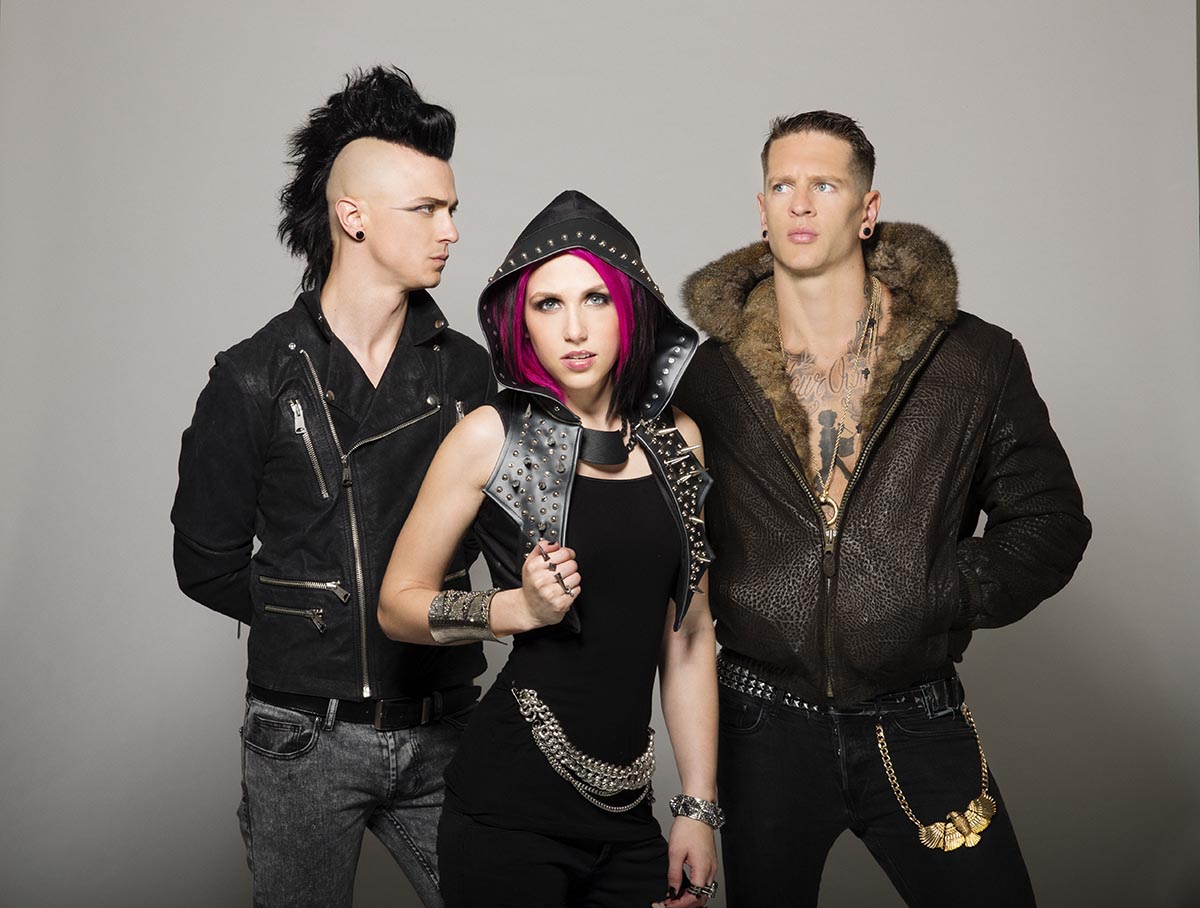 Jump was six months clean at the time). Bassist Joshua Davis joined and the band when it was officially formed in November of that year, choosing their name as a satirical comment on the state of the music industry.

The band played their first show in a local club before an audience of family and friends. Bloomer has been quoted as saying of the performance, "Our passion for music was there; whatever we lacked in sound we made up for with enthusiasm."

Over the next two years, the band toured throughout the Midwest and released two EPs, the self-titled Icon for Hire EP in 2008 and The Grey EP in 2009. During that same year, Davis left the band.
The band's sound combines pop punk and alternative metal elements with strings and electronics. Jamie Maxwell of Cross Rhythms describes them as a punk band, but notes that "the electronic influence evident in some of their tracks is a definite nod to the likes of Linkin Park and others in the nu metal mould."

In describing the band's sound, lead singer Bloomer has said that the band is "first and foremost just a rock band. That's where our roots are and where our hearts are. But a few years ago we started really getting into synths and programming. We love the combination of brutal, in-your-face riffs, with the fun candy of pop production sprinkled all over it."

Influences cited by the band have included hard rock bands like Linkin Park, Breaking Benjamin, Pantera, Mötley Crüe, and Rage Against the Machine, as well as pop- and hip hop-oriented artists such as Skrillex, The Black Eyed Peas, Dessa, and Lady Gaga.

The band's sound has often been compared to that of other female-fronted rock bands, particularly Paramore.Nathaniel Schexnayder of Jesus Freak Hideout went so far as to label the band's debut album Scripted as generic, saying that the band "borrows their elements from other female fronted acts like Flyleaf, Fireflight, and Paramore at an alarming degree." Bloomer has taken issue with these comparisons, citing the band's "unique combination of programming/pop elements, mixed with a commercial rock sound" as a distinguishing element, in addition to the band's live performances: "We've never had someone come see us live and compare us to other bands." She has also noted such comparisons as unfairly discriminatory: "It frustrates me how in so many other industries you are acknowledged for your skill and education, but in music somehow if you're a chick you better be bringing something extraordinarily mind-blowing to the table in order to have a shot. It's a bit sexist I think." Their song, "Now You Know", addresses the subject at length.
Icon For Hire
Fitzgerald's-Houston
2706 White Oak Dr.
Houston, TX
Directions
Friday 5/19/2017 8:00 PM
view tickets
Cirque Du Soleil - Kurios
@Grand Chapiteau
Sam Houston Race Park
April 6th through May 21st, 2017
A mysterious and fascinating realm that disorients your senses and challenges your perceptions.

Step into the curio cabinet of an ambitious inventor who defies the laws of time, space and dimension in order to reinvent everything around him. Suddenly, the visible becomes invisible, perspectives are transformed, and the world is literally turned upside down.

A cabinet of curiosities is a tale in which time comes to a complete stop, transporting the audience inside a fantasy world where everything is possible. In this realm set in the latter half of the nineteenth century, reality is quite relative indeed as our perception of it is utterly transformed. The name of the show refers to the humble and strange characters that inhabit the Seeker's Cabinet of Curiosities.
In an alternate yet familiar past, in a place where wonders abound for those who trust their imagination, a Seeker discovers that in order to glimpse the marvels that lie just below the surface, we must first learn to close our eyes.

In his larger-than-life curio cabinet, the Seeker is convinced that there exists a hidden, invisible world – a place where the craziest ideas and the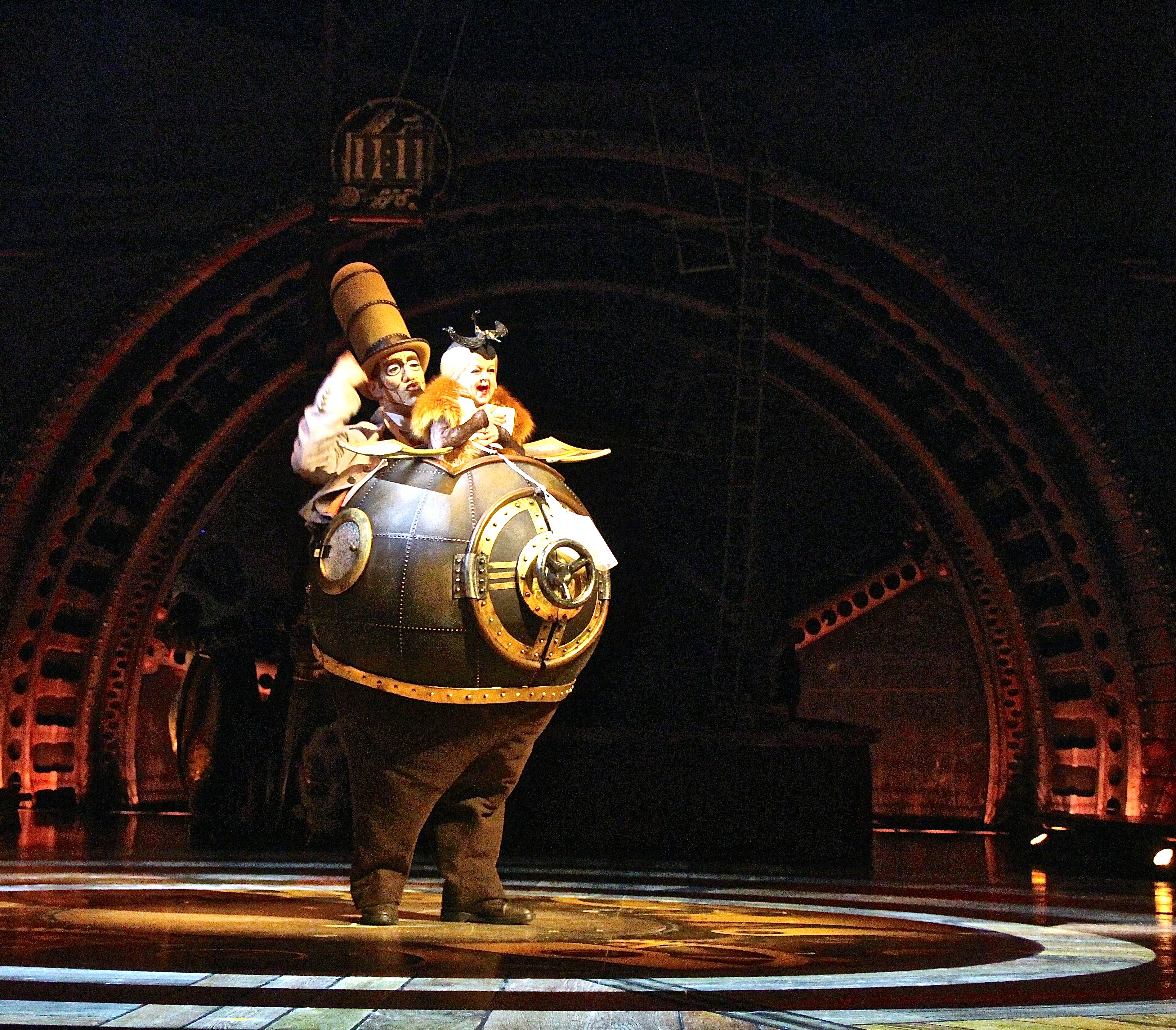 grandest dreams lie waiting. A collection of otherworldly characters suddenly steps into his makeshift mechanical world. When the outlandish, benevolent characters turn his world upside down with a touch of poetry and humor in an attempt to ignite the Seeker's imagination, his curios jump to life one by one before his very eyes.

What if by engaging our imagination and opening our minds we could unlock the door to a world of wonders?
Ten Curious Facts
About the Show

• To make the Accordion Man's attire,
the costume-maker spent an entire
week sewing inside the costume.
• Rima Hadchiti, the artist who plays
Mini Lili, is 3.3 feet tall and weighs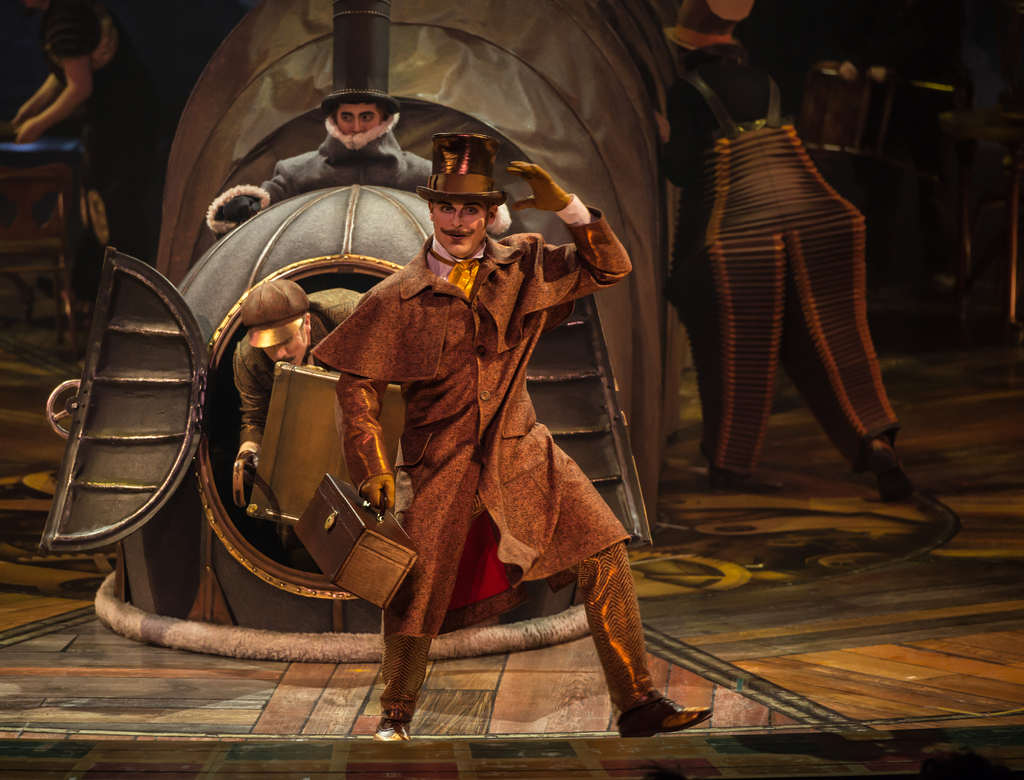 41 pounds. She is one of the 10
smallest people in the world.
•
The mechanical hand weighs 750
pounds and measures 15 feet by
6.8 feet.
• More than a hundred costumes were
created to dress the cast of KURIOS.
• There are 426 props in the show, the
most of any production in Cirque du
Soleil's history.
• Some 65 trucks transport close
to 2,000 tons of equipment for
KURIOS™ – Cabinet of Curiosities.
• The 122 tour members come from
23 different countries. Some have
been touring with Cirque du Soleil
for more than 15 years.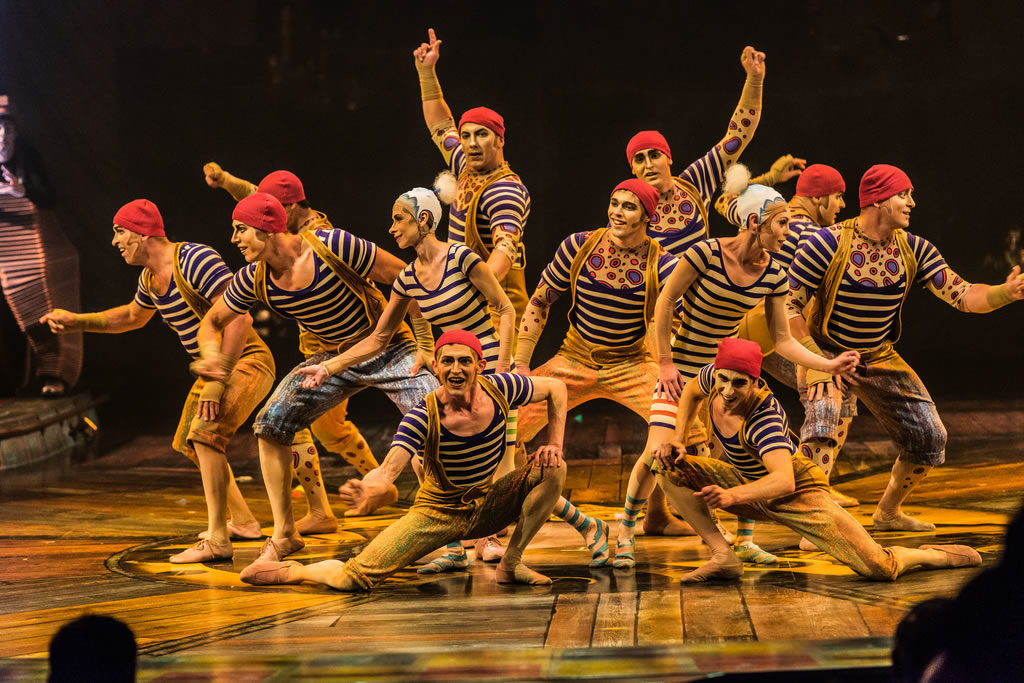 • This is the fi rst time that Cirque du
Soleil presents a welcoming act on top
of the big top before the show starts.
When weather permits, 3 artists climb
up the big top and greet the guests
from above while playing music and
acting. Guests get a taste of the
KURIOS experience as soon as they
enter the site.
• It took the team of props makers
approximately 250 hours to build
Mr. Microcosmos' round belly.
• All performers are responsible for
applying their own make-up every
show, which can take them between
40 minutes to two hours
Looking for that Friday weekend event and can't find it, try our custom "Google Search"