Quixote Nuevo
@Alley Theatre
Hubbard Stage
January 17th-February 8th, 2020

This weekend (Januray 17, 2020) The Alley Theatre brings us "Quixto Nuevo" on their Hubbard Stage. The play directed by Austin, Texas-based KJ Sanchez and starring "Sesame Street's" Emilio Delgado, as Quixote Nuevo is an inspiring reimagining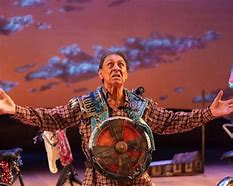 of Cervantes' Don Quixote by celebrated playwright Octavio Solis. Set in a fictional modern-day Texas border town, Quixote and his sidekick embark on an adventure in search of long-lost love. Infused with imagination, Tejano music, and true Texas soul. Quixote Nuevo shows the challenges of living in this modern world all the while in pursuit of a lost dream. The play is a co-production with Hartford Stage and Huntington Theater Company.
CTExaminer.com in Hartford reviewed the production while it played the Huntington Theatre Company.
Set in and around the fictional Texas border town of La Plancha, mentally declining literature professor Jose Quijano — played by longtime Sesame Street alum Emilio Delgado — is being wrangled by family and friends to be put in a senior care facility.

Not content to live out his final days in a room where he'd slowly dwindle to nothingness, Quijano takes up his helm, er bedpan — or more properly "headpan" — in a fit of passion taking on the persona of Don Quixote on a quest for his beloved Dulcinea (Gisela Chipe) who is across the border in Mexico.
Along the way he picks up his neighbor, ice cream salesman Manny Diaz (Juan Manuel Amador), to be his Sancho Panza.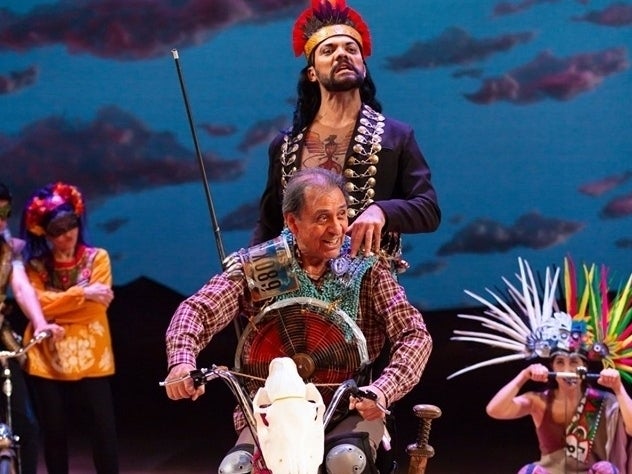 The two go on adventures addressing the current socio-political climate on the border, meeting migrant workers, immigrants, and border patrol agents.
Solis' writing is a beautiful blend of Spanish and English, jumping back and forth between the two languages. Though knowledge of both languages would be beneficial to understand all the humor throughout the show, it won't prohibit most people from understanding what is going on throughout.
The beauty behind Solis' language is the lyrical quality of the text. The words roll off the lips of the actors with an almost singing quality, and though the play isn't a musical there are musical moments included as well, that give the play a certain Mexican romanticism.
There are moments though when the language loses its poetic nature, usually when the language has to take a back seat to the immediate political issue being dealt with in the scene. It's not that the issue shouldn't be addressed, but the meter and flow of the dialogue becomes a bit more rigid at times, losing the color that elevates the rest.
The same issue occurs with some of the ancillary friends and family characters that surround Quijano and Manny. This may be intentional since those characters lack the vision and fantasy that have consumed the two heroes. Whether it is a directing choice or a writing choice or an acting choice, it makes, the characters come off a bit stiff and uninteresting compared to Quijano and Manny.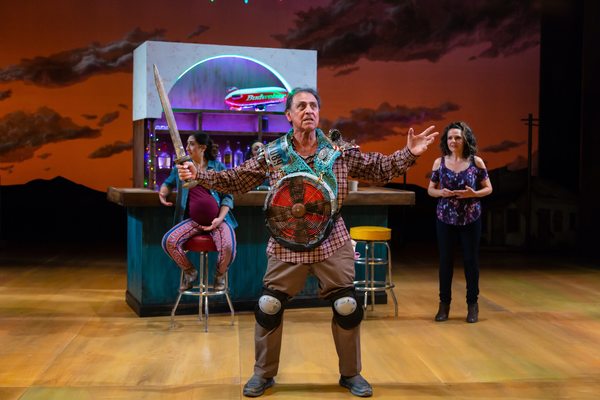 Delgado gives a bittersweet, sensitive, yet, at times, hysterical performance as Quijano/Quixote. His back and forth between being cogent and riding through his delusions is beautifully detailed at times, and his confrontation with a border patrol balloon drone is absolutely absurd.

The depth of his abilities as an actor though are reflected in his subconscious moments that are represented on stage through interactions with Papa Calaca (Hugo E. Carbajal) – Calaca being a colloquial Mexican Spanish name for skeleton. Papa Calaca is a sort of emissary of the dead coming to collect Quixote, whom Quixote vehemently defies.
As enjoyable as Delgado is in his performance, Amador gives the most impressive performance of the night. His beleaguered Manny is riotously funny and doesn't have a weak moment on stage.
Takeshi Kata's scenic design is gorgeous. Particularly the backdrop which has such meticulously detailed clouds they seem to be three dimensional.
Quixote Nuevo
Alley Theatre
Hubbard Stage
615 Texas Ave. Houston, TX
Directions

Weekend Saturdays Listings

Weekend Sunday's Listings

Houston's Weekend Planning Guide utilizes Ticket Liquidators.com. TL is not a box office. Ticket prices can be more or less than face value. Only the most qualified, trustworthy sellers are part of their network, after TL vets them for superior service. TL guarantee that your tickets will be legitimate, arrive in time for the event, be the exact tickets you ordered or comparable alternatives, and be completely refunded if the event is cancelled. If your experience falls short of these expectations, you're covered by their100% money-back guarantee.
Looking for that Saturday weekend event and can't find it
try our custom "Google Search"