Randy Rainbow
@Wortham Center
Cullen Theater
Saturday 10/26/2019 7:30 PM
This weekend internet content creator Randy Rainbow makes his way to Houston in the Cullen Theatre at the Wortham Center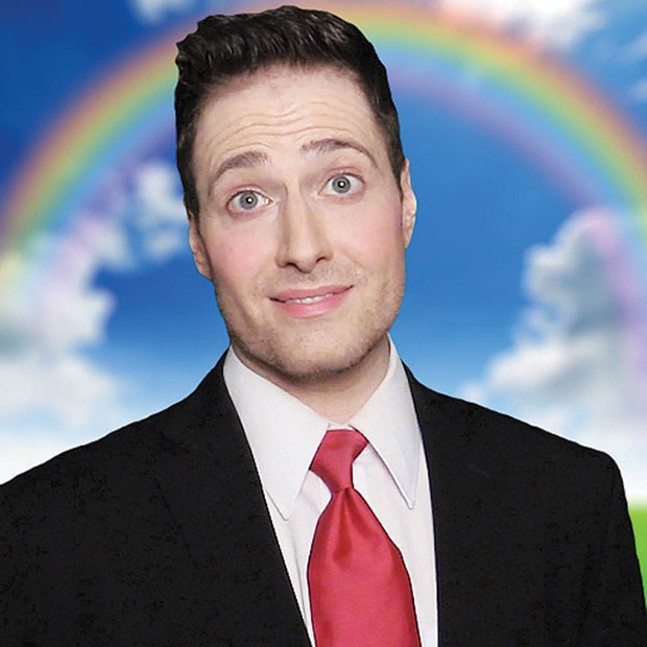 Saturday, October 25, 2019. Rainbow which is his real name is the star and creator of YouTube's "The Randy Rainbow Show," which features song parodies about President Trump and members of his administration.
It was years ago Rainbow created his blog, The Randy Rainbow Bloggity BLAHg-BLAHg, to document his theatrical experiences and "kvetch about my day-to-day as a single homo in the city."

In his early work, Rainbow staged fake phone conversations with famous people by editing real audio clips of those celebrities. He posted his breakout video, "Randy Rainbow is Dating Mel Gibson" in 2010. It received more than 60,000 views in one week and has since surpassed 170,000 views. Subsequent videos include "Randy Rainbow Calls Lindsay Lohan", "Randy Rainbow Calls Dr. Laura", "The Morning After Chelsea's Wedding", "Randy Rainbow Gets a Job (from Rachel Zoe?)", "Randy Rainbow Kicks It with Kanye West", and "Randy Rainbow Spends Christmas with Mel Gibson". Michael Urie appeared as himself in "Randy Rainbow Getting Married?" Tituss Burgess appeared as himself in "Randy Rainbow Stars in a Show!" Brent Corrigan appeared as himself in "Randy Rainbow Makes a Sex Tape (w/Mel Gibson)". Randy's cat, Mushi Rainbow, also plays a prominent role in his videos.
Rainbow's content now is all about Trump. He was recently featured by Matt Grobar on the Yahoo! Entertainment pages.
"Becoming a viral sensation, with 1 million subscribers on Facebook, more than 303,000 on YouTube, and diehard fans from Hollywood, to Broadway, to Washington, D.C., Rainbow received his first Emmy nomination last month for The Randy Rainbow Show, breaking into the entertainment mainstream, while on tour with a live show.
If you want to go all the way back,
I started in musical
theater as a kid, so
I always had a thing
for musical comedy.

Incredibly resourceful and self-taught in video production, Rainbow hopes to grow his brand and continue creating engaging, resonant content, even though covering the Trump administration is an endlessly exhausting task. "They're going to have to give me a TV show. Otherwise, I'm getting buried over here," he says. "I hope the next time we talk, I'll be promoting that show on HBO or Netflix—if they're listening."
How exactly did you come to this point in your unique career as a performer?
If you want to go all the way back, I started in musical theater as a kid, so I always had a thing for musical comedy. I'm from a funny family as well, and there's a lot of musical genes going around, so that was always a part of me. I guess to long story short it, I was really just working day jobs when I moved to New York and trying to pay the bills, working in restaurants and as a receptionist, and at one of those reception jobs, I just got so bored, I started a blog, honing my writing skills a little bit. That eventually got a little bit of a following, especially within the Broadway and gay communities, because it was Seinfeld-y observations, with kind of a show queen spin. (more @yahoo.com click here)
Looking for that Saturday weekend event and can't find it
try our custom "Google Search"