Weekend Saturdays is updated continuously

Contact the venue for possible postponements
or cancellations due to Covid 19 escalations
Todd Snider with special guest Tommy Womack
"Pickin'. Grinnin'. Tellin' Stories. Takin'
Requests Tour"
@The Heights Theatre
Saturday 5/7/2022 8:00 PM
Doors Open 7:00 PM
Lobby Opens 6:00 PM
You don't often hear about an artist reinventing their sound twenty albums into a celebrated career. But for Todd Snider, his latest release, First Agnostic Church of Hope and Wonder (2021), isn't so much a sudden change in direction as an arrival after years of searching. This weekend Snider is at The Heights Theatre.
Since debuting in 1994, Snider has gone through his own incarnations. His first single "Talking Seattle Blues" was a head fake that might've pointed to goofy novelty songs. But he quickly showed that his artistic quiver was much deeper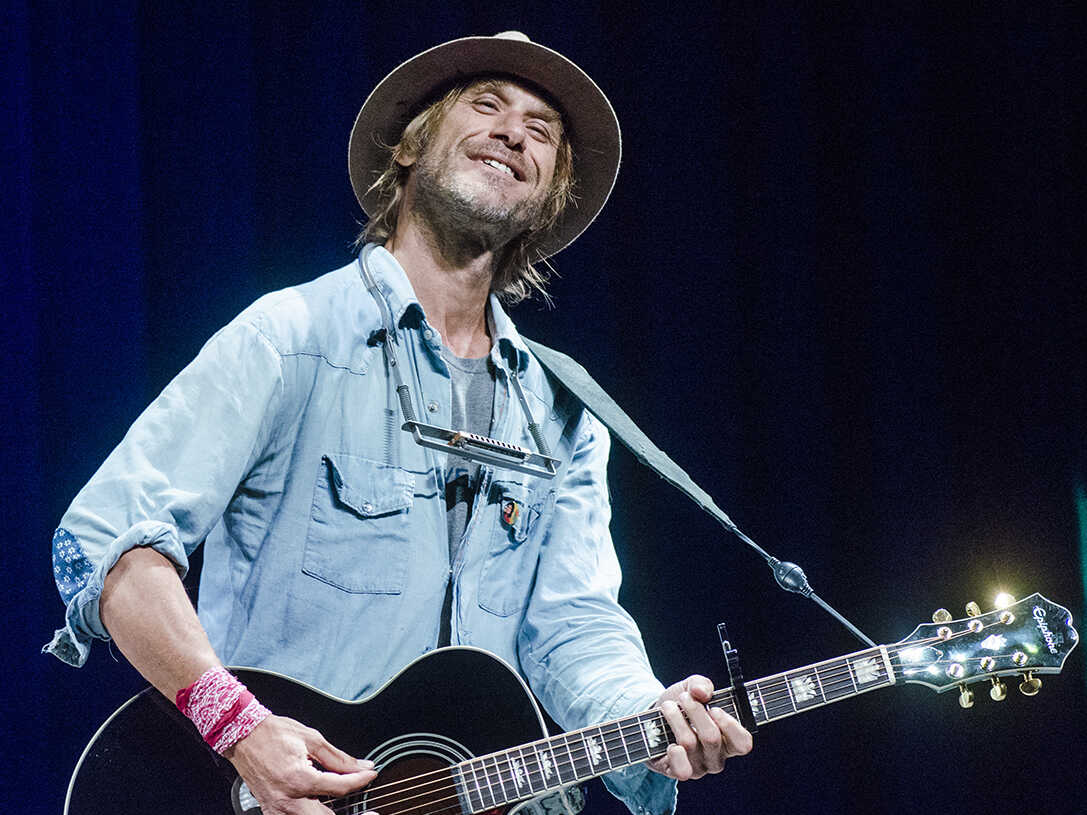 and more interesting. A storyteller who works a similar creative soil to John Prine and Shel Silverstein, Snider's best songs are both sad and funny, political and entertaining, and always written with a poet's eye and a stand-up comedian's sensibility about the follies of human condition.
While he's made twenty fine albums, it's on stage where Snider is even more potent, with between-song banter that weaves subtle emotional threads through his sets. A road dog who loves the road, Snider has toured with Emmylou Harris, John Prine, Jimmy Buffett, and appeared at festivals like Farm Aid, Newport Folk Fest, Lockn' and Telluride Bluegrass Festival.
Snider was born in Portland, Oregon, and lived there until his family moved to Houston, Texas. When he was 15, he ran away from home with a friend and went back to Portland. After high school, he moved to Santa Rosa, California, to be a harmonica player. Then his brother, who lived in Austin, Texas, bought him a ticket to come live there. After seeing Jerry Jeff Walker in a local bar, Snider decided that he didn't need a band to be a musician.
Todd Snider Live from East Nashville
After moving to Memphis, Tennessee, in the mid-1980s and establishing residency at a club named the Daily Planet, he was discovered by Keith Sykes, a member of Jimmy Buffett's Coral Reefer Band. A longtime acquaintance of John Prine and Walker, Sykes began to work with Snider to help advance his career. Prine hired him as an assistant and then invited him to open shows. In time, Buffett heard Snider's demo tapes and signed him to his own label. On his music, Snider has said "I was just trying to come up with the best ... most open hearted ... well-thought-out lyrics I could come up with. I wanted every song to be sad and funny at the same time, vulnerable and entertaining at the same time, personal and universal at the same time. I wanted every song to be as uniquely written as possible and then I wanted to perform them in a studio loose and rugged and hopefully as uniquely as I could. My hope is to be hard to describe and/or new ... I'm not saying I am. I'm just saying that's the hope."
Snider's 1994 debut album on MCA, entitled Songs for the Daily Planet, was named for the bar where Snider used to play regularly in Memphis. On that album were the minor hits "Talkin' Seattle Grunge Rock Blues"—a folk song about the early '90s grunge scene, featuring a band that "refused to play" —and "Alright Guy", which later became the title cut of Gary Allan's 2001 album.
The Music of
Billy Joel & Elton John
@The Grand Opera House in Galveston
Saturday 5/7/2022 8:00 PM
Michael Cavanaugh is the new voice of the American Rock & Roll Songbook and a charismatic performer and musician made famous for his piano/lead vocals in the Broadway musical Movin' Out. Handpicked by Billy Joel to star in Movin' Out, Cavanaugh evokes a style rivaling the Piano Man. He appeared in the show for three years with over 1,200 performances and received multiple accolades. The show culminated in 2003 with both Grammy and Tony award nominations.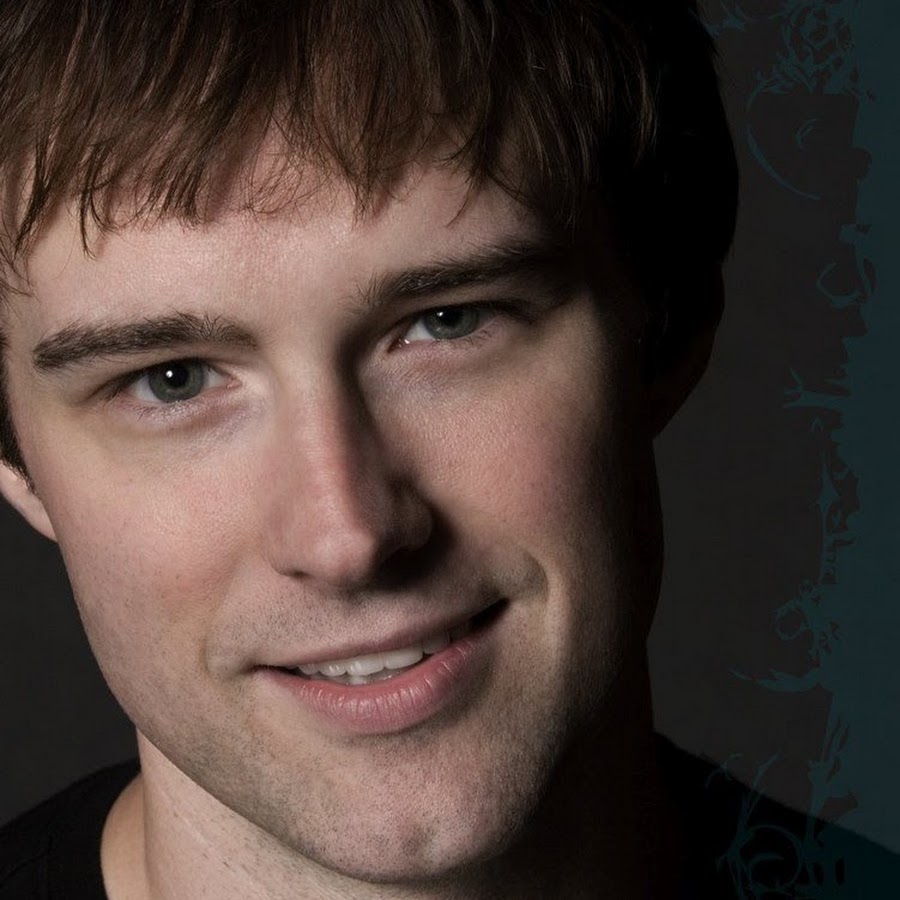 This weekend Cavanaugh is in Galveston at The Grand Opera House with his take on celebrating the music of Billy Joel and Elton John.
Michael began playing at age seven, when his parents bought their first piano. Encouraged by family and friends, and inspired by his hero Billy Joel, Michael formed his first band at age 10 and began playing local functions, fine-tuning the craft that would become his chosen career. His first full-time gig as a musician was an extended engagement in Orlando, Florida, at a piano bar called Blazing Pianos. In January of 1999, Michael received an offer that would unknowingly change his life: an opportunity to play Las Vegas at the famed New York, New York Hotel and Casino. It was there that Billy Joel spotted Michael and joined him on stage one fateful night of February 2001. It only took two songs before Billy was convinced that he had found his new Piano Man: Michael Cavanaugh. Michael closed up shop at New York, New York and moved to New York City to work alongside Billy Joel and Twyla Tharp to shape the Broadway Musical that would be called Movin' Out. In the lead role, he received both Tony and Grammy nominations.
The Music of Billy Joel & Elton John starring Michael Cavanaugh in Richardson, TX
With the close of Movin' Out at the end of 2005, Michael began touring in his own right, creating a show that reinterprets the modern pop/rock songbook. Michael soon became one of the hottest artists in the private events market, and he continues to perform worldwide for company and charity events as well as sporting events including many PGA tour events, the SuperBowl, and the Indy 500. His interpretation of the modern rock/pop songbook led to Billboard calling him "The New Voice of the American Rock and Roll Songbook," and he was recognized by Reuters as Entertainer of the Year for the private events market.
It wasn't long before symphony orchestras discovered Michael's talents and audience appeal. He accepted his first orchestral booking, "Michael Cavanaugh – The Songs of Billy Joel and More," which debuted in April 2008 with the Indianapolis Symphony and continues to tour today. In October 2008, he signed with Warner/ADA to distribute his first CD, In Color. In June 2010, Michael debuted his second symphony show in the Generations of Rock series titled "Michael Cavanaugh: The Songs of Elton John and More" and then debuted his third symphony show, "Singers and Songwriters: the Music of Paul Simon, Neil Diamond and James Taylor," in 2012. In 2015, he debuted his fourth symphony show: "Rockin' Christmas with the Pops." He continues to tour all four symphony productions along with performing with his band in performing arts centers and other public venues.
The Grand 1894 Opera House
2020 Postoffice Street
Galveston, TX 77550
Directions (Map)
(409) 765-1894
Saturday 5/7/2022 8:00 PM
Doors Open 7:00 PM
Originally known as Grupo Pesado, the norteño group Pesado was founded by frontman/accordionist Beto Zapata and Pepe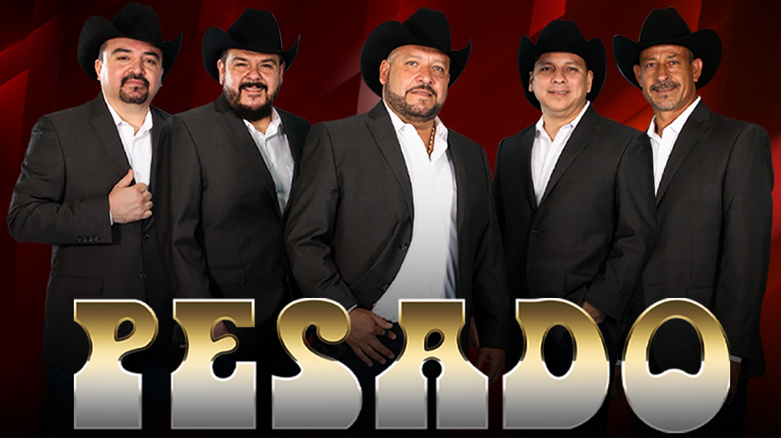 Elizondo (bajo sexto, vocals) in 1993 in Nuevo Leon, Mexico. This weekend they're in southwest Houston at Arena Theatre.
(From All Music.com) They debuted with the album Ayudame a Olvidar, released by MCM. Llego el Amor followed in 1994, soon achieving gold status. The following year, they scored a major hit with "Eso Me Gusta." In 1997, original bass player Rodolfo Gajardo was replaced by Juan Antonio Pequeño. A new lineup change occurred in 1999 when ex-Grupo Límite drummer Luis Mario Garza took Mario Padilla's place. By the time of their seventh LP, 1999's A Tu Encuentro, Pesado had signed to the new WeaMEX imprint, which would issue a series of greatest-hits albums for the group at the turn of the millennium. Todo Tuyo was issued in early 2001 and marked the first time Pesado entered the charts. Several more albums followed (as their discography continued selling to gold and platinum status) before Pesado issued 2006's Piensame un Momento, which continued their streak and earned the group a Grammy nomination for Best Norteño Album.
They struck again quickly with Gracias por Tu Amor, a controversial album that challenged physical abuse and the traditional notions of male machismo in Latin America. The album and its title track single were the subject of hot discussion on radio and television talk shows, but they only served to grow sales and airplay.
Pesado had another "thank you" on tap for 2008. As a celebration of their own 15th anniversary, they released Corridos: Defendiendo el Honor, a collection of classic corrido covers by artists such as Los Cadetes de Linares, Ramón Ayala, and Los Tigres del Norte. They followed it a few months later with a collection of new songs titled Sólo Contigo. (Read more @All Music.com Click Here)

Houston Arena Theatre
in Arena Towers
7326 Southwest Fwy
Houston, TX 77074
713-772-5900
Directions (Map)
River to the Sea
@Miller Outdoor Theatre
Saturday 5/7/2022 8:15 PM
All performances at Miller Outdoor Theatre
are FREE!
This weekend its River To The Sea Produced By The San Jacinto Community College Steel Band at Miller Outdoor Theatre.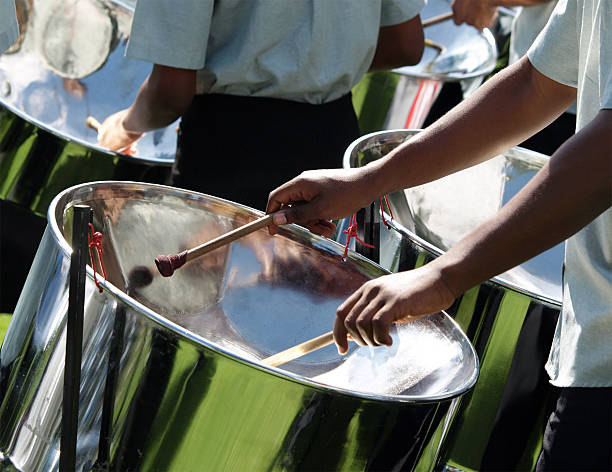 River to the Sea is a multi-movement work of the steel band. The creators of the program say, "Water connects all of us. Most cities of the world have formed and grown around a key water source and thrive because of their proximity to water. Houston is a prime example of this."
Musically speaking, the interaction of different cultures and societies from across the globe have been facilitated by this same connection to water. River to the Sea will reflect on this cultural interconnectivity as well as musically depict aspects of what draws us all to water, whether it be for work, survival, recreation, travel, or matters of the spirit.
The music department at San Jacinto Community College regularly produces graduates who are sought after by universities for both their performance and technical skills. Students and faculty perform regularly in recitals, and concerts, and guest artists perform and present workshops on campus frequently.
Miller Outdoor Theatre
Hermann Park
6000 Hermann Park Dr
Houston, TX 77030
Directions click here
(832) 487-7102
Turnpike Troubadours
@White Oak Music Hall
Saturday 5/7/2022 7:00 PM
Doors Open 6:00 PM
It was in 2015 with their self-titled album when Turnpike Troubadours emerged at number 17 on the Billboard 200. This weekend they're back in the Bayou City at White Oak Music Hall with a sold out performace. (Tickets are still avaiable at our market reseller Ticket Liqudators.com (Click Here).

Evan Felker, the band's singer and one of its primary songwriters a few years ago told the daily Tulsa World.com, "The music is so appealing, regardless of where you're from or your past, because the songs describe shared human experiences, Felker said. They may be told through an eastern Oklahoma lens that we find familiar, but the stories are shared among people everywhere."
The Red Dirt band will perform this weekend on the lawn of White Oak Music Hall.
It is said, Shooter Jennings lived the first few years of his life in a crib on his parents' tour bus surrounded by the likes of Johnny Cash, Willie Nelson and Kris Kristofferson. By age five, he was playing drums. At 8 years old, he began taking piano lessons. He started playing guitar at fourteen and on occasion he'd play percussion in his father's band. Shooter Jennings is the son of country music star Waylon Jennings and Jessi Colter.
In high school Jennings fronted an industrial rock band called KilRaven for his high school's talent show. in 2011, he released the KilRaven track "Only You" on the album "Missed The Boat".
Turnpike Troubadours
Good Lord Lorrie Cain's Ballroom 2022
Shooter Jennings hosts a radio show on SiriusXM's Outlaw Country station entitled "Electric Rodeo." The show's format primarily consists of country, rock, and outlaw music. The show airs Thursdays from midnight to 2:00 AM, Saturdays from 6:00 PM to 8:00 PM, and Sundays from 10:00 PM to midnight Eastern.
Corb Lund is an alt-country singer-songwriter from Alberta, Canada. He grew up in a ranching and rodeo family in the foothills of Southern Alberta, then spent the early years of his career writing songs and playing bass for the indie rock band "the smalls."
Lund's music reflects his Western heritage and rock and roll roots. His distinct blend of Americana-meets-roots-meets-alt-country has attracted accolades from critics in Canada and the U.S., who have called him "one of the best contemporary country songwriters" (Popmatters) and one of the "10 New Country Artists You Need to Know" (Rolling Stone Country).
Lund's 2015 release, Things That Can't Be Undone, was produced by Grammy Award-nominated producer Dave Cobb (Jason Isbell, Sturgill Simpson, Chris Stapleton). His previous record, 2014's Counterfeit Blues, was recorded at the legendary Sun Studio in Memphis, TN, and was the focus of a 2-hour CMT special. Previous to that, 2012's Cabin Fever debuted at #1 on the Billboard Canadian Charts, and three of his albums are certified Gold.
Along with his band, Lund tours extensively throughout Canada, the U.S., Europe, and Australia. Currently signed to New West Records, Lund is an 8-time Canadian Country Music Awards Roots Artist of the Year, the 2017 BreakOut West Roots Solo Artist of the Year, and has many other awards and accolades, including a JUNO Award, under his belt.
White Oak Music Hall
2915 N Main Street
Houston, TX 77009
Directions (Map)
Phone: (713) 237-0370
Ticket Venues via Ticket Liquidator.com
[Disclaimer]
Houston's Weekend Planning Guide participates in various affiliate marketing programs, which means, we receive paid commissions on purchases made through our links
to retailer sites.Our editorial content is not influenced by any commissions we receive.
The Art Museum of Texas
@Sugraland Town Square
Established in 2020, Art Museum TX is a not-for-profit institution in Fort Bend County,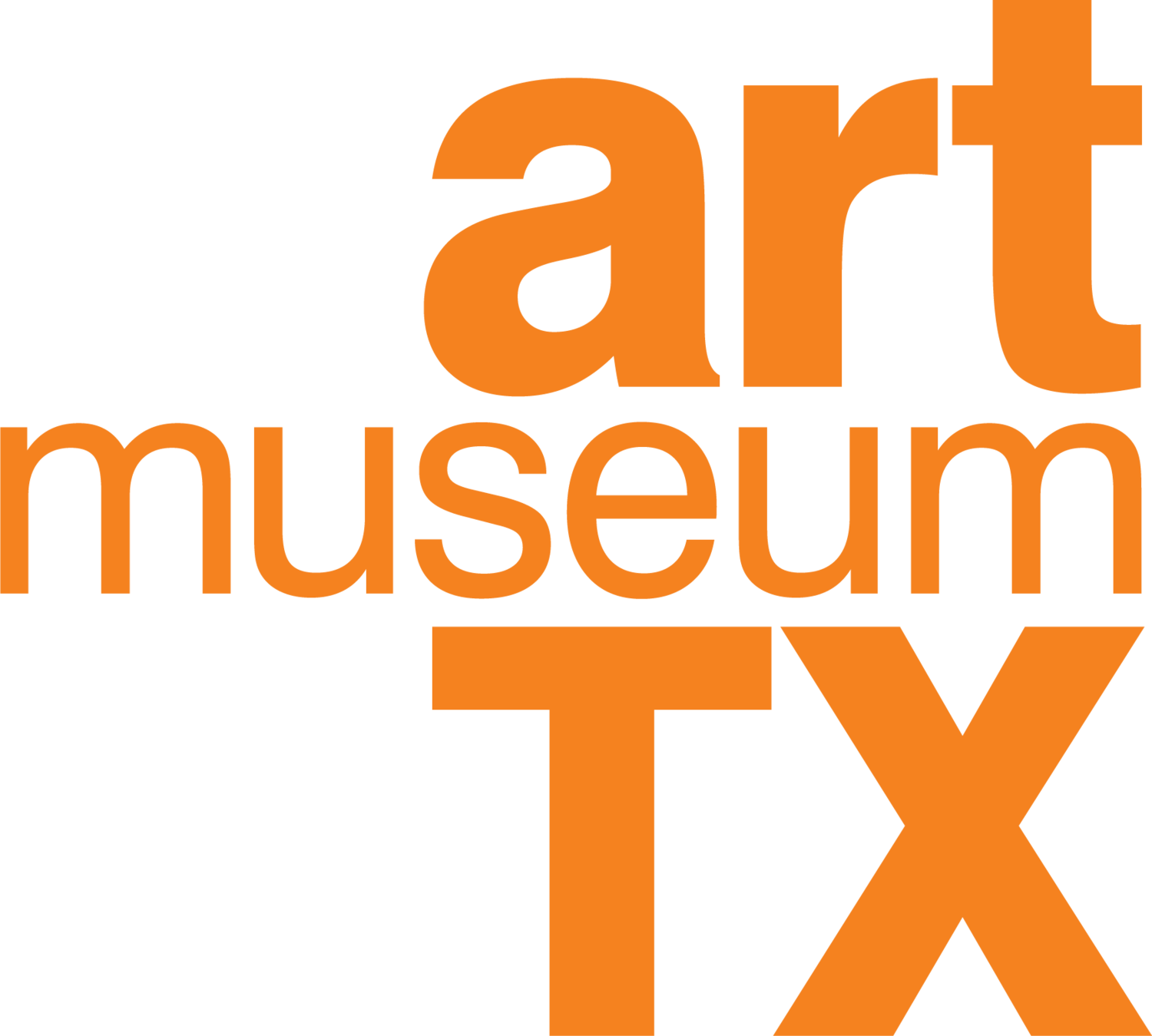 Texas, dedicated to presenting the region's contemporary art to the public. Art Museum TX provides an interchange for visual arts of the present and recent past, presents new directions in art, strives to engage the public, and encourages a greater understanding of contemporary art through education programs.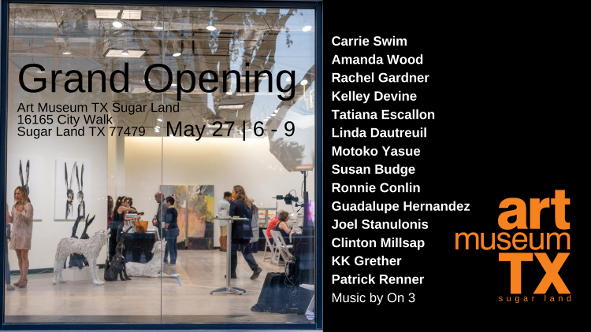 Art Museum TX is a museum dedicated to reaching our Fort Bend area population from one end of the region to the other, reaching throughout the surrounding areas and growing a wider audience. Art Museum TX is introducing art to so many. We bring art to YOU by opening our art space where YOU already frequent! We are in THE NEIGHBORHOOD!
Art Museum TX
16165 CITY WALK
SUGAR LAND TX 77479
Directions
Admission Free
Suggested Donation $5.00
Houston's Online Weekend Entertainment Guide
Looking for that Saturday weekend event and can't find it
try our custom "Google Search"