Houston's Online Weekend Entertainment Guide
Our Weekend Entertainment Picks for Weekend Saturdays
Saturday, October 21st, 2017

ALCS: Houston Astros vs.
New York Yankees
Home Game 4 (If Necessary)
@Minute Maid Park
Saturday 10/21/2017 7:00 PM
This weekend in America's Space City MLB playoffs continue with the Astros and Yankees.
[From MLB.com]
NEW YORK -- The Yankees recognized that they would have to find a way to defeat Dallas Keuchel or Justin Verlander in order to advance, and they attacked that challenge head on. Having toppled one of the Astros' aces to move within one win of the 41st World Series in franchise history, they will now focus their attention on the other.

"I think we're all shocked," said outfielder Josh Reddick, who's 0-for-17 in the series. "It's something we haven't gone through in a long period of time, and definitely for a stretch like we have right now. It can definitely build a lot of frustration in you, but we can't let the frustration overtake what we need to do to get the job done. We've got to take full advantage of tomorrow's off-day. We've got to win."

Established in 1962, the Houston Astros have a unique history -- they're one of a handful of franchises to play in both the American League and National League! Many great players have played for the Astros throughout the last century! Jeff Bagwell, Craig Biggio, Lance Berkman and Nolan Ryan have all donned the Astros uniform!
The Astros haven't had much success throughout their history, but they did capture the 2005 pennant, before losing to the Chicago White Sox in the World Series.
ALCS: Houston Astros vs.
New York Yankees - Home Game 4 (If Necessary)
Minute Maid Park
501 Crawford St
Houston, TX
Directions
Saturday 10/21/2017 7:00 PM
View Tickets
Dixie's Tupperware Party
@Zilkha Hall-Hobby Center
October 10th through October 22, 2017
"This is not your grandmother's Tupperware Party!" noted NBC's Today Show when Dixie (Kris Andersson) was interviewed.
"I own so much Tupperware. It's the best crap on the planet," touts Dixie (Kris Andersson) she bounces across the stage in a homemade dress and spiky heels that could kill. She picks up a bowl that "is the closest thing we will ever get to baby Jesus on earth" and assures us our food will stay fresh for decades with this item. "You know that moment when you think 'when did I buy a black plum? Oh ya it's a white onion.' " No longer do we have to worry about our food spoiling past the point of recognition.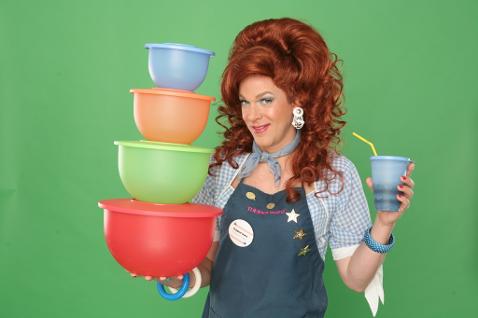 Its Dixie's Tupperware Party.
This is how the show is described:
Dixie Longate, (the fast-talking Tupperware Lady, packed up her catalogues, left her children in an Alabama trailer park and took Off-Broadway by storm! Now, join Dixie as she travels the country throwing good ol'fashioned Tupperware Parties filled with outrageously funny tales, heartfelt accounts, FREE giveaways, audience participation and the most fabulous assortment of Tupperware ever sold on a theater stage. Loaded with laughs and the most up-to-date products available for purchase, see for yourself how Ms. Longate became a member of the illustrious "#1 Tupperware Seller in the World" Club, as she educates her guests on the many alternative uses she has discovered for her plastic products!
Looking for that Saturday weekend event and can't find it
try our custom "Google Search"