Houston's Online Weekend Entertainment Guide
Our Weekend Entertainment Picks for Weekend Saturdays
Saturday, October 7th, 2017

Catapult: Dance Meets Design
Zilkha Hall - Hobby Center
September 29th and 30th, 2017 7:30 PM
Dance Meets Design
Catapult combines the ingenuity, calculation, and craftsmanship of industrial design professionals with contemporary dance to showcase the exciting possibilities of integrating tailor-made interactive structures in performance. As part of the programming for the Artistic Innovation grant, NMD will conduct the Structure: Dance Meets Design class series where professional designers and choreographers will work with 9-17 year olds in the construction of their own movement and structural designs.
"M-AAA has given us a really wonderful opportunity to deepen our investigation and scope of the project. We are so grateful for the support. I hope everyone will come and see this one-of-a-kind performance." ~ Artistic Director Dionne Noble

Catapult: Dance Meets Design
Zilkha Hall-Hobby Center
800 Bagby St. Houston, TX
Directions
Friday
9/29/2017 7:30 PM
Saturday
9/30/2017 7:30 PM
view tickets
Dixie's Tupperware Party
@Zilkha Hall-Hobby Center
October 10th through October 22, 2017
"This is not your grandmother's Tupperware Party!" noted NBC's Today Show when Dixie (Kris Andersson) was interviewed.
"I own so much Tupperware. It's the best crap on the planet," touts Dixie (Kris Andersson) she bounces across the stage in a homemade dress and spiky heels that could kill. She picks up a bowl that "is the closest thing we will ever get to baby Jesus on earth" and assures us our food will stay fresh for decades with this item. "You know that moment when you think 'when did I buy a black plum? Oh ya it's a white onion.' " No longer do we have to worry about our food spoiling past the point of recognition.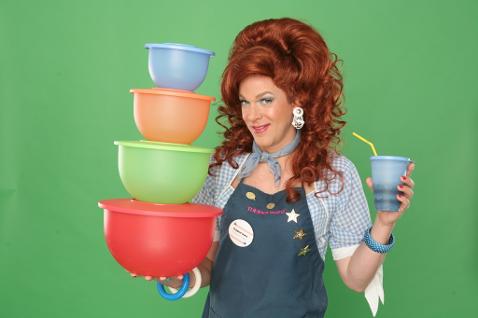 Its Dixie's Tupperware Party.
This is how the show is described:
Dixie Longate, (the fast-talking Tupperware Lady, packed up her catalogues, left her children in an Alabama trailer park and took Off-Broadway by storm! Now, join Dixie as she travels the country throwing good ol'fashioned Tupperware Parties filled with outrageously funny tales, heartfelt accounts, FREE giveaways, audience participation and the most fabulous assortment of Tupperware ever sold on a theater stage. Loaded with laughs and the most up-to-date products available for purchase, see for yourself how Ms. Longate became a member of the illustrious "#1 Tupperware Seller in the World" Club, as she educates her guests on the many alternative uses she has discovered for her plastic products!
Looking for that Saturday weekend event and can't find it
try our custom "Google Search"