Houston's Online Weekend Planning Entertainment Guide
Our Weekend Entertainment Picks for WeekendSundays
Bayou City Jazz Series
@HOB-Houston
Bronze Peacock
Sunday 4/22/2018 3:00 & 7:00 PM
From Marion Meadows.com

West Virginian Marion Meadows, grew up in Stamford, Connecticut. Meadows began playing the clarinet and studying classical music at at nine. He started playing tenor sax in high school, and then moved to soprano sax. His passion for various types of music led him down an eclectic musical path. He was intrigued by the styles of jazz musicians, like Stanley Turrentine,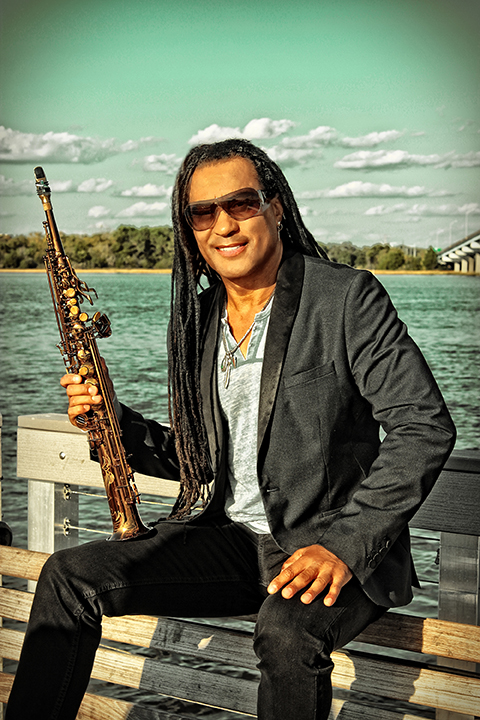 Sidney Bichet, Johnny Hodges, John Coltrane, Sonny Stitt, Rahsaan Roland Kirk, Dexter Gordon, Cannonball Adderley, Coleman Hawkins, Sonny Fortune, Joe Henderson, Grover Washington and many others. After studying jazz at Rippowam High School in Stamford, CT with Anthony Truglia, Meadows attended Berklee College of Music. There he majored in arranging and composition. He later went to the SUNY Purchase School for the Arts. During his college years he played in a number of bands including disco, R&B and various jazz ensmbles. I got a lot of sideman jobs in college, and I have always said I got my real graduate degree playing clubs, says Meadows, who perfected his craft studying with Sonny Fortune, Joe Henderson, Dave Liebman and Eddie Daniels. "Not long after I finished school, (drummer) Norman Connors recorded one of my songs, "Invitation" and then asked me to join his band. I later produced his Passion album with my colleague Jacques Burvick (Aquarium Dream) . Things just fell into place.

Meadows first hit the airwaves in 1991 with "For Lovers Only", but his career really began one day in the late '80s at New York's Grand Central Station. He had been a sideman with Connors for three years, with only vague notions of eventually going solo. One day, while waiting for a train, he pulled out his horn and began playing under the huge dome. His sweet sound caught the attention of fellow traveler, producer and TV composer Jay Chattaway, who happened to be passing by on his way to the train.
"For Lover's Only"
was a huge success and was followed by his ground breaking "Keep it Right There"

Chattaway was so impressed with Meadows' sound that he hooked Meadows up with legendary keyboardist Bob James. Meadows and James collaborated on a recording which unfortunately went unreleased. The experience put him on the road to his eventual success. Meadows hooked up with numerous artists and musicians and became a well known sideman in his own right, recording or performing over the years with Brook Benton, Eartha Kitt, Phyllis Hyman, Jean Carne, The Temptations, Michael Bolton, Angela Bofill, Will Downing , Bob Baldwin, Chuck Loeb, John Lee, among many others. In the late '80s, Meadows stretched his boundaries by becoming a member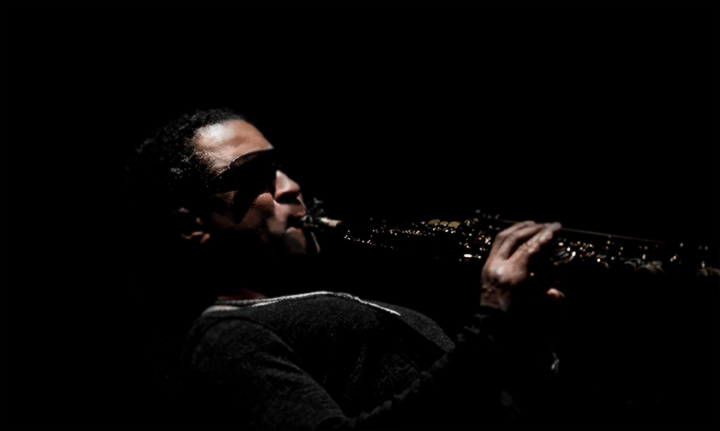 of a New York avant-garde band called the Aboriginal Music Society. In 1990 Meadows submitted a solo project to Steve Backer at Novus/RCA and was signed to a recording contract, thus marking the beginning of his solo career. Meadows' first RCA release "For Lover's Only" was a huge success and was followed by his ground breaking "Keep it Right There" album. He became a staple of the contemporary jazz format with his subsequent recordings, which include Body Rhythm (1994) and Forbidden Fruit (1996), Passion (1997), Another Side Of Midnight (1999), Next To You (2000), In Deep (2002), Players Club (2004), Dressed To Chill (2006), Secrets (2009) Whisper (2013) and Soul Traveler his current release on the New York based Shanachie Label. Meadows is a semi-pro cyclist, graphic artist and designer.
Bayou City Jazz Series
HOB-Houston
Bronze Peacock
GreenStreet
1204 Caroline St.
Houston, TX
Directions
Sunday 4/22/2018 3:00 & 7:00 PM
view tickets
From Paul BrownJazz.com

The term "Renaissance Man" dates back to the time of Leonardo da Vinci, who was described as a man of "unquenchable curiosity" and "feverishly inventive imagination." Paul Brown's four decade journey through the worlds of pop, R&B and jazz is the modern day musical equivalent. Starting as a drummer, he became an engineer for R&B legends (Diana Ross, Luther Vandross, Aretha Franklin) before evolving into a two time Grammy winning urban jazz producer (with over 60 #1 radio airplay hits) and finally a popular guitarist, artist and performer in his own right.
In the remarkable 12 years since he released his debut album Up Front, Brown has released six albums (including three that hit the Top Ten on the Billboard Albums chart), scored countless hit singles, and done thousands of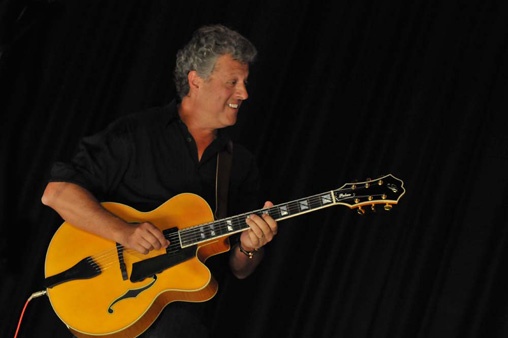 performances across the U.S. and internationally, including gigs with fellow guitarists Larry Carlton, Chris Standring and current labelmate Marc Antoine (with whom he recorded the 2009 album Foreign Exchange). And yet, as he releases One Way Back, his third collection on Woodward Avenue Records after The Funky Joint (2012) and Truth B Told (2014), Brown freely admits he is still trying to find himself as an artist.
While keeping his trademark deep funk and cool urban vibes flowing, Brown taps deeper than ever before into his lifelong blues influences, which includes a foundational passion for greats like Stevie Ray Vaughan, Eric Clapton, Buddy Guy, Little Feat and B.B. King. This edge is immediately apparent on the album's lead single, a bold and fiery re-imagining of The Crusaders' soul-jazz classic "Put It Where You Want It," which he describes as a "combination of Wes Montgomery and Larry Carlton," the latter who played on the original recording of the tune.

"Even after all these years," he says, "I truly feel that I'm continuing to evolve as a guitarist, and I'm glad the way the genre is right now allows artists to follow the deeper passions of their musical hearts more than ever before. With each album, I feel like I've grown as a musician and artist, and I'm a far different player than I was when I recorded Up Front. When that came out, I had never performed a live show as a guitarist. You can practice an instrument in a room all you want, but until you play live, you don't acquire a full level of skills. All of that gigging has helped me grow technically, and playing what I have imagined in my head is a lot easier than it used to be. The freedom and confidence I have gained from those translates to my personal development and allows me to bring fresh new ideas into the studio."
While extending his long history of collaborations with the genre's top saxophonis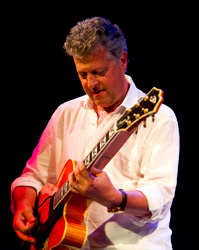 ts with "Sexy Thang" featuring Darren Rahn, One Way Back's deeper musical core is a series of dynamic collaborations with top genre guitarists Chris Standring, Peter White, Marc Antoine and Chuck Loeb. While Brown's electric is front and center as the lead melodic voice, he lets each of his peers bring his own sonic aesthetic to the mix as he "interprets inside of it." Other highlights are the powerhouse, brass fired Memphis soul influenced "Well Alright" featuring vocalist (and former Hi Records songwriter Don Bryant) and the rich blues-drenched closer "Heaven" featuring vocals by Brown and simmering Rhodes and Hammond B-3 textures by his blues keyboardist friend with the same name known as "Brother Paul Brown."
The Los Angeles born and raised guitarist's R&B driven sound has been a foundational element in urban jazz since the early 90s, when he produced saxophonist Boney James' breakout debut Trust. He has since worked with many of the genre's most influential artists, including Carlton, White, Euge Groove, Rick Braun, Kirk Whalum, Jeff Golub, Al Jarreau and Jessy J. "Winelight," the second single from Brown's sophomore album The City, was ranked by Mediabase as the genre's most spun track of that year. Radio & Records and Mediabase declared "The Rhythm Method," the first single from Brown's third release White Sand, the most played song of 2007. The title track from Jessy J's Brown-produced debut Tequila Moon earned the same distinction for 2008.
Tickets provided by Ticket liquidators.com
Looking for that Sunday weekend event and can't find it try our custom "Google Search"