Happy Holidays and Happy New Year
From Houston's Weekend Planing Guide
Sunday
December 26th, 2021

Weekend Sundays is updated continuously
Sunday 12/26/2021 7:30 PM
Doors Open 6:30 PM

Chip Davis' Mannheim Steamroller makes its way to Sugarland this weekend at Smart Financial Center.
This neoclassical new-age music group founded by the percussionist/composer is known primarily for its Fresh Aire series of albums, which blends classical music with elements of new age and rock, and for its modern recordings of Christmas music. The group has sold 28 million albums in the U.S. alone.

The name "Mannheim Steamroller" comes from an 18th-century German musical technique, Mannheim roller (German: Mannheimer Walze), a crescendo passage having a rising melodic line over an ostinato bass line, popularized by the Mannheim school of composition.
Before the fame of Steamroller, Davis had been best known for collaborating with his friend Bill Fries on the songs of the country music character "C. W. McCall" (of "Convoy" fame). Even before the height of McCall's popularity, Davis produced an unusual album of classical music performed entirely by Davis and musical collaborator and keyboardist Jackson Berkey, using electric bass (played by Eric Hansen) and synthesizers.
Houston Texans
vs Los Angeles Chargers
@NRG
This will be game sixteen for the Texans as they limp toward a closing understated "dismal" season. The Texans are at a 3-11-0 season. Perhaps next year.
Last week, "The NFL has named Houston Texans DB Tremon Smith the AFC Special Teams Player of the Week following his performance in the team's 30-16 victory over the Jacksonville Jaguars in Week 15. This marks the first Player of the Week award of his NFL career and the team's first Special Teams award since Week 15 of the 2019 campaign," reports Houston Texans.com.
Disney's The Little Mermaid
@Hobby Center
Sarofim Hall
Now thru December24th, 2021
(From The Hobby Center.org) Based on one of Hans Christian Andersen's most beloved stories and the classic animated film, The Little Mermaid is a hauntingly beautiful love story. With music by eight-time Academy Award winner, Alan Menken, lyrics by Howard Ashman and Glenn Slater and a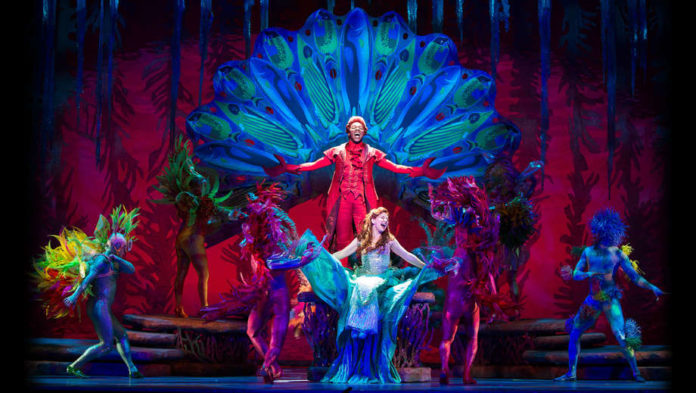 compelling book by Doug Wright, this Broadway gem will capture your heart with its irresistible songs, including "Under the Sea," "Kiss the Girl" and "Part of Your World."
Ariel, King Triton's youngest daughter, wishes to pursue the human Prince Eric in the world above, bargaining with the evil sea witch, Ursula, to trade her tail for legs. But the bargain is not what it seems, and Ariel needs the help of her colorful friends, Flounder the fish, Scuttle the seagull and Sebastian the crab to restore order under the sea.
Music by Alan Menken
Lyrics by Glenn Slater and Howard Ashman
Book by Doug Wright
Directed by Dan Knechtges
The Hobby Center for the Performing Arts
800 Bagby Street
Houston, TX 77002
(713) 315-2525
Directions (Map)
The Nutcracker
@The Wortham Center
Now thru December 24th, 2021
The Houston Ballet brings back The Nutcracker to the Wortham Center this year after the covid hiatus.

The ballet's marketing people tells us, "Bring the family back to the theater to share the joy of Clara's magical journey to the Kingdom of Sweets this holiday season! Stanton Welch's The
Nutcracker is a grand spectacle of opulence and one of the most splendid versions of this holiday classic ever staged. With hundreds of roles and a myriad of exquisite details that will leave you discovering something new in every performance, Welch's The Nutcracker is a positively joyous treat for ballet lovers of all ages. Rejoice in the return of this time-honored tradition!"
Playing Now thru January 1, 2022
Cirque de Soleil - Alegria show has been reimagined for a new generation to fall in love with. A wind of change hangs in the air, as the aristocratic ideals of the old guard are challenged by the revolutionary ideals of a youth in revolt.
Featuring a soundtrack that incorporates an eclectic mix of sonic palates and stunning feats of circus artistry, Alegría earns its reputation as an all-time classic Cirque du Soleil show. Stunning costume design and vibrant sets allow you to fully immerse yourself in this kingdom on the verge of revolutionary change.

Alegría takes its name from the Spanish word for "joy." Cirque du Soleil's literature describes the show as "an operatic introspection of the struggle for power and the invigorating energy of youth." Dominique Lemieux's costumes evince a baroque aesthetic of decadence and ornamentation, while René Dupéré's musical score features a unique blend of French, Spanish, African, and Mediterranean influences. The stage and props are characterized by gothic arches and harsh angular designs.
Alegría's costumes have a dichotomy relating to the Old Order and the New Order. The Old Order has costumes which are reminiscent of New York's Gilded Age as they are finely decorated with feathers, lace, and other adornments. The New Order, on the other hand, representing the youth of tomorrow, have the same rich hues as the old order, while the fabrics used are lighter and softer, helping to emphasize the agility of youth. Over 400 costume pieces comprise the Alegría wardrobe set, including shoes, wigs, hats, etc. As an example of how long it takes to create each custom outfit, over 200 hours are needed to create one Old Bird costume.
Alegría's highly acclaimed music was composed by René Dupéré, who had composed numerous scores for Cirque's previous productions, including Nouvelle Expérience, Saltimbanco and Mystère.
The music of Alegría was released as a studio album in 1994. Produced by Robbi Finkel, it remains Cirque du Soleil's best-selling album to date, having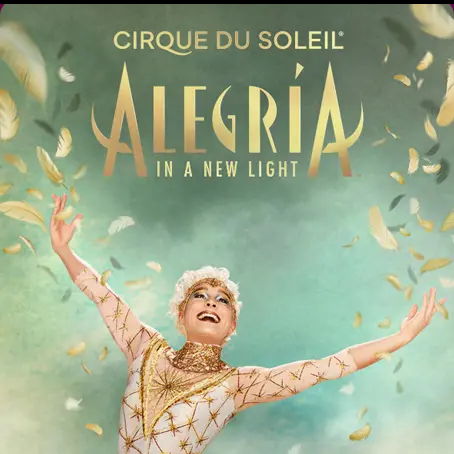 sold more than 500,000 copies worldwide. Robbi Finkel and René Dupéré were nominated for a Grammy Award as Best Arranger at the 38th Annual Grammy Awards. The album was also nominated for several Félix Awards in 1995, winning two of the latter: 'Producer of the Year' for Robbi Finkel and René Dupéré, and 'Sound Mixer of the Year' for Rob Heaney. Alegría was also ranked on the Billboard World Music Chart for 65 weeks.
The album's lead vocals are provided by opera-trained, French-Canadian singer Francesca Gagnon. Gagnon also features as 'The White Singer' (principal vocalist) in the Alegría DVD, with fellow French-Canadian Ève Montpetit supporting as 'The Black Singer'.

Cirque du Soleil - Alegria
Grand Chapiteau
7575 North Sam Houston Pkwy W.
Houston, TX
Directions
Weekend Reads Sponsored by Macy's and Amazon.com

A "gripping" (Entertainment Weekly) mystery about a woman who thinks she's found the love of her life—until he disappears.
Before Owen Michaels disappears, he smuggles a note to his beloved wife of one year: Protect her. Despite her confusion and fear, Hannah Hall knows exactly to whom the note refers—Owen's sixteen-year-old daughter, Bailey. Bailey, who lost her mother tragically as a child. Bailey, who wants absolutely nothing to do with her new stepmother.
Hannah and Bailey set out to discover the truth. But as they start putting together the pieces of Owen's past, they soon realize they're also building a new future—one neither of them could have anticipated.
As Hannah's increasingly desperate calls to Owen go unanswered, as the FBI arrests Owen's boss, as a US marshal and federal agents arrive at her Sausalito home unannounced, Hannah quickly realizes her husband isn't who he said he was. And that Bailey just may hold the key to figuring out Owen's true identity—and why he really disappeared.
With its breakneck pacing, dizzying plot twists, and evocative family drama, The Last Thing He Told Me is a riveting mystery, certain to shock you with its final, heartbreaking turn.
by Barack Obama (Author)
Bruce Springsteen (Author)
Renegades: Born in the USA is a candid, revealing, and entertaining dialogue between President Barack Obama and legendary musician Bruce Springsteen that explores everything from their origin stories and career-defining moments to our country's polarized politics and the growing distance between the American Dream and the American reality.
Filled with full-color photographs and rare archival material, it is a compelling and beautifully illustrated portrait of two outsiders—one Black and one white—looking for a way to connect their unconventional searches for meaning, identity, and community with the American story itself.
• Original introductions by President Obama and Bruce Springsteen
• Exclusive new material from the Renegades podcast recording sessions
• Obama's never-before-seen annotated speeches, including his "Remarks at the 50th Anniversary of the Selma to Montgomery Marches"
• Springsteen's handwritten lyrics for songs spanning his 50-year-long career
• Rare and exclusive photographs from the authors' personal archives
• Historical photographs and documents that provide rich visual context for their conversation

In a recording studio stocked with dozens of guitars, and on at least one Corvette ride, Obama and Springsteen discuss marriage and fatherhood, race and masculinity, the lure of the open road and the call back to home.
Houston's Online Weekend Planning Entertainment Guide
Looking for that Sunday weekend event and can't find it try our custom "Google Search"