Houston's Online Weekend Planning Entertainment Guide
Our Weekend Entertainment Picks for Weekend Sundays
Houston Ballet Presents
Swan Lake
@Jones Hall for the Performing Arts
June 23rd through July 1st, 2018

The ballet composed by Russian Pyotr Ilyich Tchaikovsky makes its way to Jones Hall for the Performing Arts. Its a perfect Sunday weekend outing.
The scenario, initially in two acts, was fashioned from Russian and/or German folk tales and tells the story of Odette, a princess turned into a swan by an evil sorcerer's curse. The choreographer of the original production was Julius Reisinger (Václav Reisinger). The ballet was premiered by the Bolshoi Ballet in 1877 at the Bolshoi Theatre in Moscow. Although it is presented in many different versions, most ballet companies base their stagings both choreographically and musically on the 1895 revival of Marius Petipa and Lev Ivanov, first staged for the Imperial Ballet in 1895, at the Mariinsky Theatre in St. Petersburg. For this revival, Tchaikovsky's score was revised by the St. Petersburg Imperial Theatre's chief conductor and composer Riccardo Drigo.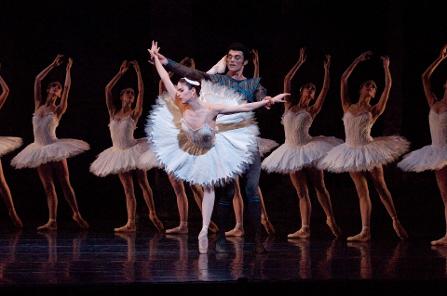 Tchaikovsky had a rather negative opinion of the "specialist" ballet music until he studied it in detail, being impressed by the nearly limitless variety of infectious melodies their scores contained. Tchaikovsky most admired the ballet music of such composers as Léo Delibes, Adolphe Adam, and later, Riccardo Drigo. He would later write to his protégé, the composer Sergei Taneyev, "I listened to the Delibes ballet 'Sylvia'...what charm, what elegance, what wealth of melody, rhythm, and harmony. I was ashamed, for if I had known of this music then, I would not have written 'Swan Lake.'" Tchaikovsky most admired Adam's 1844 score for Giselle, which used the Leitmotif technique: associating certain themes with certain characters or moods, a technique he would use in Swan Lake, and later, The Sleeping Beauty.

Houston Ballet presents the return of Swan Lake by Artistic Director Stanton Welch. In this production, the everlasting love between Prince Siegfried and the maiden-turned-white-swan Odette is tested by the evil knight Rothbart and his black swan enchantress, Odile. Stanton Welch's Swan Lake utilizes Tchaikovsky's full score as arranged for this three-act production. In his staging, Mr. Welch imbues the main characters with greater psychological complexity, and gives the work a twenty-first century pace. Mr. Welch, who collaborated with Mr. Fredrikson on Swan Lake, was inspired by John William Waterhouse's painting, The Lady of Shalott (1888). Waterhouse (1849-1917) was a British Neo-Classical and Pre-Raphaelite painter well-known for works featuring female characters from mythology and literature. The painting, which is based on Lord Alfred Tennyson's poem by the same title, depicts a tragic maiden afloat on a lake. Mr. Welch commented, "When I saw this painting I said, 'This is our Odette.' Here is a woman, a young heroine, lost in a forest by a lake, touched by tragedy."
Houston Ballet Presents
Swan Lake
615 Louisiana St Houston, TX
Directions
June 23rd through July 1st, 2018
view tickets
Tickets provided by Ticket liquidators.com
Looking for that Sunday weekend event and can't find it try our custom "Google Search"