Weekend Sundays
October 21st, 2018
Rebirth Brass Band
@The Heights Theater
Sunday 10/201/2018 7:00 PM
Whether seen on HBO's Treme or at their legendary Tuesday night gig at The Maple Leaf, Grammy-winning Rebirth Brass Band is a true New Orleans institution. Formed in 1983 by the Frazier brothers, the band has evolved from playing the streets of the French Quarter to playing festivals and stages all over the world. While committed to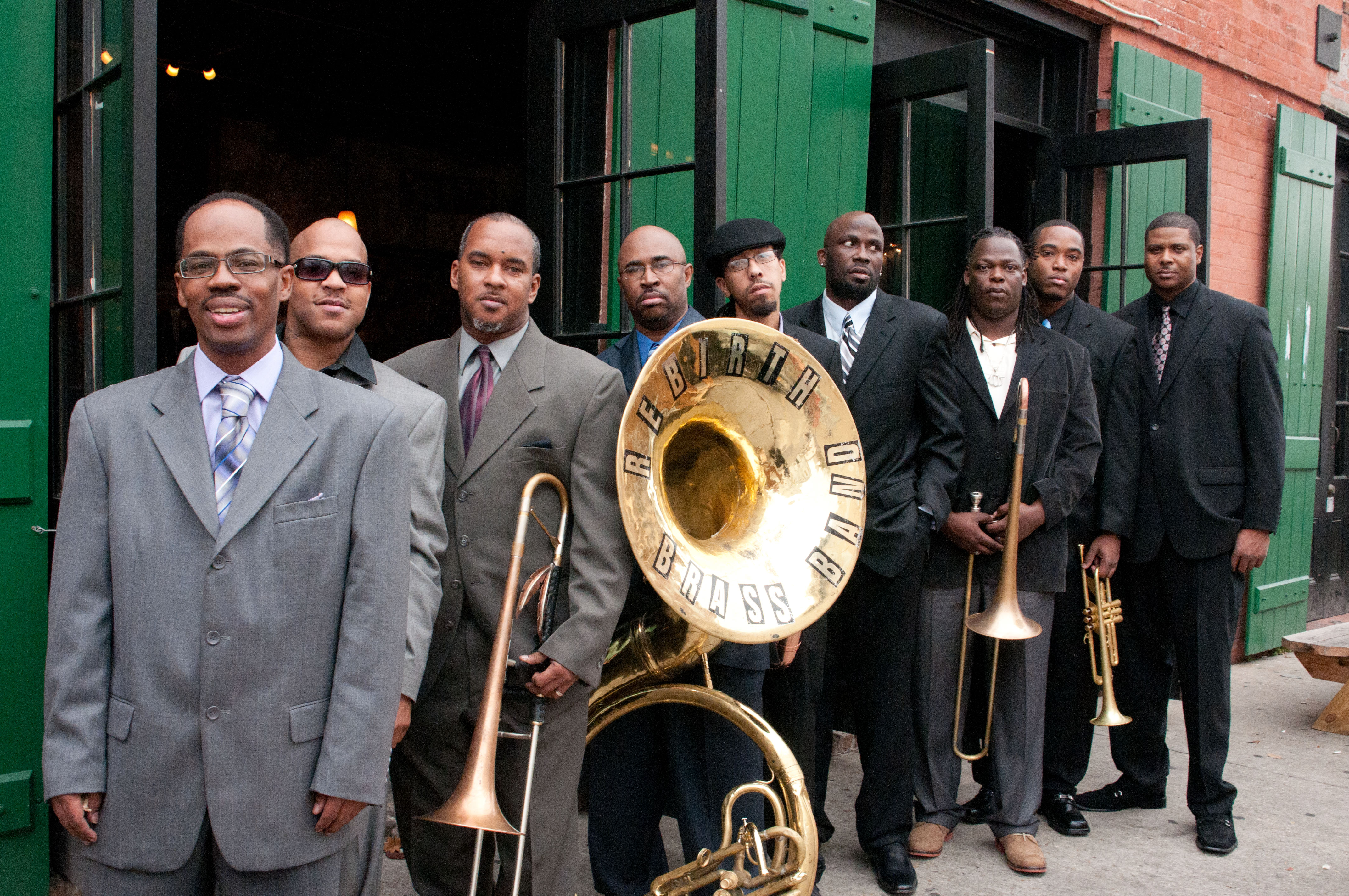 upholding the tradition of brass bands, they have also extended themselves into the realms of funk and hip-hop to create their signature sound. "Rebirth can be precise whenever it wants to," says The New York Times, "but it's more like a party than a machine. It's a working model of the New Orleans musical ethos: as long as everybody knows what they're doing, anyone can cut loose." In the wake of the sometimes-stringent competition among New Orleans brass bands, Rebirth is the undisputed leader of the pack, and they show no signs of slowing down.
Following the Grammy-winning Rebirth of New Orleans, Rebirth Brass Band is at it again with Move Your Body, an infectious, groove-laden collection of hip-shakers sure to saturate the dance floor.
Rollicking originals like "Who's Rockin, Who's Rollin'"? and "Take 'Em to the Moon" reaffirm the band's position as head of the brass throne while the rasta-esque "On My Way" and leave-nothing-to-the-imagination lyrics of "HBNS" showcase the unit's talent for penning unabashed party starters.
Boasting a mastery of Rebirth's signature "heavy funk" sound, Move Your Body pushes and swings, leaving behind an 11 track thumbprint, approved by the Frazier brothers themselves, of a sultry Tuesday night spent dancing on their home court at the Maple Leaf Bar in New Orleans.

When you think of New Orleans, the city's foremost flambeaux-lit traditions of Mardi Gras, Bourbon Street, voodoo, Po' boys, beads, gumbo, and second line undoubtedly come to mind. You can also count Big Sam's Funky Nation amongst those NOLA treasures.
Known for a boisterous blend of funk, jazz, rock, and hip-hop, nothing short of seismic live "experiences," and a whole lot of Southern charm, Big Sam's Funky Nation might very well be The Big Easy's best kept secret.
No other place could birth such an undeniable, unpredictable, and downright unique collective.
"By playing on these streets, you learn how to work your craft and entertain an audience," exclaims Sam. "You can go to Julliard and Berklee all you want, but they won't teach you how to rock a stage. It comes naturally in New Orleans. I've been here my whole life and rocking these streets. Even during Hurricane Katrina, I drove nine hours from San Antonio every weekend for two years just to play live. The sound out here is unlike anything else in the world. It's not just a figure of speech—there's music going all night, literally."
Rebirth Brass Band
The Heights Theatre
339 W 19th St.Houston, TX
Directions
Sunday 10/201/2018 7:00 PM
view tickets

Against the backdrop of Crescent City, the group released five fan favorite albums and quietly developed a devout following. Powered by jaw-dropping technical talent and uncontainable energy on stage, their performances have become the stuff of legend. Big Sam ensures you're not just a part of the crowd, but "a part of the show dancing and singing along." Beyond standout sets at the likes of Voodoo Music + Experience and New Orleans Jazz & Heritage Festival, the boys have performed at Bonnaroo, SXSW, and Austin City Limits, to name a few.
The frontman per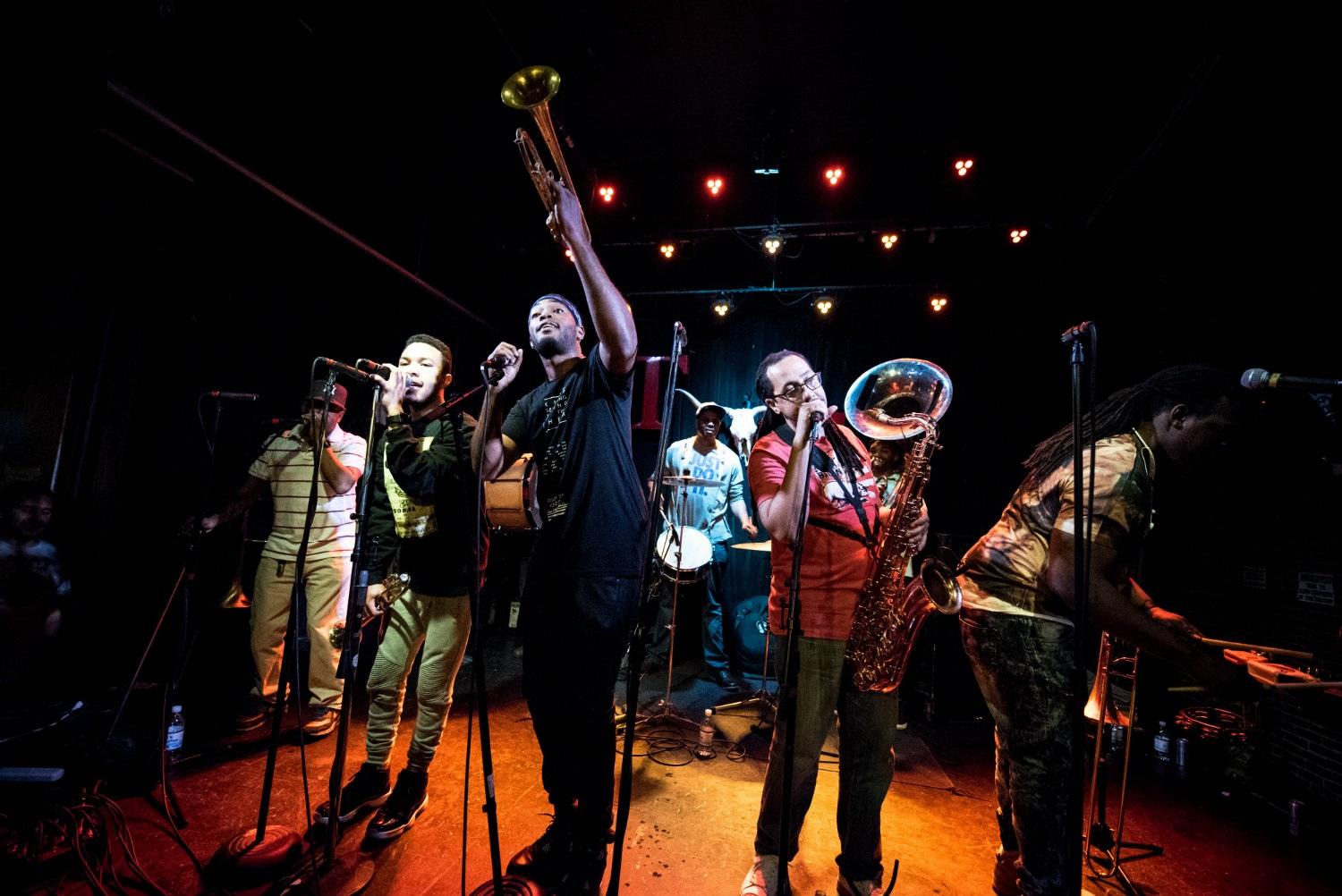 sonally draws on over two decades in the game, spanning everything from 300 shows per year during his days in Dirty Dozen Brass Band and gigs backing up Widespread Panic and Dave Matthews Band to recording and touring with Allen Toussaint and Elvis Costello. Additionally, he would be sought out for a recurring role on the critically acclaimed HBO series Treme.
Following the release of 2014's rock-leaning Evolution (and yet another marathon of gigs), Big Sam wanted to "bring the funk like never before." So, he decided to "write originals that show how cats like Morris Day & The Time, The Gap Band, P-Funk, inspired [him]—while not just repeating the past."
The group accomplish this mission on their aptly titled 2018 sixth full-length Songs in the Key of Funk, Volume 1. Spending just five days at The Parlor Recording Studio in New Orleans, Big Sam's Funky Nation emerged from the studio with an album tailormade for singing, dancing, and, of course, partying.
"We're going to keep the funk alive," he affirms. "This is just Volume 1. It's just the beginning. Stevie Wonder made one of my favorites: Songs in the Key of Life. I thought it would be hip to build on the title. Funk is life for me. Funk is everything. We all need some of it in our lives, so guess who's here to give it to you?"
Funk is served up piping hot on the first single "Poke Chop." On the track, a simmering beat punctuated by seventies-style synths gives way to lively horns, handclaps, and howls. Merging bounce energy and jazz virtuosity, the call-and-response culminates on Big Sam chanting a hometown phrase, "Show me what you got for a poke chop."
Elsewhere, "Buzzin" shimmies from talkbox into swaggering clean guitars. Painting a vivid picture of hot and heavy love at first sight on the dance floor, the frontman croons, "Girl, you got me buzzin."
As much as Big Sam's Funky Nation represents the beating heart of New Orleans, they ultimately do so for funk music as well.
"When you see us live or listen to our records, we're all going to have a good time," he leaves off. "That's what funk is all about. That's what New Orleans is all about. That's what Big Sam's Funky Nation is all about. If you come to a show, you're going to party. That's what we're here for."
Since you are here...
Houston's Weekend Planning Guide is updated on a continuous bias for all in the Greater Houston Area. We haven't put up a paywall or asked anyone to log-in to see our content. We want to keep it that way. We accept advertising, but the revenue from that area is not enough to support us. If everyone who reads our weekend entertainment blog, who likes it and helps to support it, our future would be much more secure. For as little as $1 or more, you can support Houston's Weekend Planning Guide – and it only takes a minute. Thank you.
Houston's Weekend Planning Guide
Fall Events Guide Download is Free



Houston's Weekend Planning Guide Fall Events 2018 .pdf
Size : 772.74 Kb
Type : pdf
Budweiser Beermaster Tour
Budweiser Brewery Experience

The Houston brewery offers an immersive experience, perfect for visitors of all ages. From the advanced brewing technology to the history displays, you will gain a better understanding of the historical significance of one of America's oldest brewers.
Opened in 1966, the Houston Brewery has quickly become one of our "greenest" breweries. The brewery gets some of its energy from landfill gas that is piped in six miles from the nearby McCarty Landfill. On average, the brewery sources approximately 30 percent of its energy needs from alternative energy. The brewery's energy efficiency and conservation efforts also include an on-site bio-energy recovery system (BERS), where brewery wastewater can be recycled adding to our water conservation efforts.
Houston's Online Weekend Planning Entertainment Guide
Tickets provided by Ticket liquidators.com
Looking for that Sunday weekend event and can't find it try our custom "Google Search"