Sunday
September 25th, 2022

Weekend Sundays is updated continuously
Diana Krall
@Smart Financial Center
(Note: The Diana Krall show originally scheduled for February 6th, 2022, is now officially rescheduled to September 25, 2022! Tickets purchased for the original February date will be valid for the new September date.)
(From All Music.com-Stephen Thomas Erlewine) At the outset of her career in the 1990s, Diana Krall appeared to be a throwback to a different, classier era -- specifically, the mid-20th century, when the Great American Songbook experienced a revival in the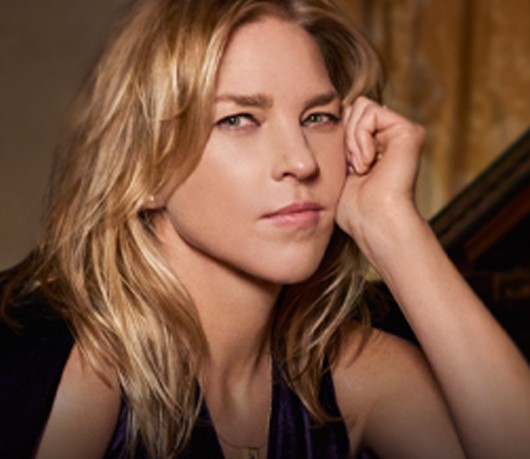 hands of singers such as Nat King Cole. Krall's 1996 breakthrough, All for You: A Dedication to the Nat King Cole Trio, deliberately paid tribute to this period, but Krall didn't focus merely on singing the song in an old-fashioned way: as the subtitle of All for You suggested, Krall placed equal emphasis on the piano playing.
It was a conscious decision that gave her music an elegance and elasticity that has served her well. Although she often returned to the classic songs written in the first half of the 20th century, Krall expanded the definition of the American Songbook to encompass bossa nova and pop/rock singer/songwriters, occasionally exploring forgotten sectors of 20th-century pop and jazz. Throughout her career, Krall has managed to balance traditionalism with a sense of stylish adventure, which has helped her retain both a jazz and crossover audience.
Only Trust Your Heart was successful enough that she moved to Impulse!
Born and raised in Nanaimo, British Columbia, Diana Krall grew up in a musical household. Her father was an amateur piano player and her mother was part of a choir. Krall started playing piano when she was four, and she quickly excelled. In high school, she specialized in jazz, playing it at school and at low-key local gigs. Her prowess earned her a scholarship to Boston's Berklee College of Music, which she attended between 1981 and 1983, leaving the school so she could head to Los Angeles to pursue a career in jazz.
Diana Krall - The Look Of Love
Krall spent three years in Los Angeles before moving to Toronto, which wound up as a waystation on her way to New York. Settling in New York in 1990, she signed with Justin Time, which released Stepping Out in 1993.
Her debut earned many fans, including Tommy LiPuma, who produced Only Trust Your Heart, the 1995 album that was her first for GRP. Only Trust Your Heart was successful enough that she moved to Impulse! for her 1996 tribute All for You: A Dedication to the Nat Cole Trio. Read more @All Music.com (Click Here)
[Disclaimer]
Houston's Weekend Planning Guide participates in various affiliate marketing programs, which means, we receive paid commissions on purchases made through our links to retailer sites. Our editorial content is not influenced by any commissions we receive.
Houston's Online Weekend Planning Entertainment Guide
Looking for that Sunday weekend event and can't find it try our custom "Google Search"