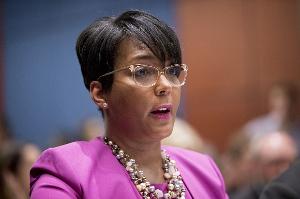 Why Did Keisha Lance Bottoms Quit?
Why Did Keisha Lance Bottoms Quit? The mayor of Atlanta was a rising star in Democratic politics.
Then the crime wave hit.
On a sunny Wednesday in November, Keisha Lance Bottoms went to the Atlanta City Detention Center, a water-stained hulk of concrete with slits for windows glaring out over Peachtree Street. She was there on a kind of valedictory tour, showcasing her accomplishments as she gets ready to leave the mayor's office. "I thought this one was dead in the water," she would tell me later of the deal that is turning part of this facility into a "diversion center" — a place where cops can bring people with behavioral problems that is not jail or the hospital. The floor inside was a ratty mix of linoleum and pilling brown carpet, and a podium had been set up for the event. That's where Bottoms started to cry. "I've been crying a lot lately," she admitted, wiping away tears.
Read more @ Inteligencer.com (New York Magazine)
Did you know? The late R&B singer Major Lance was the mayor's father. Here is the R&B singer performing on the icon entertainment 70's "Soul Train".

Mayor Bottoms says she is most proud of her dad.