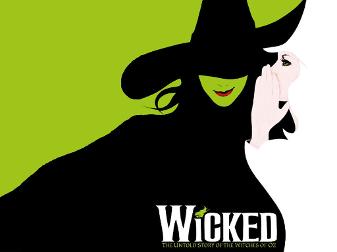 Wicked: The Untold Story of the Witches of Oz is a musical with music and lyrics by Stephen Schwartz and book by Winnie Holzman. The road show production makes its way to Houston, Texas. Wicked is based on the 1995 Gregory Maguire novel Wicked: The Life and Times of the Wicked Witch of the West, an alternative telling of the 1939 film The Wizard of Oz and L. Frank Baum's classic 1900 story, The Wonderful Wizard of Oz. The musical is told from the perspective of the witches of the Land of Oz; its plot begins before and continues after Dorothy's arrival in Oz from Kansas, and it includes several references to the 1939 film and Baum's novel. Wicked tells the story of two unlikely friends, Elphaba (the Wicked Witch of the West) and Glinda, who struggle through opposing personalities and viewpoints, rivalry over the same love-interest, reactions to the Wizard's corrupt government and, ultimately, Elphaba's public fall from grace.
Produced by Universal Studios in coalition with Marc Platt and David Stone, with direction by Joe Mantello and choreography by Wayne Cilento, the original production of Wicked premiered on Broadway at the Gershwin Theatre in October 2003, after completing pre-Broadway tryouts at San Francisco's Curran Theatre in May 2003.
Its original stars included Idina Menzel as Elphaba, Kristin Chenoweth as Glinda, and Joel Grey as the Wizard.
The original Broadway production won three Tony Awards and six Drama Desk Awards, while its original cast album received a Grammy Award.
Wicked celebrated its tenth anniversary on Broadway on October 30, 2013. On February 14, 2016, Wicked performed its 5124th performance with a 2PM matinee, making Wicked the 10th longest-running Broadway show, passing Rent. A typical performance runs for approximately two hours and 30 minutes, plus a 15-minute intermission.
The success of the Broadway production has spawned several other productions worldwide, including various North American productions, a long-running Laurence Olivier Award–nominated West End production and a series of international productions. Since its 2003 debut, Wicked has broken box office records around the globe, currently holding weekly-gross-takings records in Los Angeles, Chicago, St. Louis and London.
Performance Times Weekends and Otherwise