Houston Livestock Show
and Rodeo Presents
Brad Paisley
@NRG Stadium
Saturday 3/16/2019 2:45 PM

Singer/songwriter, Brad Paisley makes his way back to the Bayou City and this year's Houston Livestock Show and Rodeo. Paisley has been going strong on the country music charts since he began his musical career back in 1998. Paisley's music journey has been recognized along the waywith three GRAMMYs, two American Music Awards, 14 Academy of Country Music Awards and 14 Country Music Association Awards (including Entertainer of the Year), among many others.
Paisley was 13 years-old when he wrote his first song, "Born on Christmas Day", which later appeared on his album Brad Paisley Christmas.

Last week Paisley told, The Boot.com he wrote a song to his wife, actress Kimberly Payne Williams-Paisley. They have been married since 2003 and have two kids. The new single, "My Miracle," Paisley told The Boot.com was one of his most honest songs.

"I write a lot of songs that can be various looks at relationships, from all angles ... [and] I can be a little bit ornery when it comes to writing love songs. I don't typically put it all out there. But in this one, I did," Paisley says. "This is the most powerful statement I think I can make, and the one I wrote it for, she's my worst critic, typically, but in this case, I think I got it right."
Paisley put the song "My Miracle" on Instagram on Friday (March 8), to mark International Women's Day. The song will go to country radio stations toward the end of March.
Paisley has been a proud member of the Grand Ole Opry since 2001. Paisley has written or co-written 20 of his 23 #1 singles.

Paisley knows the music business. Did you know? Paisley was awarded a fully paid ASCAP (American Society of Composers, Authors and Publishers) scholarship to Belmont University in Nashville, Tennessee, where he majored in the music business and received a Bachelor of Business Administration degree from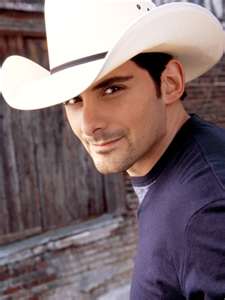 the Mike Curb School of Music Business in 1995. He interned at ASCAP, Atlantic Records, and the Fitzgerald-Hartley management firm. While in college, he met Frank Rogers, a fellow student who went on to serve as his producer.
Within a week after graduating from Belmont, Paisley signed a songwriting contract with EMI Music Publishing; and he wrote David Kersh's "Top 5" hit, "Another You", as well as David Ball's 1999 single, "Watching My Baby Not Come Back". The latter song was also co-written by Ball.
Houston Livestock Show and Rodeo
Presents
Brad Paisley
@NRG Stadium
NRG Pkwy Houston, TX
Directions
Saturday 3/16/2019 2:45 PM
Ticket Information
Houston's Online Weekend Entertainment Guide
Weekend
Saturdays
Listings
Looking for that Saturday weekend event and can't find it
try our custom "Google Search"