Friday
December 31st, 2021
Weekend Fridays is updated continuously
Happy Holidays and Happy New Year
From Houston's Weekend Planing Guide
Khruangbin in Concert
@713 Music Hall
This Event has been cancled by event organizers . . call venue . . .
Friday 12/31/2021 9:00 PM
This weekend at LiveNation's new music venue its Khruangbin in Concert. The band comprises Laura Lee on bass, Mark Speer on guitar, and Donald Ray "DJ" Johnson Jr. on drums.
Mostly instrumental, the band's sound has been described as soul, surf rock, psychedelic, rock, dub and funk with one website even describing them as "electronic".

The most commonly used term to describe Khruangbin's music is Thai funk, though the band members themselves challenge the convention of genres, publicly refusing to be pigeonholed into one particular label. As music journalist Rob Shepherd noted for PostGenre, "the [name Khruangbin], which translates to 'flying engine' or airplane in Thai, is perfect for their music as it often crosses borders and cultures."

On Amazon.com the purchasers who bought "Con Todo El Mundo" wrote, "I love this band and I was very excited about this album. Their first full-length was great and I've come back to it again and again over the last couple of years. Their EPs, though, are even better than the first album--more engaging and tightly focused. This album, I'm sorry to say, is a disappointment. The formula is getting repetitive and there is almost too much restraint here--as if they are afraid to let loose in the studio or to take any chances. As a result, this collection of tunes is very low-key, almost muzak-ish. Again, the EPs are fantastic, and some of their live sets on YouTube are compelling and even blistering, but this second full-length lacks punch. I hesitated to write a less than stellar review so I listened to the album about ten times in the hope it would grow on me, but my feeling is the same as when I first listened to it: underwhelmed. It is very pleasant and nice music, just nothing to get very excited about. I wish they would take more chances and change things up a bit. It's hard with a three piece band, but it's certainly possible."
Reviewed in the United States on February 6, 2018
Dancing & Desserts
NYE with
Boomtown Brass Band
@The Heights Theatre
Friday 12/31/2021 9:00 PM
Door Open 8:00 PM
Lobby Opens 7:00 PM
Formed in 2015 as an excuse to get together and play the older traditional jazz classics, the musicians of Boomtown Brass Band evolved into a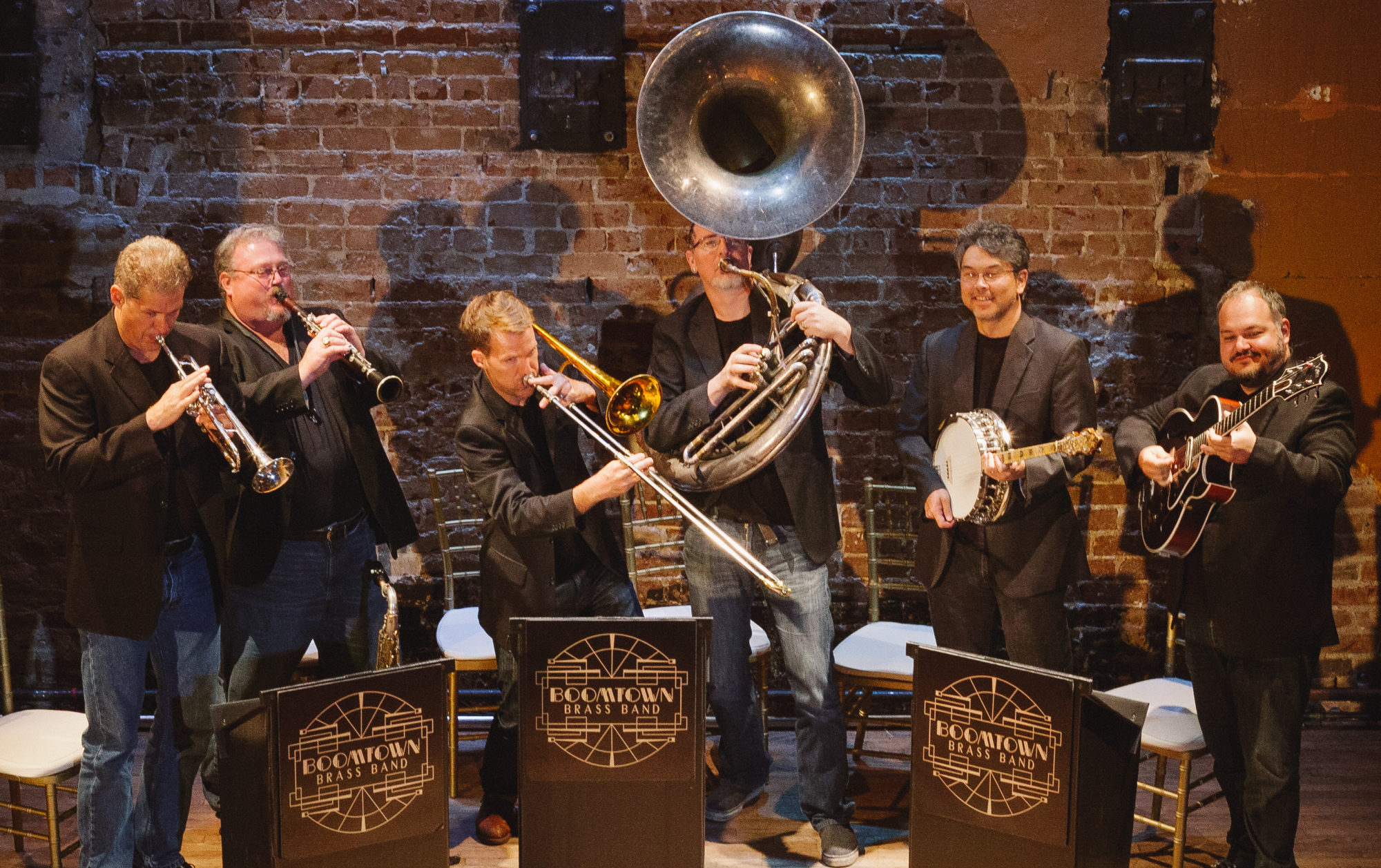 performing ensemble steeped in the traditions of authentic 1920s hot jazz.

The Boomtown sound begins with the classic New Orleans jazz style, travels north to include Chicago's "dixieland" style, visits the early 1930s "gypsy jazz" guitar style—and finally adds in a touch of New Orleans second line for good measure.
Boomtown Brass Band has become wildly popular in Houston, known as great music for listening or dancing, with an acclaimed following of dancers. Boomtown Brass Band keeps the origins of jazz alive, dancing, singing, and celebrating in Houston.
Playing Now thru January 1, 2022
Cirque de Soleil - Alegria show has been reimagined for a new generation to fall in love with. A wind of change hangs in the air, as the aristocratic ideals of the old guard are challenged by the revolutionary ideals of a youth in revolt.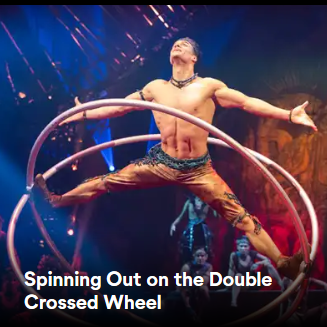 Featuring a soundtrack that incorporates an eclectic mix of sonic palates and stunning feats of circus artistry, Alegría earns its reputation as an all-time classic Cirque du Soleil show. Stunning costume design and vibrant sets allow you to fully immerse yourself in this kingdom on the verge of revolutionary change.
Alegría takes its name from the Spanish word for "joy." Cirque du Soleil's literature describes the show as "an operatic introspection of the struggle for power and the invigorating energy of youth." Dominique Lemieux's costumes evince a baroque aesthetic of decadence and ornamentation, while René Dupéré's musical score features a unique blend of French, Spanish, African, and Mediterranean influences. The stage and props are characterized by gothic arches and harsh angular designs.
Steve Trevino
@Improv Houston
Thursday 12/30/2021 8:00 PM & 10:15 PM
Friday 12/31/2021 7:30 PM & 10:00 PM
Saturday 1/1/2022 7:00 PM & 9:30 PM
Sunday 1/2/2022 7:30 PM
Comedian Steve Treviño is "America's Favorite Husband."He can "speak wife fluently," he never calls "the guys"for help on a home project, and he knows better than to "make his own decisions" since decision-making is a privilege reserved solely for his wife, Renae, alone. (LOL) This holiday weekend Trevino will be in northwest Houston at The Improv in the Marq-E Entertainment Center.
Trevino appeals to audiences by fitting right into their families. This identifiable approach affirms his status as one of the country's fastest-rising comics, viewed over 175 million times as of 2020, selling out shows coast-to-coast, amassing nearly 1 million total social media followers, and headlining specials for Amazon, NETFLIX, Showtime, and more. Cutting his teeth in Dallas, TX, he opened up the iconic 2001 Three Amigos Comedy Tourfeaturing Carlos Mencia, Pablo Francisco, and Freddy Soto. By 2006, he began headlining on his own. He delivered side-splitting performances on The Late Late Show, Comics Unleashed, and BET Comic Viewin addition to writing for Mind of Menciaand producing and writing for international GRAMMY®Award-winning superstar Pitbull's La Esquina.
Home Depot + the 'Rona = Sad Husbands
on a Line
His first Showtime special, Grandpa Joe's Son, staked out a spot in the NielsenTop 20. He funded, produced, and shot his 2014 runaway NETFLIX hit Relatable. To promote the special, he uploaded a clip entitled "When Your Wife Comes Home From Shopping."It exploded, generating 56 million views on Facebook alone and paving the way for heavily shared clips such as "When You Ask Your Wife If She Wants McDonalds"[21 million views] and "When Going to Vegas With Your Wife Goes Wrong"[4 million views]. Co-produced by Nacelle, 2018's 'Til Deathmaintained his momentum. Steve regularly raisesmoney for Helicopters for Heroes, an organization benefitting veterans. In 2020, he and his wife, Renae, unveiled a joint weekly podcast entitled Steve Treviñoand His Captain Evil.
The Improv
7620 Katy Freeway Space
455 Houston, TX 77024
Directions
Buy tickets over the phone:
713-333-8800
Since you are here...
Houston's Weekend Planning Guide is updated on a continuous bias for all in the Greater Houston Area. We haven't put up a paywall or asked anyone to log-in to see our content. We want to keep it that way. We accept advertising, but the revenue from that area is not enough to support us. If everyone who reads our weekend entertainment blog, who likes it and helps to support it, our future would be much more secure. For as little as $1 or more, you can support Houston's Weekend Planning Guide – and it only takes a minute. Thank you.
Houston's Online Weekend Entertainment Guide
Looking for that Friday weekend event and can't find it, try our custom "Google Search"