Houston Symphony
Classical Concert
The Artistry
of Augustin Hadelich
@Jones Hall
Friday 9/24/2021 8:00 PM
Saturday 9/25/2021 8:00 PM
Sunday 9/26/2021 2:30 PM
This weekend in its classical performances the Houston Symphony presents "The Artistry of Augustin Hadelich".
Amazing artistry, beloved favorites, and exciting new discoveries are all in store in these concerts featuring brilliant Grammy Award-winning violinist Augustin Hadelich as soloist and leader. The concerts begin with Bach's magnificent Concerto for Violin and Oboe, spotlighting Principal Oboe Jonathan Fischer. Then, Hadelich performs Shostakovich's bold and dynamic Sonata for Violin, Percussion, and Strings and the sparkling Prelude from Bach's Partita No. 3. To close, Hadelich shares a beautiful concerto by Joseph Boulogne, Chevalier de Saint-Georges, the son of a slave who went on to become one of the most important violinists and composers in Paris.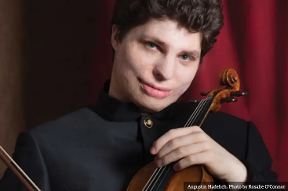 Augustin Hadelich
Violin and Leader
Augustin Hadelich is one of today's great violinists. He has mastered a wide-ranging and adventurous repertoire and is often referred to by colleagues as a musician's musician. Named Musical America's 2018 "Instrumentalist of the Year", he is consistently cited worldwide for his phenomenal technique, soulful approach, and insightful interpretations.
Recently the violinist announced, "I have joined the faculty of Yale School of Music! Starting this September, I will teach a handful of students at Yale. Yale School of Music is a graduate school, and it is tuition-free, which is rare in the United States. Classical music is never an easy field to forge a career, and often conservatories and universities overpromise how easy it will be to make a living in the field. In fact, some excellent musicians who went to the Juilliard School when I was a student there are still paying off their student debt today! And that was when tuition was half of what it is now… By being tuition-free, Yale School of Music demonstrably puts each student's interest first, without leaving them burdened by enormous debt.
Moving to Connecticut and becoming a "Connecticutian", after 16 years of living in New York City, is a big change, but it is beautiful there. And it is not far away from NYC.
Of course, I plan on continuing my performing career, and believe that my teaching activities at Yale will form a symbiotic relationship with these performing activities — I know that my own performance would draw inspiration from my teaching, and believe that my teaching in turn will be grounded and enhanced by my performances."


Augustin Hadelich plays the "Leduc, ex-Szeryng" by Giuseppe Guarneri del Gesù of 1744, generously loaned by a patron through the Tarisio Trust.

Augustin won the 2016 Grammy Award for Best Classical Instrumental Solo for his recording of Dutilleux's Violin Concerto, L'Arbre des songes, with the Seattle Symphony under Ludovic Morlot (Seattle Symphony MEDIA). A Warner Classics Artist, his first release was a recording of Paganini's 24 Caprices in 2018. His Brahms and Ligeti violin concertos with the Norwegian Radio Orchestra under Miguel Harth-Bedoya, followed in 2019. A new recording Bohemian Tales, including the Dvořák Violin Concerto with the Bavarian Radio Orchestra conducted by Jakub Hrůša, was released in 2020 to high acclaim. Other recent discs include live recordings of the violin concertos of Tchaikovsky and Lalo (Symphonie espagnole) with the London Philharmonic Orchestra on the LPO label (2017) and a series of releases on the AVIE label, including a CD of the violin concertos by Jean Sibelius and Thomas Adès (Concentric Paths), with Hannu Lintu conducting the Royal Liverpool Philharmonic Orchestra (2014). This disc was nominated for a Gramophone Award and listed by NPR as one of its Top 10 Classical CDs of the year.
Born in Italy, the son of German parents, Augustin is now an American citizen. He holds an artist diploma from The Juilliard School, where he was a student of Joel Smirnoff. He is recipient of the Gold Medal at the 2006 International Violin Competition of Indianapolis, an Avery Fisher Career Grant (2009), a Borletti-Buitoni Trust Fellowship (2011), the inaugural Warner Music Prize (2015), a Grammy Award (2016), and an honorary doctorate from the University of Exeter (2017).
Augustin Hadelich plays the "Leduc, ex-Szeryng" by Giuseppe Guarneri del Gesù of 1744, generously loaned by a patron through the Tarisio Trust.
www.augustin-hadelich.com
PROGRAM
BACH Double Concerto for Violin and Oboe
SHOSTAKOVICH Sonata for Violin, Percussion, and String Orchestra
BACH Prelude from Partita No. 3 for Solo Violin
SAINT-GEORGES Violin Concerto No. 2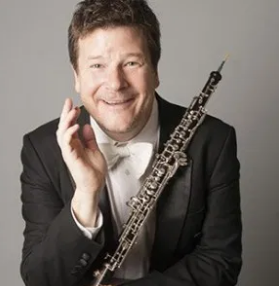 Jonathan Fischer joined the Houston Symphony as principal oboe in September 2012 and was invited to join the faculty of the University of Houston in September 2014. Prior to his appointment with the Houston Symphony, Fischer served as associate principal oboe with the San Francisco Symphony for nine seasons. He has also held positions with The Cleveland Orchestra, the Lyric Opera of Chicago, Grant Park Orchestra, Santa Fe Opera, Canadian Opera Company, Savannah Symphony, and the New World Symphony. Fischer has performed as a guest principal with many of the nation's leading orchestras including the Boston, Chicago, and Baltimore Symphony Orchestras, the Los Angeles Philharmonic, the St. Louis and Atlanta Symphonies, and the St. Paul Chamber Orchestra. He has performed as a soloist with the Houston Symphony, Grant Park Symphony, New World Symphony, and the San Francisco Symphony.

Fischer currently teaches at the University of Houston's Moores School of Music and Texas Music Festival. He has taught and performed at the Aspen Music Festival and the Oberlin Conservatory. He has given masterclasses at the Royal Conservatory of Music in Toronto, the San Francisco Conservatory, Rice University, and University of Michigan, and has been a coach at the New World Symphony. He holds a degree from the Curtis Institute of Music, where he studied with Richard Woodhams.
A native of South Carolina, Fischer now enjoys living in the Heights with his dog, a Louisiana Catahoula mix.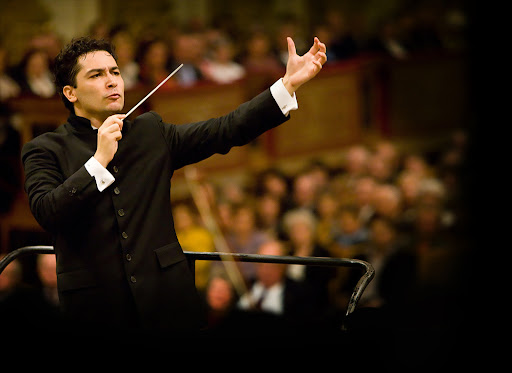 Andrés Orozco-Estrada
Music Director
Andrés is particularly committed to new concert formats in which spoken commentary and visual elements complement the music as he rediscovers known repertoire together with the audience—be it a Spotlight concert with the Frankfurt Radio Symphony Orchestra or a Leipzig Gewandhaus Orchestra family concert.
His CD releases at Pentatone have attracted critical praise. His Dvořák cycle with the Houston Symphony was praised by Pizzicato as a "vital Dvořák with warm colors." With the Frankfurt Radio Symphony Orchestra, recordings of Stravinsky's Firebird and The Rite of Spring were hailed as "beguiling" by Gramophone, and the same publication recently described him as "a fine Straussian" in a review of their recent recording of the Alpine Symphony from his Richard Strauss cycle. In addition, his interpretations of all the Brahms and Mendelssohn symphonies are available on recordings.
Born in Medellín, Colombia, Andrés began his musical education with the violin. He received his first conducting lessons at 15 and began study in Vienna in 1997, where he was accepted at the prestigious University of Music and Performing Arts in the conducting class of Uroš Lajovic, a student of the legendary Hans Swarowsky. Andrés has since lived in Vienna.

Energy, elegance and spirit—these are the qualities that distinguish Andrés Orozco-Estrada as a musician. Since the 2014–15 season, he has been music director of the Houston Symphony and principal conductor of the Frankfurt Radio Symphony Orchestra. Beginning in the 2020–21 season, he will be chief conductor of the Vienna Symphony.
Andrés conducts many of the world's leading orchestras, including the Vienna Philharmonic, the Staatskapelle Dresden, the Leipzig Gewandhaus Orchestra, the Royal Concertgebouw Orchestra, the Orchestra dell'Accademia Nazionale di Santa Cecilia, the Orchestre National de France, and American orchestras in Philadelphia, Pittsburgh, Cleveland, and Chicago. He has also directed successful concerts and opera performances at the Glyndebourne and Salzburg festivals.
Highlights of the 2019–20 season include performances with the Vienna Philharmonic at the BBC Proms and the Lucerne Festival, as well as tours to China, South Korea, and Japan. In the spring, Andrés Orozco-Estrada conducts his debut concert with the New York Philharmonic and returns as a guest to the rostrum of the Leipzig Gewandhaus Orchestra. In May 2020, the Dutch National Opera Amsterdam premieres a new production of Carmen under his direction. With the Houston Symphony, he presents a new two-week Schumann Festival in February featuring the composer's symphonies, concertos, choral works, and chamber music. The same month, he conducts three concerts at the Wiener Musikverein, leading the Vienna Symphony as principal conductor designate.

Socially distanced balcony seats are now available for September and October Classical Series performances. Purchase online or call the Patron Services Center at 713.224.7575.
Health & Safety Update: Face coverings are currently required inside Jones Hall. View our latest safety updates
Before the concert: Learn more about the program
Student Tickets: This concert is eligible for students to attend at a discounted rate. Visit our Student Tickets page for more information.
How to View the Concert Livestream Video
On the day before the concert, you will receive an email with a link to the video. We recommend you access the link at least 10 minutes before the concert begins. If you do not receive a link, please check your spam or junk folder.

Box Office: 713.224.7575
Group Sales: 713.238.1435
Houston Symphony
Jones Hall
615 Louisiana St. Suite 102
Houston, TX 77002
Direction (Map)
Houston's Online Weekend Entertainment Guide
Looking for that Saturday weekend event and can't find it
try our custom "Google Search"