Houston Symphony
Pops Concert
Whole Lotta Shakin'
Swing to Rock

Friday 10/8/2021 8:00 PM
Saturday 10/9/2021 8:00 PM
Sunday 10/10/2021 2:30 PM

Talented multi-instrumentalist Dave Bennett and the Houston Symphony Big Band take you on a musical journey through the decades, hit by iconic hit—from the Swing Era to classics of Glenn Miller, Johnny Cash, Jerry Lee Lewis, and more!
Steven Reineke
Principal POPS Conductor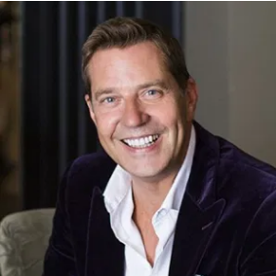 Steven Reineke has established himself as one of North America's leading conductors of popular music. In addition to his role as Principal POPS Conductor of the Houston Symphony, this season, he celebrates his 10th anniversary as music director of The New York Pops at Carnegie Hall. Additionally, he is principal pops conductor of the National Symphony Orchestra at the John F. Kennedy Center for the Performing Arts and the Toronto Symphony Orchestra.
Steven is a frequent guest conductor with The Philadelphia Orchestra and his extensive North American conducting appearances include Atlanta, Cincinnati, Edmonton, San Francisco, and Sarasota.
On stage, he has created programs and collaborated with a range of leading artists from the worlds of hip hop, Broadway, television, and rock, including Common, Kendrick Lamar, Nas, Sutton Foster, Megan Hilty, Cheyenne Jackson, Wayne Brady, Peter Frampton, and Ben Folds, among others. In 2017, he was featured on NPR's All Things Considered leading the National Symphony Orchestra, in a first for the show's 45-year history, performing live music excerpts between news segments. In 2018, Steven led the same orchestra and hip hop legend Nas performing his seminal album, Illmatic, on PBS's Great Performances.
His symphonic works Celebration Fanfare, The Legend of Sleepy Hollow and Casey at the Bat are performed frequently in North America, including performances by the New York Philharmonic and Los Angeles Philharmonic.
As the creator of more than 100 orchestral arrangements for the Cincinnati Pops Orchestra, Steven's work has been performed worldwide, and can be heard on numerous Cincinnati Pops Orchestra recordings on the Telarc label. His symphonic works Celebration Fanfare, The Legend of Sleepy Hollow and Casey at the Bat are performed frequently in North America, including performances by the New York Philharmonic and Los Angeles Philharmonic. His Sun Valley Festival Fanfare commemorated the Sun Valley Summer Symphony's pavilion, and his Festival Te Deum and Swan's Island Sojourn were debuted by the Cincinnati Symphony and Cincinnati Pops Orchestras. His numerous wind ensemble compositions are published by the C.L. Barnhouse Company and are performed by concert bands worldwide.
A native of Ohio, Steven is a graduate of Miami University of Ohio, where he earned Bachelor of Music degrees with honors in both trumpet performance and music composition. He lives in New York City with his husband, Eric Gabbard.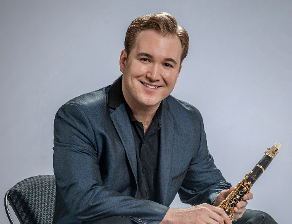 For starters, you don't find many jazz clarinet players who name Alice Cooper, Stevie Ray Vaughan, and Chris Isaak among their influences. You also won't find many musicians who are equally conversant with the music of Benny Goodman (the "King of Swing") and Roy Orbison ("The Soul of Rock and Roll").
Bennett is a clarinet virtuoso who plays electric guitar, piano, drums, AND vocalizes. Saluting Swing to Rock: covering music from the Swing Era to early Rockabilly and Country, to Elvis Presley and more. Leading His Tribute to Benny Goodman, Dave has been a featured soloist at Carnegie Hall with The New York Pops (2013) and has played the show with 35 other US and Canadian orchestras including Nashville, Detroit, Rochester, Omaha, Toronto, Vancouver, Orlando, San Antonio, Jacksonville, Portland, OR and Portland, ME, and Houston. Fifty performing arts centers across the USA have had success with his presentations.
An annual fixture at several American music festivals, Dave's "Rockin the '50s" show always brings down the house! Dave pays tribute to Jerry Lee Lewis (piano and vocals), and Johnny Cash and Elvis Presley (electric guitar and vocals). Dave's original compositions are influenced by the style of Roy Orbison, the "Soul of Rock and Roll". Some of his annual "roots music" presenters include The Elkhart Jazz Festival, The Suncoast Classic Jazz Festival, The Arizona Classic Jazz Festival, The Southeast Clambake Music Festival, and The Redwood Coast Music Festival.
Dave has been featured on NPR Radio's "Jazz at Riverwalk." He made his European debut in 2008 at the The Bern Jazz Festival (Switzerland) in a combo with jazz legends and Benny Goodman band alumni guitarist Bucky Pizzarelli and vibraphonist, the late Peter Appleyard.
Dave is a Mack Avenue Records artist. His 2013 CD "Don't Be That Way" met with critical acclaim. His second release, Blood Moon, which features five originals and six pop/jazz covers, hit the No 24 on the Billboard Jazz chart in 2018.

Socially distanced balcony seats are now available for September and October POPS Series performances. Purchase online or call the Patron Services Center at 713.224.7575.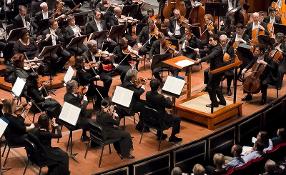 Box Office: 713.224.7575
Group Sales: 713.238.1435
Houston Symphony
Jones Hall
615 Louisiana St. Suite 102
Houston, TX 77002
Direction (Map)
Houston's Online Weekend Entertainment Guide
Looking for that Saturday weekend event and can't find it
try our custom "Google Search"