90's Kickback Concert
Next, Donell Jones
Case, H-Town
Brownstone, Jade
and Shai
@Arena Theatre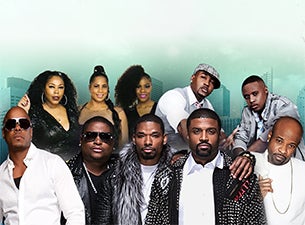 LiveNation the world's largest event promoter and artist's rep company continues to give us great entertainment in all genres. The company and its popular money maker Travis Scott is going through some tough legal issues with its Astroworld Festival tragedy. This weekend they will present the "90's Kickback Concert" at Houston's Arena Theatre.
(From All Music.com) Along with the likes of Dru Hill and Jagged Edge, Next were part of a late-'90s contemporary R&B class that combined a
gospel background, suggestive lyrics, multi-part harmonies, and slick productions with stylistic cues taken from Jodeci and R. Kelly. From 1997 through 2000, the trio placed four singles within the Top 20 of the Billboard Hot 100, including the chart-topping "Too Close" and number seven hit "Wifey."

After two albums for major-label Arista, including the multi-platinum 1997 debut Rated Next, the group moved to Clive Davis' post-Arista venture J Records, where they released a third album prior to a rift in 2003. The original members released new material 15 years later, following an acrimonious split and some false restarts.
I don't get into the favorite songs thing, because so many speak to different parts of my life, but the music in the '90s is just unbeatable.
Beginning with his 1996 album My Heart, singer/songwriter/producer Donell Jones recorded a jazzy and soulful style of urban pop for LaFace Records and scored a few modest singles in the process. His fi
rst two singles -- "In the Hood" and "Knocks Me Off My Feet" -- established his reputation within the competitive urban market. In particular, the latter song, originally a Stevie Wonder song from Songs in the Key of Life (1976), became a substantial hit for Jones, climbing to the upper reaches of the Billboard R&B chart and driving the album up the charts as well.
After stints with R&B group 'Future' and a duo called 'Black', Case got work co-writing and singing background for artists including Usher, Christopher Williams and Al B. Sure. Armed with a song written by Faith Evans, Case was discovered by Russell Simmons who signed him to Def Jam Records.
Case is best known for the 1990s hits "Touch Me, Tease Me" (featuring Foxy Brown and Mary J. Blige), "Happily Ever After" and "The Best Man I Can Be" (with Ginuwine, R.L. and Tyrese), as well as the early 2000s hits "Missing You" and "Livin' It Up" with Ja Rule. The latter two earned him two Grammy Award nominations.
With talent and precise orchestration, H-Town has mastered the minds of music's adoring fans over and over again with their signature sound. Originally H-Town consisted of twin brothers Keven "Dino" Conner and Solomon "Shazam" Conner, along with their long time friend Darryl "G.I." Jackson.

In 2003 a tragic car accident took the life of Dino. This devastating blow to the group heartfelt and grieved by many did not discourage the artists or the fans. To date, Shazam and G.I. are flourishing carrying the
sound of H-Town and representing the group's core values, a self-proclaimed mission of bringing R & B back in tranquil strides with loyal fans in tow and new fans acquired daily.
They are best known for their 1994 hit single "If You Love Me", which was nominated for a Best R&B Performance Grammy Award. "Grapevyne", "5 Miles to Empty" and "Pass the Lovin'" also brought them some success, as well as their
rendition of "I Can't Tell You Why", a song originally recorded by The Eagles. In 2019, it was announced that Brownstone was to reunite with the two remaining original members.

The three original members of Brownstone were Monica "Mimi" Doby, Charmayne Maxena "Maxee" Maxwell and Nichole "Nicci" Gilbert. Founded in Los Angeles, the singers met each other after attending various auditions around the city. They formed the group and were signed to Michael Jackson's MJJ Music record label less than a year later. The group soon recorded its debut album From the Bottom Up, which spawned the hit single "If You Love Me"
Houston's Weekend Planning Guide
(Weekendhouston.net) is a Targeted Premium Event Listings Journal/Calendar
The group Jade was originally composed of Joi Marshall, Angela Slates and Debra Mitchell and, as such, was first known as JAD. Producer Vassal Benford sold the song "I Wanna Love You" before Marshall, Slates and Mitchell's voices were recorded on the song.

In order to keep the song on the soundtrack for the 1992 Kid 'n Play comedy Class Act, Benford had to reproduce the song with the actual voices of the group members. When that could not be accomplished he implored the record label to drop Slates and Mitchell from the group and replace them with Di Reed and Tonya Kelly who were the voices on the song and who were signed to his production company. Today Jade is Joi Marshall, Tonya Kelly and Myracle Holloway.

At the end of 1992, the four-man urban contemporary vocal group Shai shot to the top of the R&B and pop charts with their debut album, ...If I Ever Fall in Love, and its number one title
Houston Arena Theatre
Arena Towers
7326 Southwest Fwy
Houston, TX 77074
Directions (Map
(713) 772-5900
100% Money-Back Ticket Guarantee
Tickets for Weekend Houston's Planning guide is provided by Ticket Liquidator a resale marketplace, not a box office or venue. Prices may be above or below face value. Your seats are together unless otherwise noted.
If problems with our affiliate call us (832) 949-9691
Houston's Online Weekend Entertainment Guide
[Disclaimer]
Houston's Weekend Planning Guide participates in various affiliate marketing programs, which means, we receive paid commissions on purchases made through our links to retailer sites.
Our editorial content is not influenced by any commissions we receive.
Looking for that Friday weekend event and can't find it
try our custom "Google Search"