Houston's Weekend Planning Guide
(Weekendhouston.net) is a Targeted Premium Event Listings Calendar
Saturday October 16, 2021
Weekend Saturday is updated continuously


Black Stone Cherry
with special guests
Jared James Nichols
and Georgia Thunderbolts
@Scout bar
Saturday 10/16/2021 8:00 PM
Doors Open 7:00 PM
Kentucky rockers Black Stone Cherry says All Music.com employ a fiery yet rootsy mix of hard rock and post-grunge/heavy metal that invokes names like Stone Sour, Theory of a Deadman, Buckcherry, and Shinedown. This weekend the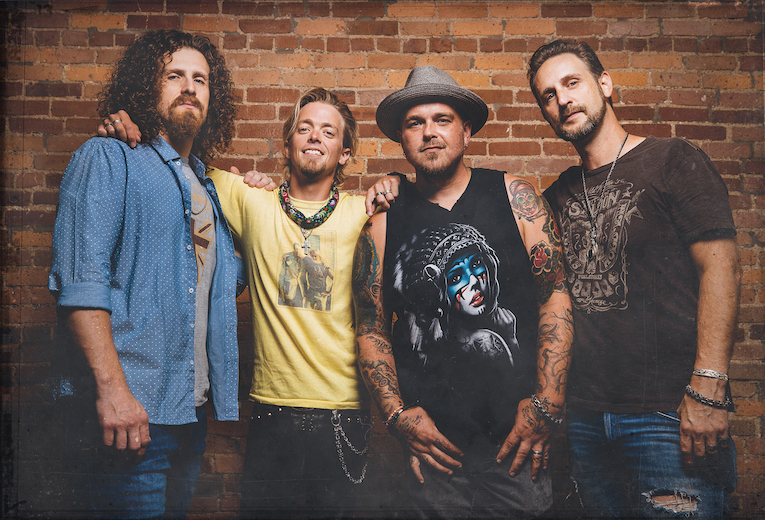 group will be performing at Scout Bar.
According to the band members, none of whom were born before 1983, the lack of anything to do in their hometown, coupled with a rich musical background in their community and families, led them to start playing music. Lead vocalist and guitarist Chris Robertson met drummer John Fred Young (the son of Kentucky Headhunters' Richard Young) in school, and the two played music together throughout high school. In June of 2001, Black Stone Cherry officially formed with guitarist Ben Wells and bassist Jon Lawhon. They began holding shows at clubs in the area, and after a short while they gained a large all-ages following.
Chad Childers of Loudwire.com recently wrote, "Sometimes covers are so good you can't sit on them. Thankfully, Black Stone Cherry not only put their take on the Tracy Chapman classic "Give Me One Reason" on the digital only expanded edition of The Human Condition album, but they've also given us a new video from the studio to accompany it. Singer Chris Robertson's gritty, soulful voice and the band's funkier arrangement do justice to the Chapman original while still adding the group's own stamp on the song.
The band recorded its first album for In de Goot/Roadrunner Records, and after returning from the recording session, Black Stone Cherry held a homecoming concert at the local high school. Their self-titled debut album was released in July of 2006, followed by Folklore and Superstition in 2008. It performed well on the charts, both in America and across Europe. The band's third album, 2011's Between the Devil & the Deep Blue Sea, was recorded in Los Angeles with producer Howard Benson (Daughtry, Three Days Grace). It peaked inside the Top 40 of the album charts in their home country, and hit the top spot in Great Britain. The band toured the globe in support and won fans as far away as Japan.
After touring the U.S. and Europe for more than a year, the band reconvened in early 2020 at bassist Jon Lawhon's Monocle Studio. Producing themselves, they tracked nearly 20 songs before completing an album in late March. In summer post-production they pared down the final list to 13 tracks. In early August, they issued a lyric video for set opener "Ringin' in My Head," and followed it two weeks later with a video single for "Again." In late October, Black Stone Cherry released The Human Condition through the Mascot Label Group.
Scout Bar
in Marinagate
18307 Egret Bay Blvd.
Houston, TX
Directions (Map)
(281) 335-0002
Saturday 10/16/2021 10:00 AM
Sunday 10/17/2021 10:00 AM

This weekend its Collect-A-Con in NRG Park at the NRG Center. The event boasts over five-hundred dealers and vendors with collectable trading cards, sports cards, comics, video games and vintage cards. The promoters call the two day event "The Nation's Largest Trading Card & Pop Culture Convention"
This weekend its 80's pop rapper Vanilla Ice as the event's special guest performer.
Recently their was a Collect-A-Con in Frisco,Texas. Its co-founder told culture-map.com Dallas, "Collect-A-Con is a place where you can find all types of amazing collectibles," "You can meet celebrities, get autographs, take pictures, and meet other fans with similar interests".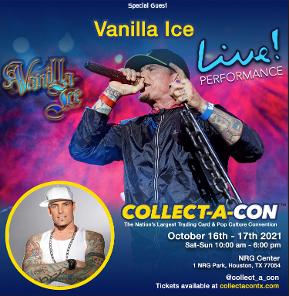 Wirz, who grew up and still lives in North Texas, collects comic books, toys, sports cards, and Pokémon cards — all items that will be for sale from hundreds of vendors at Collect-a-Con, along with video games, action figures, Funko Pops, and related ephemera.
"I have been collecting my entire life," Wirz says. "Collecting is a fun and exciting hobby. It's not only nostalgic, but it's about having something representing your favorite character or player. Also, the hunt to find a specific card or other item that you absolutely want is an exhilarating experience — it's like a treasure hunt."
Wirz says Collect-A-Con came about because of "the market dramatically increasing in interest over the past few years," and the fact that you often can't find specific cards or other collectibles in local stores.
This weekend its Collect-A-Con at NRG Center Ticket information website (Click Here).
Dia de la
Hispanidad
Featuring
Jorge Luis Chacin
@Miller Outdoor Theatre
Saturday 10/16/2021 7:30 PM
Jorge Luis Chacin is an artist, singer, songwriter, musician and music producer who has been nominated multiple times for the Latin Grammys. Chacin genre is translated into folk rhythms with a mixture of the Zuilan bagpipes. His first nomination was in 2004 in the category Best Tropical Album as part of a music duo called Bachá.
Later, in 2014, Chacin released a solo album called El Color De Mi Locura and received a nomination again for Best Tropical Album. He was the lead singer and songwriter for one of the most popular bands in Venezuela called Guaco and wrote and produced more than 40 songs eventually touring around the world.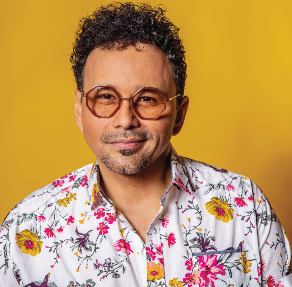 He's been a winner of several BMI awards, and he has written songs for established Latin acts including Marc Antony, CNCO, Prince Royce, Thalia, Ricardo Arjona, David Bisbal, and Ricardo Montaner, among others, including the latest single for the Latin boy band phenomenon CNCO,called Fiesta En Mi Casa and De Cero.
Chacin is also the writer of Sprint's official song for the 2018 FIFA World Cup called 90 Minutos performed by Prince Royce and Chocquibtown, the latest single for Thalia and Gente de Zona, Diego Torres and Carlos Vives,Prince Royce and Marc Antony.
Miller Outdoor Theatre
Hermann Park
6000 Hermann Park Dr
Houston, TX 77030
Directions click here
(832) 487-7102

International Gem
& Jewelry Show
@NRG Center

Visit America's longest running direct-to-consumer jewelry show when it visits your town! The International Gem & Jewelry Show's world famous "Jeweler's Market" brings wholesalers, manufacturers and designers together under one roof. Shop from rows and rows of quality gemstone, bead, jewelry and accessory dealers for incredible selection. You'll find local jewelers, international vendors and talented artisans at every show. Whether you are shopping for jewelry making supplies or looking for the hottest trends, you'll find what you're looking for at the InterGem show. More info at www.nrgpark.com
Saturday October 16, 2021 10:00 AM
1 NRG Pkwy, Houston, TX 77054
Directions (Map)
Viva Latin America
@Wortham
Theater Center
Saturday 10/16/2021 8:00 PM
The Houston Latin American Philharmonic presents its annual "Viva Latin America" to close Hispanic Heritage Month with the highest honors. The concert program includes Tribute to "Los Blanco", Una Casita Bella, El Milagro de tus Ojos, Bailame, Mi Niña Bonita, and much more. The guest artists for this special concert are: Rafael "El Pollo" Brito, Mauricio Marcone, Mariachi "Los Gallitos", and super Latin star Nacho.
Rafael "El Pollo" Brito
Rafael Brito , (Caracas, Venezuela, 14 as November as 1971 ), better known by his nickname El Pollo Brito , is a singer , songwriter and entertainer Venezuela. His main musical instrument is the Venezuelan cuatro , which mixes Afro-Venezuelan folk rhythms with pop rhythms .
He began his musical studies at the Miranda State National Youth Orchestra, where he learned to play the Oboe . He studied Cuatro , Mandolin and Guitar with the Estudiantina San José Obrero. He continued his academic training at the Juan José Landaeta National Conservatory and the Simón Bolívar Superior Conservatory of Music.
He was instrumentalist in the Ensemble of Saúl Vera, Pabellón sin raranda, Grupo Arcano and with Paul Desenne. He has made songs for the Venezuelan soap operas Arroz con leche and Los misterios del amor . He was director, cuatrista and vocalist of La Trova Gaitera, Sabor en Gaita, Nazarenos de la Gaita, Décima Gaitera, Grupo Ziruma, Maragaita, Los Morillo, Guasinca Zuliana, Todos Estrellas and Happy Gaita.
He has made several musical productions such as: Una Casita Bella Para Ti, Se Canta Venezolano, Boleros en Vivo, Suddenly with C4 Trio, Tribute to Tito Rodríguez , Pa´ Tío Simón and Manzanero.

Mariachi "Los Gallitos"
Mariachi Los Gallitos is a Mexican Folkloric group composed of trumpet, violins, guitarron (acoustic bass), vihuela (guitar) and female lead singer. These classically trained performers have earned wide popularity and acclaim through their unique combination of technical and theatrical abilities.
Los Gallitos is based in Houston, Texas and has performed professionally for the past twenty seven years throughout Texas, the United States and abroad.
In 1993 Los Gallitos received the "Pura Vida" Hispanic Music Award as Houston's Best Mariachi. In 1992 the group won the Houston Livestock Show & Rodeo Mariachi State Championship in the Astrodome. Other Awards include the Coors Silver Bullet Mariachi Marathon in which Los Gallitos was awarded First Place Performing Group, Best Female Vocalist, Best Male Vocalist and Best Costumes. The panel of judges for this competition was headed by the director of the well-known Mariachi Los Toritos from the University of Guadalajara.
Los Gallitos have played for many celebrities including George Lopez and recently for Chita Johnson.
Wortham Theater Center
501 Texas Avenue
Houston, Tx 77002
Directions (Map)
713-524-5050
Houston Artist
Commissioning
Project Live
Part 1
@Jones Hall
The Houston Artist Commissioning Project (HACP) supports new works, across all arts disciplines, from working artists here in Houston. Over two weekends, six live performance winners in the project's pilot year will take the stage at Jones Hall. These are Houston's creative voices, responding to our time with uproarious creativity. Tickets at 713.227.4SPA or www.spahouston.org
Saturday October 16, 2021 8:00 PM
615 Louisiana St, Houston, TX 77002
Directions (map)
Market Square
Tex-New Orleans
@Market Square
Downtown Houston
Saturday 10/16/2021 2021 6:00 PM
Don't miss a night out in Downtown Houston this Saturday on October 16, 2021 It's a great chance to explore the neighborhood's eclectic parks, bars, and restaurants. From family-friendly ghost tours to free pontoon boat rides on Buffalo Bayou, A Night At Market Square is full of activities for all ages.
Kicking off this Tex-Orleans block party is Houston's premiere funk band, Bayou City Funk. Quaker City Night Hawks will headline the event with their foot-stomping sounds.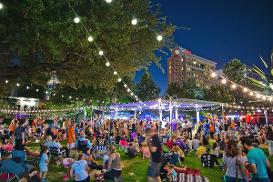 Of course, it wouldn't be a Tex-Orleans party without some NOLA-esque bites and booze. Feast on beignets at a pop-up cafe and night market (featuring State Line Designs and friends), then grab your krewe and head to The Big Easy block party on Franklin for hurricanes. Laissez les bons temps rouler.
Market Square Park
301 Milam Street
Houston, Texas 77002
(713) 650-3022
Directions (Map)
Advertise Venue or Events
on Houston's Weekend Planning Guide
Weekend Houston.net
Contact: editor@Weekendhouston.net
Phone: (832) 949-9691
Rock of Ages
@Hobby Center
Sarofim Hall
Now playing thru October 17, 2021
Rock of Ages takes you back to the time of bands with big egos, big guitar solos and even bigger hair! Featuring the music of hit bands including REO Speedwagon, Pat Benatar, Twisted Sister, Bon Jovi, Styx, and Journey, this hit musical was nominated for five Tony Awards® including Best Musical.
Set at the end of the 1980s in one of the Sunset Strip's last legendary venues, a place where superstar Stacee Jaxx takes the stage and groupies line up to turn their fantasies into reality. Amidst the madness, aspiring rock star — and resident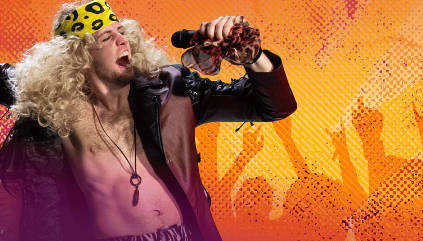 toilet cleaner — Drew longs to take the stage as the next big thing. He falls for Sherri, a small-town girl, fresh off the bus from Kansas with stars in her eyes. But the rock and roll fairytale is about to end when developers sweep into town with plans to turn the fabled Strip into just another strip mall. Can Drew, Sherri, and the gang save the strip and themselves before it's too late?
The Hobby Center
for the Performing Arts
800 Bagby Street
Houston, TX 77002
(713) 315-2525
Directions (Map)
Alien Weaponry
@HOB Houston

Friday 10/16/2021 8:00 PM
Door Open 7:00 PM

Alien Weaponry are "one of the most exciting young metal bands in the world right now" according to Revolver Magazine in the USA. And they're not the only ones who thinks so. Since well before they released their debut album Tū on 1 June 2018, fans, bloggers, the music industry and the media worldwide have raved about Alien Weaponry's unique blend of thrash metal and their native language, Te Reo Māori.
The three-piece thrash metal band from Waipu, New Zealand, was formed in 2010 by brothers Lewis and Henry de Jong, who were 8 and 10 years old at the time. The band consists of Lewis de Jong (guitar and vocals), Henry de Jong (drums), and Ethan Trembath (bass guitar).
Most noted for their fusion of Te Reo Māori (the native language of New Zealand) with thrash metal, they deliver emotionally and politically charged stories of conflict and grief with a warrior-like attitude. Drummer Henry de Jong says, "Our musical style and messages have a lot of similarities with haka, which is often brutal, angry and about stories of great courage or loss."
HOB Houston
in GreenStreet
1204 Caroline St.
Houston, TX
(888) 402-5837
Directions (Map)
This Month @Houston's Improv
Paul Virzi
@The Improv Houston
Thursday 10/14/2021 89:00 PM
Friday 10/15/2021 7:30 PM 7 9:45 PM
Saturday 10/16/2021 7:00 PM & 9:30 PM
Paul Virzi is a stand up comedian and many of the nation's top comedy clubs have called him one of the strongest on the rise! His debut comedy special, Bill Burr Presents Paul Virzi: I'll Say This debuted on Comedy Central in November and is available to stream now on CC.com. His comedy album Night At The Stand was #1 on iTunes and reached #4 on Billboards Top 100. He's appeared on TruTV's Comedy Knockout, AXS TV's Gotham Comedy Live, The NFL Network's Good Morning Football, FOX's Redeye and written for the ESPN ESPY Awards. Paul has made numerous appearances at the prestigious Just For Laughs Comedy Festival in Montreal and performed at the SXSW Festival in Austin, TX.

Paul has toured with Bill Burr in some of the country's most iconic theaters including, Madison Square Garden, The Chicago Theatre and Carnegie Hall. Every week you can hear him host his very popular podcast The Virzi Effect.
Paul grew up in the suburbs, outside of New York City. He loves his family, cigars and having pointless sports arguments with his friends. He never fails in keeping the laughs coming and making the audience feel comfortable with his hard hitting personal approach. He is fun to watch and has a stage presence that is second to none.
The Improv
7620 Katy Freeway Space
455 Houston, TX 77024
Directions
Buy tickets over the phone:
713-333-8800
Risala Foundation's
Re-Awakenings Concert
Friday, October 15, 2021 7:30 PM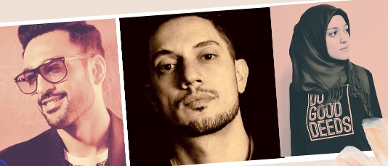 Risala is pleased to announce Re-Awakenings – an open air concert featuring world-renowned singer and songwriter Ali Sethi, Syrian-American rapper Omar Offendum, and spoken word artist Amal Kassir. You are cordially invited to a spiritual concert celebrating the human spirit and the diversity of the Islamic tradition. Enjoy the beauty, the artistry, and the depth of the Islamic tradition – mixing East and West and the modern and the ancient. Bring your lawn chair and a friend. We can't wait to see you!
Sugarland Town Square
Located at Highway 6 and U.S. 59
Sugar Land, TX 77479
Directions (Map)
281-242-2000
Lyrics on the Lawn
Featuring
Legendary Rhythm Bandits
Friday, October 22, 2021 7:30 PM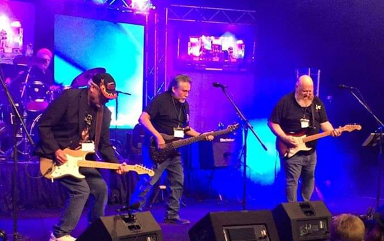 We're turning the Plaza into one big party, so come hang out and have some fun with family and friends while listening to live music from The Legendary Rhythm Bandits. The band is Legendary because the players have over 100 years of combined band experience! Its Rhythm is self-evident as the beat of the drums and the thump of the bass bring crowds to their feet. The Bandits "borrow" from all genres of great music, including Classic Rock, Country, Jazz, Soul, and Rhythm & Blues. The Legendary Rhythm Bandits rock every type of venue, whether it's a Texas Honky-Tonk, a Rock and Roll Club, or a smoky Blues Bar. A crowd favorite at their previous Sugar Land Town Square shows, The Legendary Rhythm Bandits are sure to entertain.

Sugarland Town Square
Located at Highway 6 and U.S. 59
Sugar Land, TX 77479
Directions (Map)
281-242-2000

Friday, October 29, 2021 7:30 PM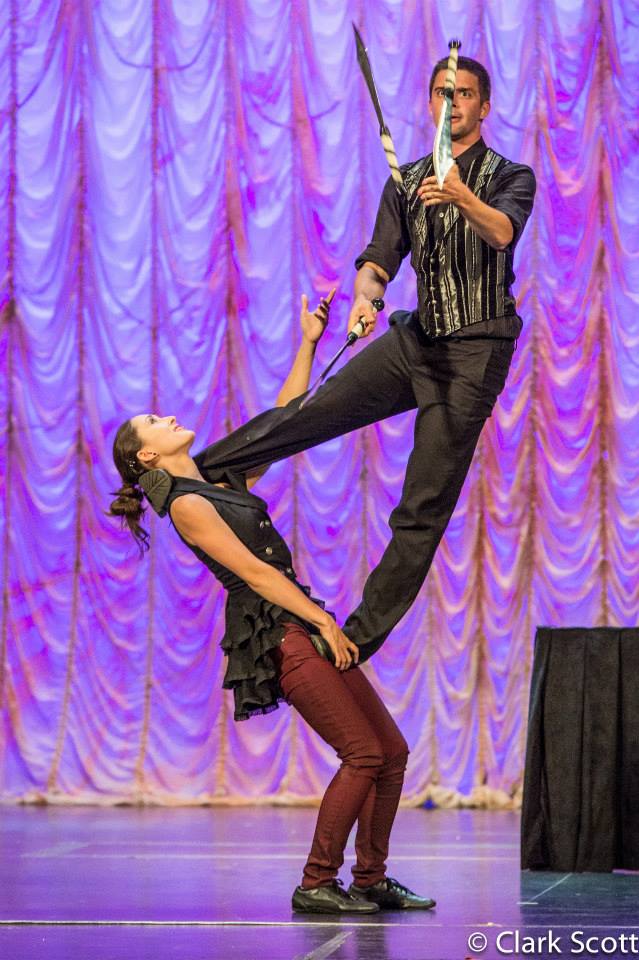 Jump start your Halloween weekend with big laughs and huge gasps with a world-champion magician and circus artist featuring magic, juggling, hand balancing, wirewalking and acrobatics! Hailing from New Orleans, The Crescent City, they have entertained corporate and collegiate audiences across the country and even overseas. Their original stage work has earned them six international titles, performances at London's prestigious Magic Circle Theater and an appearance on The Tonight Show with Jay Leno. Meet the Circus here!
Sugarland Town Square
Located at Highway 6 and U.S. 59
Sugar Land, TX 77479
Directions (Map)
281-242-2000
The Art Museum of Texas
@Sugraland Town Square
Established in 2020, Art Museum TX is a not-for-profit institution in Fort Bend County,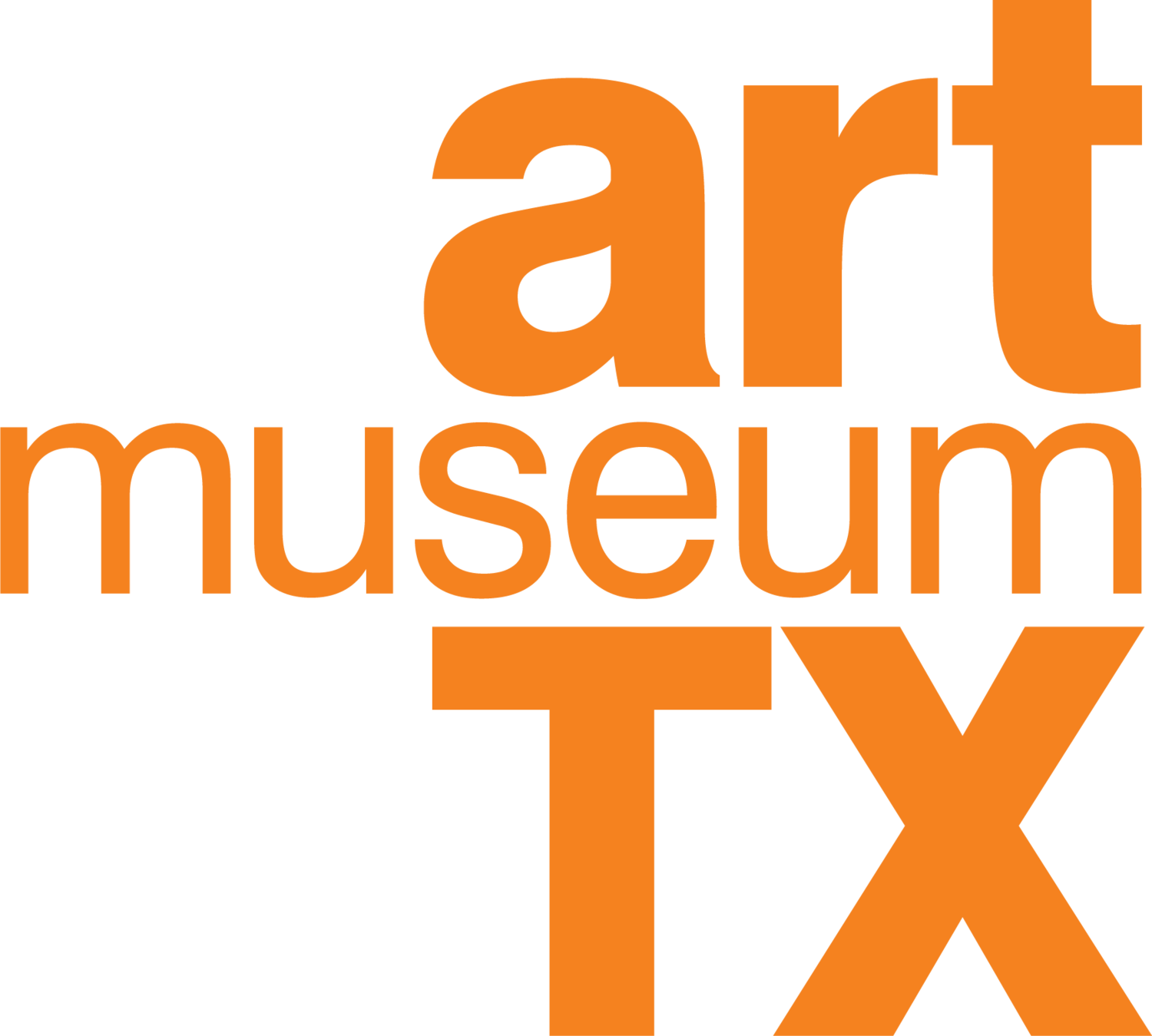 Texas, dedicated to presenting the region's contemporary art to the public. Art Museum TX provides an interchange for visual arts of the present and recent past, presents new directions in art, strives to engage the public, and encourages a greater understanding of contemporary art through education programs.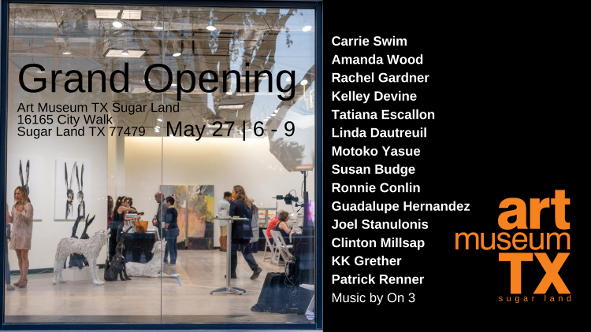 Art Museum TX is a museum dedicated to reaching our Fort Bend area population from one end of the region to the other, reaching throughout the surrounding areas and growing a wider audience. Art Museum TX is introducing art to so many. We bring art to YOU by opening our art space where YOU already frequent! We are in THE NEIGHBORHOOD!
Art Museum TX
16165 CITY WALK
SUGAR LAND TX 77479
Directions
Admission Free
Suggested Donation $5.00
Houston's Online Weekend Entertainment Guide
Looking for that Saturday weekend event and can't find it
try our custom "Google Search"