Neal Francis
with special guest
Kalu & The Electric Joint
@The Heights Theatre

Friday 12/10/2021 8:00 PM
Doors Open 7:00 PM
Lobby Opens 6:00 PM
On his new album "In Plain Sight", Neal Francis offers up a body of work both strangely enchanted and painfully self-aware, unfolding in songs sparked from Greek myths and frenzied dreams and late-night drives in the depths of summer delirium. True to its charmed complexity, the singer/songwriter/pianist's second full-length came to life over the course of a tumultuous year spent living in a possibly haunted church in Chicago. The result: a portrait of profound upheaval and weary resilience, presented in a kaleidoscopic sound that's endlessly absorbing.
This weekend Neal Francis will showcase his musical genius at The Heights Theatre in northwest Houston with his guests Kalu an Electric Joint.

Liza Lentini of Spin.com a month ago reviewed the keyboardist's "In Plain Sight" LP. "When asked which In Plain Sighttrack is his favorite, he says: "The song 'Asleep' is very special to me. I'm proud of the song, and I'll never forget writing it. My girlfriend and I were in our basement studio and I was playing with some ideas at the keyboard. The structure of the tune began taking shape and she said she really liked it. It was already 11:00 p.m. so she went off to bed, and while she slept I finished the song. When she woke up I played her the completed demo!"
This weekend Chelsea Handler
Friday 11/10/2021
"Vaccinated and Horny Tour"
@713 Music Hall
(Click Here)
Ryan Reed of Relix.com last weekend also reviewed Francis' "In Plain Sight", "Neal Francis is a keyboard virtuoso with a knack for quietly soulful grooves—a sharp pop hook-writer with a penchant for psychedelic jams, a lyricist with a tongue in cheek and a heart on sleeve. Which is to say: You can trace his delightful second LP, In Plain Sight, back to a lot of obvious influences: Leon Russell, Elton John, The Flaming Lips, Steely Dan. But he combines those sounds in ways that always feel a bit surprising. "Alameda Apartments" opens the album with a shining rainbow of piano, synth and harpsichord, with Francis' lyrics adding a surreal layer—a ghost haunting—into what initially scans as a straightforward breakup tale. "Can't Stop the Rain" rolls around in the bluesy mud, with the frontman's sleepy croon brushing up Derek Trucks' signature slide-guitar spasms and a crunchy keyboard tone that feels like it could have been recorded in 1967."

"Sentimental Garbage" transforms from a melancholy soul tune into lava-lamp-worthy, art-rock show piece. All of these sonic twists (captured, naturally, on tape and largely recorded in a Chicago church) are accentuated by the reliably organic mix of Dave Fridmann—a kindred spirit in every sense. But you get the sense Francis' rock-solid songcraft would even survive on a bedroom four-track."
"It's a song about my breakup and the circumstances that led to me living in the church, where I'm owning up to all my problems within my relationships and my sobriety,"
Recorded entirely on tape with his bandmates Kellen Boersma (guitar), Mike Starr (bass), and Collin O'Brien (drums), "In Plain Sight" bears a lush and dreamlike quality, thanks in large part to Francis's restless experimentation with a stash of analog synths lent by his friends in his early days at the church. "My sleep schedule flipped and I'd stay up all night working on songs in this very feverish way," he says.
"I just needed so badly to get completely lost in something." In a move partly inspired by Led Zeppelin's Houses of the Holy, "In Plain Sight" takes its title from a track Francis ended up scrapping from the album.
"Can't Stop The Rain" is the first single from Neal Francis' album "In Plain Sight"
"It's a song about my breakup and the circumstances that led to me living in the church, where I'm owning up to all my problems within my relationships and my sobriety," says Francis, whose first full-length chronicles his struggles with addiction. "It felt like the right title for this record, since so much of it is about coming to the understanding that I continue to suffer because of those problems. It's about acknowledging that and putting it out in the open in order to mitigate the suffering and try to work on it, instead of trying to hide everything."
The opulent opening track to In Plain Sight, "Alameda Apartments" makes for a majestic introduction to the album's unveiling of Francis's inner demons.

"I started writing that song maybe six years ago, before I got sober," he says. "I was going through another breakup and getting kicked out of my place, and I had a nightmare about moving into an art-deco apartment that was haunted, where the walls were all shifting around."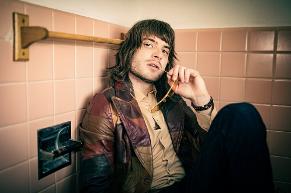 A prime showcase for Francis's piano work, "Alameda Apartments" simulates that dream state in its untethered melodies, luminous grooves, and lyrics that drift from despair to detached curiosity (e.g., "It remains to be seen if the ghosts are all right"). "The craziest thing is that I'd never encountered the name 'Alameda' in any time in my life prior to that dream," says Francis. "It's bizarre that I even remembered it, especially since you don't dream very often when you're getting fucked up."

Texas Monthly.com a few years ago did a story on Kalu and said,"Front man and songwriter Kalu James grew up the son of a village chief in Nigeria and moved to Austin to chase the aforementioned Music Capital legend. After a few years of solo gigs—for a while there, he was a treacly singer-songwriter who penned songs with titles like "Fields of Lavender"—he found bandmates who gave his global sensibilities legs and offered a more fitting backdrop for his brawny vocals."
100% Money-Back Ticket Guarantee
Tickets for Weekend Houston's Planning guide is provided by Ticket Liquidator a resale marketplace, not a box office or venue. Prices may be above or below face value. Your seats are together unless otherwise noted.
If problems with our affiliate call us (832) 949-9691
Houston's Online Weekend Entertainment Guide
[Disclaimer]
Houston's Weekend Planning Guide participates in various affiliate marketing programs, which means, we receive paid commissions on purchases made through our links to retailer sites.
Our editorial content is not influenced by any commissions we receive.
Looking for that Friday weekend event and can't find it
try our custom "Google Search"